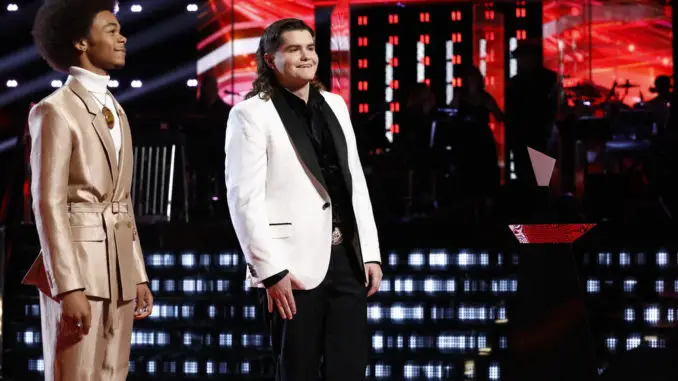 Last night, The Voice season 20 Top 5 sang their hearts out for your votes. Tonight (May 24) the winner will be revealed. In the meantime, a slew of performances and guest stars will take The Voice stage, including coaches Blake Shelton, Kelly Clarkson, John Legend and Nick Jonas.
Additionally, former coach Adam Levine takes the stage with his band Maroon 5 to perform their latest single, "Beautiful Mistakes," featuring Megan Thee Stallion.
Also taking the stage will be Gwen Stefani, Justin Bieber, Lauren Daigle, Kelsea Ballerini, Thomas Rhett, Ben Platt, One Republic, Snoop Dogg and DJ Battlecat,
The Voice 20 Finale Lineup: No Original Songs, but Plenty of Star Power
Who will take the crown? Will it be Cam Anthony or Jordan Matthew Young from Team Blake, Kenzie Wheeler from Team Kelly, Victor Solomon from Team Legend, or Rachel Mac from Team Nick. The winner gets $100,000 prize and a record contract with Republic Records.
The Voice 20 FINALE Predictions and Poll Results – Who Will Win?
The show starts with a jokey clip of Blake Shelton relentlessly texting Adam Levine. And here comes Blake fake running into the studio.
And now, Blake's gal pal Gwen Stefani performs her latest single, "Slow Clap," with rap star Saweetie. Her hair is very…interesting. This song is pretty annoying. 
Next, it's a video clip featuring Blake Shelton "The King of The Voice" because he has a big head…or something. 
And now, Kelsea Ballerini, who subbed for Kelly during the Battles, is here to sing her latest hit single "Half of My Hometown," from her self-titled third album, kelsea. Oh. Kelsea is duetting with Kenzie Wheeler. It's weird, because she started the performance backstage, entered the studio and then Kenzie began randomly singing with her. Pretty sure this performance was pre-recorded. I mean, Carson called her over, cut, and the stage was suddenly empty. 
Carson announces that the winner and runner-up win a trip to Universal Studios in Florida. Whoopie.
Next, Nick Jonas and Rachel Mac will sing Foo Fighters "Best of You" Nick brags that the band has never cleared one of their songs for The Voice until now. The performance is done indie style, with Nick accompanying the duo on guitar. Actually, the arrangement is pretty dope.
Studio versions of all the coach duets are available to stream or download
Now, OneRepublic performs their new hit single "Run." The track is from their upcoming album, Human, to be released later this year. Ryan Tedder begins his performance backstage too. For sure this performance was filmed ahead. It's more like a music video than a live performance.
THIS FINALE IS VERY BORING.
Next, Kelly Clarkson does an Olympics bit, where she learns how to fence. NBC will air the Tokyo Olympics this summer.
And now, American Idol alum Lauren Daigle is here to premiere her new single, "Hold On to Me." Kudos to Lauren for actually performing live.
Next, Mega Mentor Snoop Dogg and DJ Battlecat perform "Sittin on Blades" from his 18th studio album, From Tha Streets 2 Tha Suites. One hundred percent recorded earlier.
Now Ben Platt is out by the coaches chairs to chat about his new music and the upcoming movie adaption of the Broadway show Dear Evan Hansen. 
It's the BIEBS! Justin Bieber  sings a medley of his platinum hits "Peaches" and "Hold On" in yet another music video-like performance. Damn. If the Billboard Awards couldn't do better than a 0.6 demo rating Sunday night, the ratings for this finale, which is basically a series of music videos, will probably be super embarrassing. Notable: Beibs little girl man buns are really SOMETHING. 
Oh right! This is a singing show finale, not a VH1 video show. Now, John Legend and Victor Solomon perform "Someday We'll All Be Free" by Donny Hathaway. VERY VERY VERY NICE. 
Returning to the stage, Ben Platt performs his new single "Imagine," which already has over 5 million global streams to date. He's wearing a varsity looking jacket. To help promote his movie, in which he plays a high school student? Platt is 27.
Now, Kelly Clarkson joins her team member Kenzie Wheeler to perform "When You Say Nothing at All" by Keith Whitley. Kenzie sings the melody while Kelly croons a very pretty descant. He's kinda off-key, though. 
Carson introduces a "remote" performance from country star Thomas Rhett who performs his new single "Country Again" from his fifth studio double album, Country Again: Side A. Where is Thomas? In Nashville?
And now, a video clip humorously reveals how John Legend made his welcome song ditty. It's parody of those Vice docs? I think. 
Blake Shelton's duets are up next.
Up first is Blake and Jordan Matthew Young singing the iconic "All My Exes Live in Texas" by George Strait. The version is very boozy. They need a big studio audience to sing along. 
Blake transition immediately to sing "She Drives Me Crazy" by the Fine Young Cannibals with Cam Anthony. Cam had never heard the song. But it turns out his grandma loves it. It's a very odd song choice. The difference in their vocal styles and attack is jarring. Cam sings in a Prince-like falsetto, while Blake belows his part. 
Making a triumphant return to The Voice, is former coach Adam Levine with Maroon 5 to perform their latest hit single, "Beautiful Mistakes." It features rapper Megan Thee Stallion. Oh, oops. Megan sings her part via a video clip flashed in the background. She's not on stage with the band. So wait…Adam wasn't actually around to chat with Carson and the coaches? What kind of 10th anniversary celebration was that? 
Worst. The Voice. Finale. Ever. It's like NBC isn't even trying to make this good. 
FINALLY! RESULTS.
The Top 5 take the stage. And now it's time for ONE LAST ROUND OF VERY DUMB QUESTIONS, which consists of the Top 5 thanking their coaches for being totally awesome. And the artist in fifth place is…Victor Solomon. WHAT THE ACTUAL EFFFFF. And in FOURTH PLACE is…Rachel Mac. And in THIRD PLACE IS…Jordan Matthew Young.
Cam Anthony and Kenzie Wheeler remain.  After their respective coaches congratulate them for coming this far, Carson announces the winner and it is….Cam Anthony from Team Blake. THANK YOU JEEBUS. 
Victor Solomon – Fifth Place. 
Rachel Mac – Fourth Place
Jordan Matthew Young – Third Place
Kenzie Wheeler – Runner-up
Cam Anthony – WINNER
Hey, how about The Voice producing the finale as if it were May 2020 instead of 2021. Guys! It's ok to have a few folks in the studio to liven things up. I can't believe producers DIDN'T BRING IN CONTESTANT FRIENDS AND FAMILY to cheer on their loved ones. What an empty, sterile boring production. Most of it wasn't even live. It was like one music video after another until the results were revealed in the last 10 minutes.
Sure, the American Idol finale was kind of a trainwreck. But there were CRYING PARENTS! Contestants who refused to leave their trailers! Heart tugging homecoming videos! I was never bored for even a second. But Idol has a history of putting on superior finales vs. The Voice. Sometimes the show is too perfect for its own good. If NBC thinks Ariana Grande is going to save the aging series. Welp. Maybe they're counting on the American Song Contest in the spring to become the new hot singing show. We'll see.
In any case the right person won! Yay Cam Anthony! The final results were acceptable, but Victor Solomon deserved at least 3rd place. His performances in the lives were Award show worthy extravaganzas.