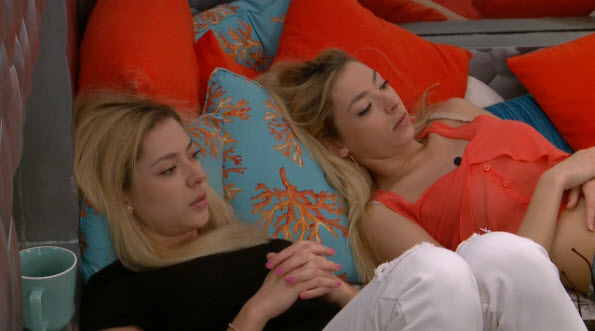 Big Brother 17 Spoilers Week 6 POV Ceremony Results
As expected, HoH James did not use the Veto during today's ceremony. Clay and Shelli remain on the block. One will be evicted during Thursday's ceremony.
Clay and Shelli's fate wasn't due to a lack of trying. Overnight, they frantically tried to persuade James to use the veto. They reasoned there would be less blood on his hands if he put up a "floater" like Steve. James said, if he were to consider using the Veto, he would need a really good reason. He went back to Meg and Jackie to discuss, and they all agreed it would be in their best interest to make a big move as planned. Even as Shelli and Clay make promises to work with James and his allies, there is no guarantee the pair wouldn't immediately go after them next week.
When the Steve plan didn't work, the got desperate and threw Austin under the bus. Clelly spilled all the dirt on Austin's alter ego "Judas" insisting that he treats "Judas" as a separate entity, and feels no guilt breaking deals. They also said Austin named James as a possible replacement nom last week.
James thanked them, and said the pair finally gave him solid information he could use. If Meg and Jackie are willing to back him, he would consider using the veto to put up Austin. However, Meg, Jackie and James decided Shelli was the bigger threat, and that if they used the Veto at all, it would be to put up Vanessa, another big threat. Jackie has figured out they're all working together, and said so. Besides, they figured, putting up Austin would mean three people mad at them at the end of the day.
Ultimately, James decided to keep the nominations the same. Vanessa was a threat to take out at a later date. What's more, he USED the information from Clelly to recruit Steve, Austin and the twins to vote his way. You can imagine how pissed Austin, Julia and Liz were when they heard Clelly tried to turn them into targets. So while it looked as if Clay would leave the house if the noms didn't change–he's been asking everyone to evict him instead of Shelli–James and his allies may get what they want–Shelli evicted from the house.
ETA: Vanessa is now actively campaigning against, Clay, throwing him under the bus. She told Austin, Julia and Liz that she believes Clay put Shelli up to throwing them all under the bus, doing a good job of getting Austin and the twins on Shelli's side. (Clay is no mastermind. C'mon. Clay is being played. He's such a dope.)
ETA Vanessa got to Austin and the twins. Shelli apologized to them and it looks like they have forgiven her and will vote to evict Clay. Shelli is actively campaigning for votes! Clay is such a chump. It looks like Steve is close to climbing on board too. No matter what, they plan to deny deny working together. Shelli and Austin plan to pretend to be mad at each other.
It makes sense. Shelli is both smarter than Clay and better at comps. She's also closer to Vanessa. The two of them together could work as a pretty big threat.
The downside for James now is that he's got a huge huge target on his back going forward. But he doesn't seem to care.
I don't know about you, but this is so exciting. Thank you James, for shaking things up! I'm glad he kept the nominations the same, although I would have been OK with Vanessa and Shelli on the block. That would have been insane (in the best possible way). Still, it's smarter to keep Vanessa safe, but close at the moment. Pitting two dangerous targets against each other would have definitely meant major vengeance in the aftermath, no matter which one stayed safe. I don't think Clay will be as vindictive if Shelli goes.