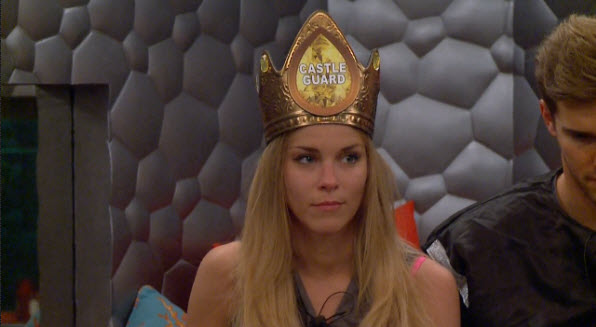 Big Brother 17 Spoilers Week 6 – POV Competition Results
On Saturday, Vanessa, Jackie and Becky played the Veto Competition along with Clay, Shelli and James.  Clay and Shelli needed to win in order to take themselves off the block. But in the worst case scenario for them and their allies, HoH James WON the PoV Competition. He's likely to keep the nominations the same, ensuring either Shelli or Clay are sent packing ahead of Jury.
In the aftermath of the surprise nominations on Friday, Clelly and Vanessa proceeded to throw each other under the bus. Clelly claimed they didn't want to send Jason home this week, and were paying for Vanessa's game move. An infuriatd Vanessa insisted to all who would listen it was a group decision.
While Clay and Shelly tried to sweet talk James in the HoH room, Vanessa was out on the patio with the rest of the houseguests, slinging mud at her "allies."  Clay and Shelly also felt betrayed and made it clear to James that Jason's eviction was NOT their decision. But it only took a few hours before Clelly and Vanessa came to believe saving the sixth sense alliance was in their best interests.
Vanessa had an idea that involved throwing John and Becky under the bus, making them the new target. Clelly hated that idea, especially after both were working as undercover operatives for them, reporting back intel from James, Meg and the gang. They relayed the major mud Vanessa was slinging in the backyard too. But again, Clelly realized they NEEDED Vanessa if there was any hope of saving them.
And it appears, as of now, that either Clay or Shelly will go home.  If Becky had won PoV she would have needed time to think about what she would have done, but Vanessa was pretty sure she'd have to keep the noms the same in order to keep her game safe.  It became clear to her as she campaigned around the house for Clelly that James had his mind made up.  If anybody was taken off the block, a sixth sense alliance member would have taken their place.
James and his allies are still targeting Shelli. Clay begged people to evict him this week. Is he kidding? Tossing the game for a showmance? Plus, there was LOTS of crying after the comp–John, Meg, Vanessa, Shelli–were all crying at one point or another.
Clelly are still willing to throw Austin and the twins under the bus to save themselves. However the trio would rather Shelli stay in the game, but are afraid James will force their hand.
Notes about the comp: It was a Punishment and Reward competition involving a medieval castle theme:  Becky won 5K, Clay won a trip to Ireland, Vanessa is shackled to Jackie for 24 hours.  Shelli has to do a Knight routine 2400 times in 24 hours. James could have taken a prize. But nope. Have the power of veto was more important to him.