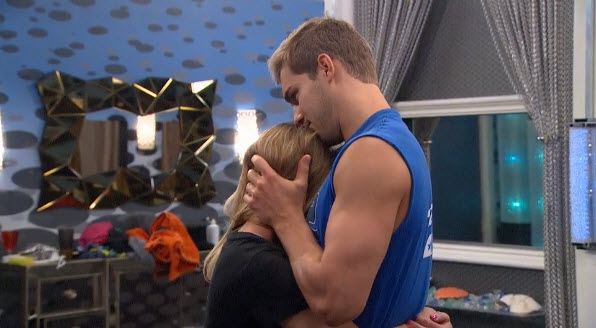 Big Brother 17 Spoilers Week 6 – Nomination Results
Shite is getting real on Big Brother 17! James won Thursday night's HoH endurance competition,  when Shelli fell off after cutting a deal to keep her and Clay safe. But as we learned last week, deals were made to be broken, and James put up Clay and Shelli on the block anyway.
The nominations took place on Friday.  The houseguests learned last night that Battle of the Block is over. James will remain the HoH this week without a challenge.
James thought about targeting Steve at first, but his allies, Meg and Jackie wanted Shelli up on the block.  They believe Shelli and Clay are responsible for Jason's demise.  Believing Shelli and Clay stabbed the Dark Moon alliance in the back, means James had no responsibility to honor the deal he made with Shelli on the wall.
Becky, who was present when James, Meg and Jackie were discussing who to nominate, immediately squealed their plans to Shelli and Clay. Becky warned Clay to be careful when he spoke with Vanessa. He shouldn't spill that he's aware of James' backdoor plans, in case Vanessa is put into a position to betray them.  That heightened Shelli's ever-present paranoia. Could Vanessa betray them?
Remember: Clay lied to Meg when she asked him if he knew about Vanessa's plans to nominate Jason. James also believes that Shelli's eagerness to cut a deal with him means she never trusted him in the first place. He also learned that his name was bandied about as a possible nom for last week. He feels no allegiance to the power couple and aims to break them up.  James tentatively decided to put up Liz and Austin or Liz and Steve in order to maybe  maybe backdoor Shelli later. But then, he decided it was time for a BIG MOVE before Jury. Put up the couple, so at least one of them remains on the block.
Vanessa cut a deal with James. If he doesn't put her up, she won't put him and a person he chooses up on the block until the house gets down to around 7 houseguests.  Austin promised James he'll back the "big move" he promised to make, in order to assure safety for him and the twins.  James is blunt. He might need Austin or the twins as a replacement nominee. Austin promises to keep the nominations the same if he wins PoV. James also told Austin that Clay and Shelli suggested the twins as nominees. That went over as well as you could imagine. James told Steve that if he doesn't vote his way, he'll backdoor him. John can vote the way he wants, James said to him, but would appreciate his support.
At this point, the sixth sense alliance appears to be kaput, with Austin. Liz and Julia seemingly aligned with James and his plans, and Clelly and Vanessa throwing each other under the bus. Each accuses the other of being responsible for targeting Jason. Shelli and Clay insist they had NOTHING to do with it, and want Vanessa to say as much. Vanessa refuses to take on that responsibility alone.
Actually, Shelli, Clay, Vanessa, Austin and Liz all conspired to target Jason. But, it WAS Shelli who got the ball rolling on switching the backdoor target from Austin to Becky and then finally Jason. When Dark Moon's plans to dethrone Vanessa as HoH and get Clay off the block failed, Shelli became paranoid, and began planting seeds of distrust for the other side of the house. Vanessa bit.  Betraying the Dark Moon alliance meant the other side of the house would be out for blood. And here we are.
After James announced his nominations,  and Shelli cried and whined, "WHY ME."  They are back to pushing Austin as a new target. Apparently, Clay lost it during the nomination ceremony. Shelli begged him not to lose his cool. Now, they have to go around and make nice to everyone. There will probably be an update to this post. Stay tuned.
ETA: Vanessa, Julia and Liz vow to deny the sixth sense alliance if Clelly tries to blow it up. It may be too late for that… Also, Vanessa who hates liars has no problem lying herself.
ETA: Vanessa told the twins that Clelly talked her into putting Austin up. "I was crying about having to put Austin up." Right.
A couple of other notes:
When Liz's twin, Julia, entered the house last night, her photo replaced Jace's on the memory wall. BURN.
Julia hates Austin. She expected him to be backdoored and was disappointed to learn he wasn't. She thinks he's shady and is pissed he told Jason her name. Liz tells Julia that as long as Austin is in the house, she'll have to suck it up. But she'd never choose Austin over her.
Liz, Julia, Austin are have nots, chosen by James.