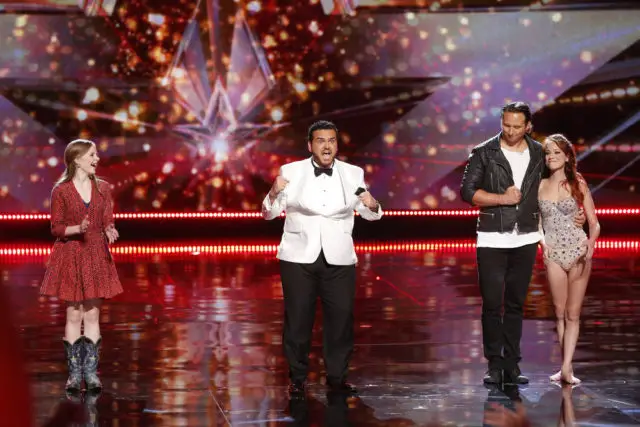 America's Got Talent 2016 SECOND LIVE RESULTS SHOW airs tonight. Seven acts will advance, FIVE acts will go home based on YOUR VOTES.  Simon Cowell, Mel B., Heidi Klum and Howie Mandel sit on the panel.
Tonight's guest performers are visual artists, Iluminate accompanied by the band Fitz and the Tantrums. Iluminate competed on AGT in 2011.
OK! After a recap, all 12 acts are on stage awaiting their fate! Ryan and AmberLynn, the act that had an unfortunate mishap last night, are on stage. Ryan has a big red mark on his neck where he was hit with a flaming arrow. It kind of looks like a hickey, which does not escape the notice of host Nick Cannon.
The THREE acts in danger (4th 5th and 6th place, in no particular order) are Kadie Lynn, Sal Valentinetti and Throwings.
Do a Google search on Dunkin Save and VOTE! The voting window is 30 minutes. America will save ONE act. The judges will save another. I'm surprised Sal is in danger. Or maybe not. His attempt to turn "Story of My Life" into a big band standard didn't really work. In any case, Throwings will probably leave the competition tonight.
More results! Sos and Victoria and The Clairvoyants. One act is going home. This is a no brainer. The first act going into the semi-finals is the mentalists, The Clairvoyants. Quick change artists Sos and Victoria are heading home. Nick says The Clairvoyants shouldn't be shocked, because didn't they know the outcome ahead of time? Har har har.
Viktor Kee and Steven Brundage take the stage. Steven looks stricken– he knows if one act goes home it's definitely him. But HOORAY! Both the elegant juggler and Rubik's cube magician are going through.
Next, Iluminate and Fitz and the Tantrums perform. Well, that was fun. The band performed their single "Hand Clap" while Iluminate did their light dance. The troupe currently has a show in New York City through September.
https://www.youtube.com/watch?v=EvvZO2gSGwY
Nick announces that everyone will be back for season 12. Next, it's a video package featuring Nick in a classroom of kids teaching "judge school."
https://www.youtube.com/watch?v=ypayv2LOALY
MORE results! Flip, Sofie Dossi and Ryan and Amberlynn take the stage. The next act into the semi-finals is…Sofie Dossi! The 15 year old contortionist is on to the next round. Dance troupe Flip and the unfortunate danger act, Ryan and Amberlynn are eliminated.
Singers Calysta Bevier and Moya Angela are the last acts. Simon's Golden Buzzer Calysta Bevier is on to the semi-finals. Broadway actress and soul singer Moya Angela heads home.
Time for Dunkin Save results! America saves…Sal Valentinetti with 46% of the vote. Sal thanks America as if he just won political office. Yeesh.
Katy Lynn and Throwings remain. The judges choose.
Howie – Throwings
Mel B. – Throwings
Heidi – Kadie Lynn
Simon – Kadie Lynn
DEADLOCK. AGAIN. The act with the most votes…is Kadie Lynn! The results went as expected. No complaints or issues, really.
HEADS UP! America's Got Talent will take a TWO WEEK break for the Summer Olympics. The third week of Live Shows air Tuesday August 23 with the following acts: Grace Vanderwall, Malevo, Linkin' Bridge, Vello Vaher, The Passing Zone, Edgar, Kadan Bart Rockett, Julia Scotti, Ronee, Alla and Daniel, Blake Vogt, and Brian Justin Crum. That will be it for the preliminary rounds! The semi-finals begin the following week.
Advancing to the Next Round
The Clairvoyants
Viktor Kee
Steven Brundage
Sofie Dossi
Calysta Bevier
Sal Valentinetti – Dunkin Save
Kadie Lynn – Judges Save/Deadlock
Eliminated
Sos and Victoria
Flip
Ryan and Amberlynn
Moya Angela
Throwings