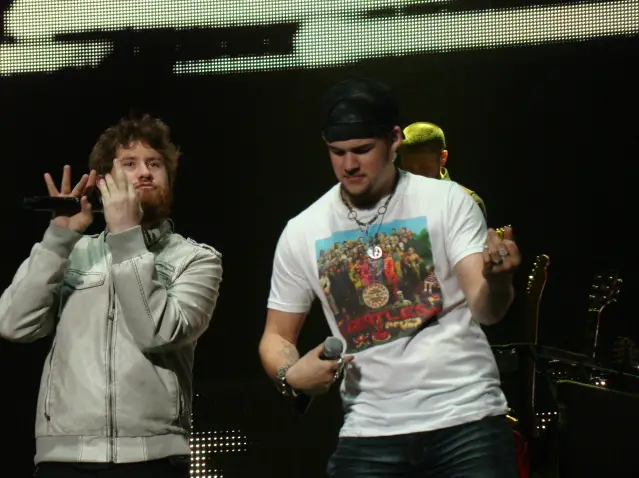 It's time to pop the champagne and celebrate! Our very own Sparkles turned in her 10th American Idols live recap for your reading pleasure! Why, it only seems like yesterday, when the clowny one turned in her very first "recrap", the epic 5 stages of corn!  Read on, people read on. (Milwaukee concert page with videos HERE).
***
They call me Sparkles. The recapping queen. The pantsless wonder. The sexiest clown on planet Earth. Although I go by many names, I have just one singular obsession. And that obsession, my friends, is American Idol. And more specifically, the live concert tour that criss crosses this great nation of ours (and Canada too). Every summer I attend as many concerts as I can and then I write what I refer to as recraps. That stands for crappy recap and has nothing to do with my habit of wearing adult diapers, but more on that later. If you have never read a Sparkles recrap before you are in for quite a treat. And by treat I mean a long, indulgent trainwreck full of grammatical errors, disgusting references and tangents that go nowhere. And if you have read any of my nine previous recraps you know fully well what's about to happen. And yet you come back for more. Either way, sit back and make yourself comfortable because words are my currency and I intend to go on the mother of all shopping sprees.
So not only is this Season Ten of American Idol, it's also my tenth recrap. I've watched the show since Season One and I started going to the concerts since Season Five. I take my American Idol concert experience very seriously. Like a world champion boxer I abstain from all sexual activity before the big event. Last year I almost made it to intermission. However, then that cute Aaron Kelly hit the stage and all bets (and pants) were off. Let's just see what happens this year, shall we? Here's the lowdown on all that occurred exactly/not quite/maybe/sort of/almost as it happened…
This would be an adult only excursion so it was time to bid farewell to my ever growing brood: the triplets Trixie, Dixie & Pixie, the twins Apple & Baby Gaga and my latest addition Zygote, who I keep in a jar in the fridge, just behind the pickles and the mayo. Momma Sparkles just don't need no snotty faced kid tugging at her sleeve when she's doing something of great importance such as dancing or screaming "Scotty you can love me as big as you want to…just not enough to get me thrown in jail…oh, what the hell, it would totally be worth it…I'll do the time if we do the crime…you'll get to third base and I ain't talking about baseball…now quit giving me dirty looks, lady in front of me."
Collette moved here from the Philippines about two years ago and she's a big American Idol fan. Her faves are James, hometown girl Naima & her fellow Filipina Thia. Kenny, like a lot dudes, was mainly going because his wife wanted him to.
THE VENUE: I was happy to see that the show would be at the Bradley Center. This is probably one of the bigger venues on the tour. Our seats were on the floor in the fifth row.
THE CROWD: I know that Idol fans take the crowd description very seriously. It's all about who, what, how old the fans are etc. Knowing this, I had no choice but to become a crazed census taker and create a spreadsheet with 3 columns: male, female & undetermined. Then I cross referenced that with age, hair color, if they had a sign, when they clapped, when they stood up and when they sat down. Oh, who am I kidding? Why would I spend my time paying attention to other people when all I care about is myself? Oh, and those people on stage too, I guess. So all I can say is the crowd was made up of human people…and one adorable clown.
THE BAND: I love the Idol touring band. They are all really good. But my fave has always been the guitar player Tim Stewart. Sometimes I watch him more than the Idol on stage.
THE GROUP NUMBERS: I liked the final group song and the guys doing "Animal" & the girls doing "Tightrope" the best. Also, the duets were very good especially Casey & Haley's. I just don't see why they needed some of the Idols to come out and sing back up. The only thing I could think of is that they were trying to save money by not having the usual back up singers that toured in years past. Thankfully they didn't do this format on the Seasons 7 – 9 tour as I couldn't imagine, for example, Crystal Bowersox having to be Tim Urban's back up singer. And now a little something about each Idol in order of their solo songs.
PIA TOSCANO: Why do I always want to say pistachio when I see her name? On the show I never quite got the hype about Pia. Apparently many others didn't either as she didn't last too long. I did like the NYC background she had and the reflections from her sparkly dress which hypnotized me into a robotic daze. Apparently it did the same for her too as she didn't move around too much. I had never listened to her single "This Time" before as it just didn't interest me. I actually thought it sounded kind of catchy. I don't know if it will be a hit or not but I think there could some place for her in the music biz.
PAUL McDONALD: Wow, look at them glowing choppers. Them's babies is as white as the make up I have thickly caked on my clowny face. Paul really played his Idol cards right. He was on long enough to make some of that hefty tour dough but not so long that he had to sing a lame coronation song. Not to mention long enough to bag himself a Hollywood actress. Yes, the dude with the glowingly radiant hard bony appendages that are borne on the jaws and serve especially for the prehension and mastication of food did alright for himself. Too bad he only got one solo song. And although I love early Rod Stewart, this song has been played to death. Also, because he looks and sounds a little like Rod it reminds me of one of those superstar impersonator shows you see in Vegas. And although his raspy voice did not sound really clear or strong in such a large venue, Paul is a very good performer and I think he will do well with his band after all is said and done. I sure wish he would have worn one of them fancy suits though but I'm guessing he knew he couldn't compete with Sparkles when it comes to the sparkly attire. He'll always have me beat on the teeth though.
THIA MEGIA: I was rooting for Thia to make the tour since my Filipina friend Collette was such a fan. We both agree that she is really cute and very stylish. She's just so young yet. But I do think that one day she could have a career in music or maybe acting. It's very cool that the tour is heading to the Philippines where I'm sure Thia will be a big hit.
STEFANO LANGONE: On the show, Stefano was never one of my faves. Yes, he's very good looking but I didn't care for his voice or song choices. But on this tour I must say that unlike Tim Urban from last season, Stefano gets it. He knows what he's good at and what his assets are and gives the audience just what they want. So I was very pleased that instead of hiding behind a guitar or keyboard, he dances around and takes off his shirt. His dance moves are great and his abs are even better. Kudos to you Stefano because you get it.
NAIMA ADEDAPO: Time for our hometown Milwaukee girl! I was so glad Naima made the tour. I'll admit it was partly for self serving reasons as I wanted the tour to come here. But I also knew that the concert would benefit from her energy. I'm not a fan of that JLo song but Naima's dancing was spectacular. Nothing like that has ever been done on the previous tours. Near the end of the song she did a one handed cartwheel and ended up "on the floor." Literally. Just like the song said. Makes you glad that she didn't do a cover of Lionel Ritchie's "Dancing On The Ceiling" because someone could have gotten hurt. But I bet her version of Culture Club's "I'll Tumble For Ya" would be epic.
CASEY ABRAMS: I usually find someone I like during the audition phase and then root for them until the end. This year, I chose Casey. My enthusiasm started to wane, however, when he did that Nirvana cover which I hated. I am glad that the save was used on him though as that was one of the truly emotional and exciting things that happened on this season. What I like most about Casey is that he's a true musician and not just a singer. Casey is quirky and definitely entertaining to watch. One of my favorite songs of the night was "Smooth." The stand up bass is also something we've never seen before. I hope Casey can make a living in the music biz as he's a natural performer.
INTERMISSION: I always wear adult diapers to these shows so I don't have to risk standing in a long line and missing some of the concert. After the first half ended and the house lights went on, the woman behind me turned to her friend and said "it smells like a dirty diaper in here." I turned around and with a disgusted look on my face replied "who would bring a baby to a concert?" As she and her friend nodded in agreement and scanned the crowd for the offending infant I chuckled to myself. Little did they know that the smell was no offending infant. No, what they were smelling was what I refer to as "Sparkles' Stew."
LAUREN ALAINA: I'm not a big country music fan. That being said, I think Lauren has a very strong voice. When she opened up the second half, a bunch of young girls stood at the barricade in front of our seats. The ushers never told them to leave so I decided to join them since they were blocking our view. Lauren did a great job acknowledging all of these fans and the girls were thrilled. I didn't get all of the whining when she & Scotty made the final two. There hasn't been a country winner since Carrie Underwood and country music is a huge part of the music industry. I actually thought that she and Scotty made for a nice wholesome final two and their duet tonight was one of the highlights. I'm sure Lauren will have a nice career in country music.
JAMES DURBIN: I started to like James more and more as the season went on. I just have to root for a guy who starts a piano on fire. That was cool. I'm not one to dwell on the back stories so the Tourette's thing didn't matter to me. Although the love he has for his child and girlfriend was cool to see from such a young guy. And the wrestling obsession was funny and made for one of the more memorable scenes from the season when Hulk Hogan came out. But I mainly wanted James to get farther on the show so he would get more songs on the tour. With this lame format he only got two songs but they were some of my faves of the night. I knew he was going to be one of the more entertaining Idols and I was right. He had great energy and he even slid across the stage (do I dare make my third Tim Urban reference)? He also was the only one to come between the stage and that metal barrier to give high fives to the fans. I must say that I prefer when James sings rock over the metal stuff. One of my faves of the season was "Will You Still Love Me Tomorrow" and that was pop/rock. I also think he sounded great on that Green Day cover on his EP CD. That's the direction I think he should go in and then do some metal covers when he tours. But whatever he decides to do, I think he will give it his all.
JACOB LUSK: I spent his entire set gazing at myself in the small pocket mirror that I keep in my purse. Wow, I look good. Damn good. Just kidding even though Jacob said we should look in the mirror if we didn't like his singing and I am always cooperative when it comes to being told to gaze at my own reflection. Honestly, I was not a huge fan of him on the show. He was so over the top and he sings the kind of music I don't listen to. But his performance style works live. He gave 110% and was highly energetic. I do think he would have been a better opener for the second half of the show though instead of following the sonic blast that was James but who knows how they determined the performance order this year.
HALEY REINHART: I know a lot of people on this blog love Haley but she was just alright to me. I sort of lumped her in with all of the past cute girls whose outfits get shorter and shorter as the season progresses and they find themselves in the bottom three. It seems like every tour there's a young woman who shows off the gams for all of the guys dragged to the concert. I do think she has a nice voice but I'm no fan of the growl. Thankfully, the growl was kept to a minimum at the concert. She's clearly very comfortable on stage and has a nice playful manner. What I like most about her is that she is different from most other female Idol singers. I like that she isn't on autopilot and can improvise and switch it up. And her duet with Casey was one of the highlights of the night.
SCOTTY McCREERY: Baby lock the door and turn the lights down low because it's time for our American Idol: Scotty "The Body" McHottie! Scotty seemed liked the likely winner when they first started showing him in those commercials well before the season started airing (the same goes for Javier Colon on "The Voice" by the way). I'm not a big country fan but I did admire his deep masculine voice as a lot of male Idol singers sing higher than a 12 year old girl. Scotty actually had me at Hello Goodbye. "Hello Goodbye" the song that is. Any guy that can sing and act all goofy when he's running around an old English phone booth is alright by me. I thought he was hysterical. I also laughed when he met Lady Gaga. That was some funny stuff. My fave song of his was "Gone." He really showed some attitude on that one and it was a lot of fun. I do think his CD will sell very well and that will be good for the American Idol franchise after last season's poor sales (sorry Lee fans). Scotty will make a great ambassador for American Idol for years to come.
Wow, that was fun. Sparkles had a real good time. No matter what I think about an Idol on the show, I always love them all on the tour. If you're thinking of going I would highly recommend it. As Sparkles always says, you can always make more money but you can't always make more fun. And this will be your only opportunity to see them all together. As for Kenny & Collette, they had a great time too. Their faves remained Naima, Thia & James. Collette especially loved Naima's dancing. They both mentioned that they preferred last years format better though. They liked seeing the Idols get their own sets in the order they were eliminated. I tend to agree with them. It seems more like a concert and less like a variety show. No matter what though, we are already planning to go again next year.
It's time for some meaningless stats!
Temperature at show time: 82
Time the show started: 7:17 PM
Time the show ended: about 9:50 PM
Cost of my diet Pepsi: $3.50
Favorite Judge: I miss Simon
Favorite Idol concert performance of all time (seasons 5 – 10): Casey James "I Got Mine" (especially the back and forth guitar solos with Tim Stewart)
Favorite Idol concert performance from this concert: Casey Abrams "Smooth" (especially the back and forth scat/guitar solos with Tim Stewart)
Things I Like: kittens, stickers, rainbows and picking up hitchhikers
Things I Don't Like: waiting in line, when people dress up their pets and wind chimes
Words I try to interject in conversations simply because I like pronouncing them: garish, cornucopia, supercilious, accoutrements (which I pronounce with a silly French accent) conquistador (which I pronounce with a silly French accent) and duty (because it sounds like doodie…oh, and which I pronounce with a silly French accent).
So that's pretty much how it all went down. I came, I saw, I sang, I danced, I yelled, I screamed, I peed my pants. Wow, a Sparkles poem! Yes, another great American Idol concert experience completed. But now comes your time. The way it works is this: I write then you read…then you write and I read. Yes, it's your duty to comment (ha ha, I said doodie). If you dare to read this recrap and not comment I will have no choice but to put the curse of incontinence on you so you will have to beg me for one of my diapers. And guess what? I won't give you one since you're so stingy with the words. Also, I demand that at least one lurker registers and posts their very first comment. If so, I just might do another recrap of the Chicago show. Otherwise, we'll see you at the tour next year because you know that Sparkles will be there. Until then…Sparkles out!
My Photos: http://s330.photobucket.com/albums/l424/Sparkledonia/American%20Idols%202011%20Milwaukee/?action=view&current=sparklestheclown.jpg
My Videos: http://www.youtube.com/user/ConcertCameraCat?feature=mhee