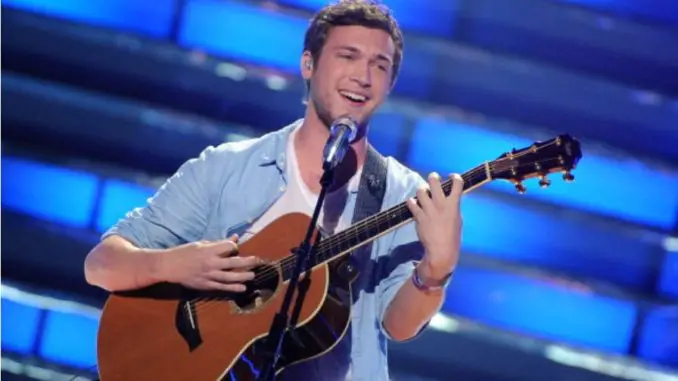 The American Idol 3 hour season 19 finale airs tonight (May 23) on ABC. The Top 3 have already performed their winners singles. But it is likely that after the winner is crowned–either Grace Kinstler, Willie Spence or Chayce Beckham–they will perform their original single as the confetti flies.
American Idol Original Songs Ranking Pt 1: Best Non Winners Singles
Without further ado, here's a ranking of all 18 previous winners singles. Or as they were known during the FOX years–the coronation song. Also ranked are the American Idol 2021 Top 4 original songs performed on last week's semi-final. Casey Bishop got to perform her song before leaving the competition. 
Winners' Singles Rankings
I would rank the Runner-Ups but sadly most are forgotten after as the singles often are cheesy. This is my ranking of the winners' singles. I did not include Lee Dewyze or Just Sam as they did covers for their winners' singles.
1. Phillip Phillips Season 11: Home (Greg Holden, Drew Pearson)
It is no wonder this is the best-selling winner single of all-time and that he beat one of the best and most competitive runner-ups of all-time, Jessica Sanchez. The song was so catchy and the folk-pop sound was very in at the time with bands like Mumford & Sons. It is the rare winners single that fit right into the current music scene.  Playing as backdrop for a video package featuring the women's gymnastics team didn't hurt it, either.
2. Kelly Clarkson Season 1: A Moment Like This (Jorgen Elofsson, John Reid)
This is ranked super high due to the nostalgia factor and that Kelly's voice on the song is incredible when compared to most of the other winners. The OG Idol was a star from the moment she won. This song is cheesy, but it was the perfect song for her winning moment on the stage.
3. Trent Harmon Season 15: Falling (Keith Urban, Dallas Davidson, Brett James)
This might be a biased opinion, but I love this song and it is one of my favorite coronation songs. I wish he would have stayed more in the soul realm. The "Falling" chorus is one of the best out of all the winners singles, and it is not nearly as cheesy, thanks to the Idol judge who co-wrote it, Keith Urban. 
4. Fantasia Barrino Season 3: I Believe (Louis Biancaniello, Tamyra Gray, Sam Watters)
This song, co-written by season 1 alum Tamyra Gray and her husband Sam Watters, is so cheesy. However, Fantasia's vocal and dynamics are so good, and her tone stands out so much, that I had to put it near the top. She made it work in the moment. But I wish it were a bit less generic. 
5. Maddie Poppe Season 16: Going Going Gone (Lindy Robbins, Julia Michaels, Mitch Allan)
I do not like the production on the song's recording. But, co-written by pop star Julia Michaels, it is super catchy. It wasn't the best original song, but Maddie's vocals managed to shine, nevertheless. 
6. Jordin Sparks Season 6: This Is My Now (Scott Krippayne, Jeff Peabody)
Her voice is gorgeous, and although this song is a bit sleepy in parts, she does sound like a star. The recording highlights how suited her voice is for pop radio.  
7. Carrie Underwood Season 4: Inside Your Heaven (Andreas Carlsson, Pelle Nylen, Savan Kotecha)
Carrie's voice soars on this, so I didn't mind it. But it sounds like a generic country movie song. 
8. David Cook Season 7: The Time of My Life (Reggie Hamm)
I like David's voice on this song, but the writing could have been better. I remember hearing it on the radio occasionally after the finale. The production is solid, besides those terrible background vocals.
9. Nick Fradiani Season 14: Beautiful Life (Chris Carrabba, Rykeyz, Ayanna Elese)
Co-written by Dashboard Confessional's Chris Carrabba, this chorus is one of the biggest earworms. Had the recording not been heavily overproduced, I think this original would have been one of the best.
10. Ruben Studdard Season 3: Flying Without Wings (Wayne Hector, Steve Mac)
Not sure if this is a popular view, but this song, a cover by Irish Boyband Westlife, sounds so dated that it even sounded dated when it was released. His voice is good here, but nothing memorable.
11. Kris Allen Season 8: No Boundaries (Kara DioGuardi, Cathy Dennis, Mitch Allen)
This extremely cheesy song was co-written by judge Kara DioGuardi. I don't mind his vocal on the track, so I didn't put it at the very bottom. But I did dislike this song. (And so did nearly everyone else!)
12. Scotty McCreery Season 10: I Love You This Big (Jay Smith, Ronnie Jackson, Ester Dean, Brett James)
These lyrics did not seem right for his age, and the backing vocals overpowered his voice. His vocal is fine, but that's about the only compliment I can give this song.
13. Taylor Hicks Season 5: Do I Make You Proud (Tracey Ackerman, Andy Watkins, Paul Wilson)
This song sounds like a generic song, from a generic. Unmemorable. And those background vocals are way over the top. Fun fact: The Top 3 were assigned different coronation songs. This "Do I Make You Proud" originally belonged to Elliott Yamin. Taylor disliked his original song so much, he nabbed this one instead.
14. Laine Hardy Season 17: Flame (Jon Levine, Ester Dean)
This song was an odd choice–a generic pop song for the bluesy country singer. It not only didn't suit his style, but he struggled to perform it live, as it seemed out of his higher vocal range. 
15. Candice Glover Season 12: I Am Beautiful (Jaden Michaels, Joleen Belle)
It was sad to see a great voice be stifled by this overproduced song. It reminds me of how Grace Kinstler's winners song sounds autotuned. They both have outstanding voices, so why autotune the vocals? This just wasn't it.
16. Caleb Johnson Season 13: As Long As You Love Me (Justin Hawkins)
Written by glam rocker Justin Hawkins, the production on this song is lacking. Caleb's voice sounds like it is in the background, like he's singing in a tin can. I just don't get this.
American Idol season 21 Top 4 Winners Singles Ranked
The entire Top 6, including Hunter Metts, and Arthur Gunn recording winners singles, but only the songs actually performed live on the semi-final show are included in the ranking.
1. Chayce Beckham: 23 (Chayce Beckham)
This is by far the best original this year. It's not cheesy. It's not surprising that it's charting well. The production is fantastic and the chorus is catchy and meaningful. He sounds so authentic on it. If Chayce wins, the song will make history as the first self-penned Idol winners single. 
2. Casey Bishop: Love Me, Leave Me (Chris Braide, Jessica Reyes)
Her voice is so unique, and it shows here. This song sounds current and isn't overproduced either. But my only qualm is the chorus could be better. It's catchy but doesn't go anywhere and seems too repetitive. However, the verses are incredible.
3. Willie Spence: Never Be Alone (Keith Wallen)
This song is slightly overproduced and does not stand out a bit. The orchestra and percussion in the background isn't my favorite touch either. 
4. Grace Kinstler: Love Someone (Jonathan Andreas Moss)
Sadly, Grace got the worst song. It is overproduced, sounds autotuned, and does not highlight her show stopping voice. However, some may relate to the message about working through a relationship.