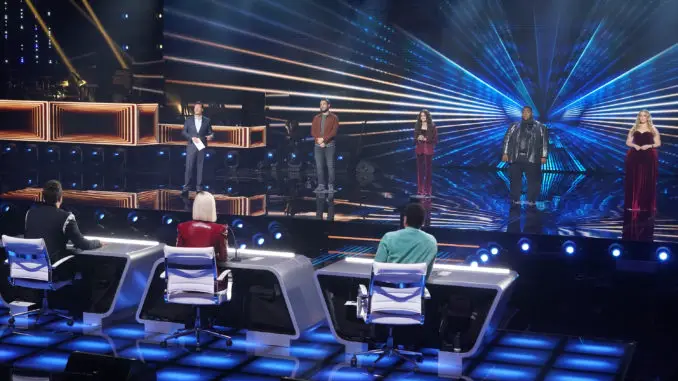 Tonight the Top 4 will sing for your votes in REAL TIME. American Idol begins at 8 pm ET across ALL TIME ZONES. Viewers will vote together, and at the end of the episode, a TOP 3 will be revealed.  The singers–Chayce Beckham, Casey Bishop, Grace Kinstler and Willie Spence–will perform for the judges Lionel Richie, Katy Perry and Luke Bryan. And for your vote! Ryan Seacrest hosts. 
This week, the contestants sing three four songs. One song is a dedication to a Personal Idol, and another is an original winners song. For the third, the Top 4 will be split into duos to sing songs by Billie Eilish sibling and collaborator, Finneas. UPDATE: The finalists sang four songs. In what appears to be a last minute change, the contestants sang a snip of their single, before introducing a reprise performance. Grace and Willie reportedly mentioned the change on IG earlier today.
Also, season 17 winner, Laine Hardy performs stops by to promote his new single "Memorize You,"  judge Luke Bryan performs his new single "Waves," and Finneas and Ashe perform their song, "Till Forever Falls Apart." 
American Idol 2021 Top 4 Song Spoilers: What Will the Idols Sing?
American Idol 2021 Top 4 Power List and Poll Results (Rank the Singers!)
American Idol 2021: Listen to the Top 4 Winners Singles Here! (Audio)
VOTE OPENS AT 8 PM ET ENDS BEFORE THE END OF THE SHOW! 
How Do I Vote for American Idol 2021 Contestants? Find Out Here
Willie Spence  – 2 to 21523
Casey Bishop – 4 to 21523
Chayce Beckham – 5 to 21523
Grace Kinstler – 10 to 21523
The episode begins with the Top 4 on stage looking pensive, as super-dramatic soliloquies play in voice over.s And then the Idol theme plays! Next week, it's the finale.
"Caleb Kennedy will not compete in tonight's competition…" is all we're getting from Ryan Seacrest about the teen country singer's scandalous disqualification. He's erased, completely. 
A Finneas video package plays next. "I cried when Adam Lambert lost," he says about his Idol watching childhood. 
Chayce Beckham – Colder Weather by Zac Brown Band
Chayce plays a little bit of his original song "23" for Finneas, who calls him "earnest." Next, he sings a bit of "Colder Weather" his Personal Idol song. Finneas urges him to keep his voice as forward as possible. Chayce says that he won't play guitar for that song. Finneas is OK with that as long as the "band doesn't step on your toes." As it turns out, Chayce IS playing guitar on "Colder Weather," and the band is kinda stepping on his toes. It takes a minute, but the performance finally takes on an urgent tone on the second chorus.  He's giving his fans what they want, for sure. "I knew you when Chayce!" gushes Katy. She's glad he decided to play guitar on the song. She calls his guitar is his "ammunition." Luke says people love artists who are genuine, and that's why he got this far. Lionel assures him that people like him.
Casey Bishop – wish u were gay by Billie Eilish
Casey shares with Finneas her love of his sister Billie Eilish. He's flattered that she chose to cover a song he co-wrote. He loves her rich tone, and advises her to be more spontaneous with the lyrics. Casey is in tears that Finneas gave his stamp of approval on her song. In performance, Casey gives the song an almost jazz feel. It's interesting. It's a more dynamic version than the short, informal performance of the tune uploaded to her Youtube channel. The song gives her the opportunity to be a stylist without resorting to singing old fashioned standards. She ends the song powerfully, really making the song her own. "You just crushed every aspect of that whole thing," says Luke, calling it "her best." Lionel believes Casey now owns her persona. "You killed it." Kelly says she found her stardust and she's "rolling around in it." and "you are going to be your next hero honey."
Next, season 17 winner Laine Hardy joins Ryan on stage. He just released a new single "Memorize You." Wait what? I thought he was performing? He got less than a minute to pimp his new single. American Idol should go OUT OF THEIR WAY to promote their former winners, but they don't. 
Grace Kinstler – A Moment Like This by Kelly Clarkson
Grace wants to inspire other women the way Kelly inspired her. "When you're performing it, be in love with the song," Finneas advises her. Out of Kelly Clarkson's vast song catalog, Grace chooses to sing her crummy coronation single? I don't get it. Vocally, Grace sounds great as always. She hits the big money note as if the confetti is already falling! But still, it's so freaking corny. Lionel rattles on about…he's talking Randy Jackson word salad now. But he likes that she is telling other girls that it's "OK to be you." Katy's cousins want Grace to win. She calls it a "cool song choice." Luke admires how she conducts herself with confidence. Grace was only a 1 year old when Kelly sang it on the season 1 finale! Feel old yet?
Willie Spence – Glory by John Legend
"John Legend you know he's on The Voice." says Finneas. "I know. But I like this show better," Willie retorts. "God I hope they use that," Finneas quips. Heh. Finneas calls Willie very sweet, yet a powerful singer. He he tends to start big and end with SO MUCH BIGGER AND TWO KEY CHANGES. Finneas wants him to find his softer side, coaching him on when to go soft and when to let loose. "I'm going to do my homework," Willie promises. On stage, Willie is powerful. "Glory" is the kind of song that's meant to deliver a moment. And it's a perfect for delivering the slow build to a huge crescendo thing that is Willie's typical style. "I'm so glad you took us to church," says Katy. "It's in God's hands now! I don't want to choose." Luke says, "You're literally going to save people's lives with your voice." The judges praise moves Willie to tears. 
Next, Ashe and Finneas take the stage to perform their lovely song "Till Forever Falls Apart."
Chayce Beckham – 23 by Chayce Beckham – You Should Probably Leave by Chris Stapleton
We get a little recap of Chayce Idol journey before he sings. The song is very personal. The lyrics depict a "mean" father, and how Chayce hit bottom with addition. There were losses, but the redemption? "Sober 24." He only sings a snippet of the song. He follows it up with a reprise of a favorite earlier song "You Should Probably Leave" by Chris Stapleton. I am disappointed the contestants aren't singing a full version of the winners single. However, his reprise of the Chris Stapleton song is his best performance tonight. "Who have you turned into?" asks Lionel. He calls it a "complete transformation." Katy asks about how high his song charted. It's at No. 1 on the overall iTunes chart!
Casey Bishop – Love Me Leave Me – Original Song – Livewire by Motley Crue
Again, first it's a little recap of Casey on American Idol. Next, Casey performs her single "Love Me Leave Me." This song gives some indication of what Casey might sound like on the radio. She follows the song up with her audition song "Livewire" by Motley Crue. I'm not down with song snippets as performances. However, the contestants are nailing their reprises, because it puts them firmly back in their comfort zone. "What was that?" yells Lionel. "You can be so whimsical then in the middle you drop the bomb….I loved it." He adds, "I want front row seats and backstage passes." Katy says her favorite song right now is "Love Me, Leave Me." Katy marvels at her versatility. "You checked all the boxes." Luke believes she's ready for all the legendary rock and roll venues. 
Grace Kinstler and Willie Spence – What They'll Say About Us by Finneas
Finneas explains during the mentoring session that he wrote the song for Broadway star Nick Corderas as he passed from Covid-19. This is a lovely song. And these two are singing a poignant and emotional version of the song. I had no idea this song was about Nick. So moving. 
Now, Luke Bryan performs his latest single "Waves."  Oh wow. A song that's not about trucks. Oh wait. It's a song about girls and summer, which is also a typical country trope. 
Oh look! It's season 18 finalist Michael J. Woodard making a surprise visit. Katy just signed him to her record label. He's already "made over 130 songs." What? His first single "Why u texting me" is out next Thursday. "I'm so proud of him!" yells Katy. Ha. Michael is such a loveable goofball!
Grace Kinstler – Love Someone (Original song) – Father by Demi Lovato
First, her recap! Then, she sings a snip of her original song "Love Someone." As I suspected, the live version is better than the studio. But I still don't love the song. Next, she reprises "Father" by Demi Lovato, which she dedicated to her own father, who suddenly passed away recently. Her voice is cracking–Grace's 2nd rendition of the song is even more emotional than the first. "The Demi song was made for you to sing," says Luke. "All of our birds are about to leave the nest. You've taken every bit of instruction. You came here being you, we just gave you your platform," says Lionel. Katy says "I felt you, I felt that." 
Willie Spence – Never Be Alone (Original Song) – I Was Here by Beyonce
After Willie's recap, he performs his dramatic new single. The production gives it a Bond song quality. It's still soulful, but with a classic twist. It's an interesting choice for him. Willie reprises "I Was Here" by Beyonce. The big dramatic key change comes, and it's Willie doing his thing. His singing is so effortless, he manages to be laid back and intense at the same time. "What have we done? I want to see this tour," says Lionel. "You are a giant of a voice…and presence." He notes how calm Willie is as he unleashes the beast. "You brought the chills back," says Katy. "You have that connection to that next realm," she says. "You are stepping into your power and walking into the light." Luke mentions how he flips into "beast mode."
Chayce Beckham and Casey Bishop – Break My Heart Again
Finneas points out that Casey is taking melodic liberties, and Chayce should do the same. Frank Sinatra's jazzy style inspired the song. Chayce manages to strike an intimate, conversational tone. Casey's voice is much bigger. She's overpowering him. The song is about two old lovers, meeting again. And between two singers willing to interact, the song would be amazing. But, the harmonies are sweet. The two have very different styles, but they make it work, even with the awkward age difference.
RESULTS
The first person to compete in the finale is CHAYCE BECKHAM. Willie Spence is called next, followed by Grace Kinstler. WOW Casey Bishop is eliminated! Dang. All my favorites are gone. I'm not going to say I'm surprised. I had her ranked No. 2, while knowing that tonight's results could be wildly unpredictable. Also, Chayce's single "23" is No 1 on iTunes. Maybe I'll be wrong, but I will probably stick to my prediction that he wins it all. 
Top 3
Chayce Beckham
Willie Spence
Grace Kinstler
Eliminated
Casey Bishop