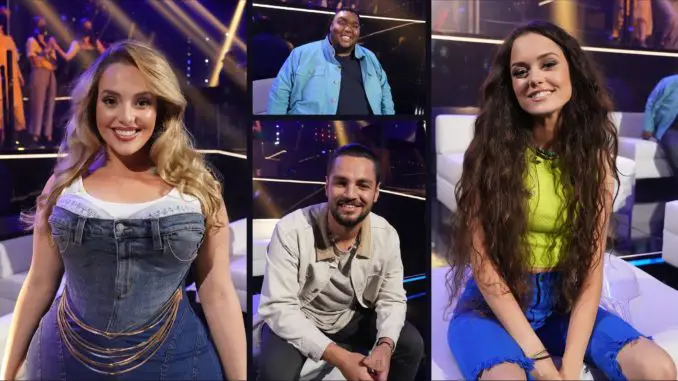 It's been quite a week in American Idol land, but the show must go on. And as such here is a complete list of song spoilers for the Sunday May 16 Broadcast.
The Top 4 finalists, which includes Grace Kinstler, Casey Bishop, Chayce Beckham and Willie Spence will perform a total of three songs. They each will sing their original winners single, recorded earlier in the week with a team of top notch producers. The contestants will also perform a song honoring their Personal Hero. And lastly, the quartet will be split into two duos and will perform songs by the guest mentor, Finneas. The Billie Eilish sibling and musical collaborator will also perform alongside the singers.
Billboard rounds out the list of spoilers. But also, check out the album art for each of the winners' singles. The entire Top 7 recorded singles, of which six will be released. And, if you are just waking up from a two day nap, American Idol disqualified teen country singer Caleb Kennedy after a video clip surfaced of him sitting beside a person wearing a hood that looks suspiciously like it's from the K*K*K. He will no longer compete, and his single will not be released.
Check out the list below:
Winners Single
Casey Bishop – Love Me, Leave Me (produced by Ian Fitchuk)
Chayce Beckham – 23 (written by Chayce Beckham) (produced by Redah & Ross Copperman)
Grace Kinstler – Love Someone (produced by Tricky Stewart)
Willie Spence – Never Be Alone (produced by Tricky Stewart)
Finneas Duets
Casey Bishop & Chayce Beckham w Finneas – Break My Heart Again
Grace Kinstler & Willie Spence w Finneas – What They Say About Us
Personal Idol
Casey Bishop – wish you were gay by Billie Eilish
Chayce Beckham – Colder Weather by Zac Brown Band
Grace Kinstler – A Moment Like This by Kelly Clarkson
Willie Spence – Glory by John Legend and Common
By the end of the episode ONE singer will be eliminated after America's vote, leaving a Top 3 to compete in the May 23 3-hour finale. American Idol airs coast to coast on Sunday May 16 on ABC at 8 pm ET/5 pm PT.