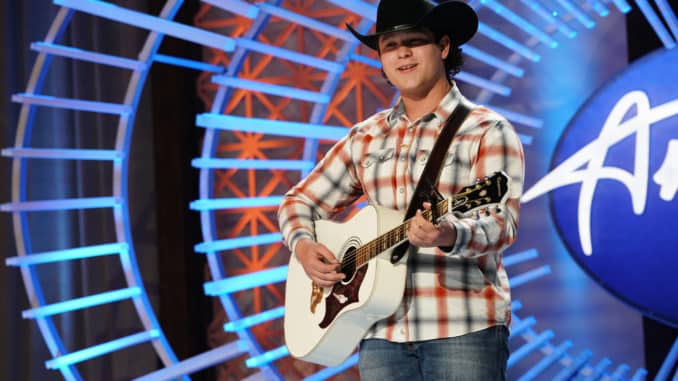 UPDATE: American Idol has disqualified Caleb. He announced the news on social media HERE:
Hey y'all this is going to be a bit of a surprise, but I am no longer going to be on American Idol. There was a video that surfaced on the internet and it displayed actions that were not meant to be taken in that way. I was younger and did not think about the actions, but that's not an excuse. I want to say sorry to all my fans and everyone who I have let down. I'll be taking a little time off social media to better myself, but saying that, I know this has hurt and disappointed a lot of people and made people lose respect for me. I'm so sorry! I pray that I can one day regain your trust in who I am and have your respect! Thank you for supporting me.
Just as the American Idol semi-finals begin, controversy strikes the Top 5. A twitter account with 127K followers posted a shocking Tik Tok video last night that appears to be of 15 year old country singer-songwriter Caleb Kennedy sitting next to a man wearing a white hood.
The account, @DefNoodles writes "THIS SHOULD'VE STAYED IN YOUR DRAFTS: American Idol contestant Caleb Kennedy allegedly seen in a resurfaced with someone wearing a K*K*K hood. Caleb is allegedly blocking anyone who mentions the video, according to multiple reports."
Due to the sensitive nature of the video, no embedding here. But for the curious, take a look HERE.
On one hand, the video is completely out of context. But on the other hand, a guy wearing a white hood is a context that can't be explained away. Caleb is a talented songwriter, who weathered his parents divorce, while growing up in small town Roebuck, South Carolina. And he's made at least one big mistake.
There is no excuse for hanging out with people who find symbols of white supremacy appropriate, hilarious, ironic, or whatever the heck is going on here. But I will give a 15 year old kid a break. I may be a commie pinko liberal, but I'm not about ruining a kid's life. And yes, I'm highlighting the video, but 147K people have already seen it. I doubt the video will stay under the radar for very long.
Additionally, here is Caleb in a video wearing a red MAGA cap.
Do I think Caleb should be disqualified from competing in the Top 5? No. If he were ten years older, maybe. But teens should have the room to make mistakes. I have no idea what's in Caleb's heart. But a trip to Los Angeles and the opportunity to meet people from across a diverse spectrum should be a learning experience for him.
However, the replies to the clip are all pretty negative, and along these lines:
It @AmericanIdol doesn't immediately send him packing that says a lot about them? there should be no way anyone should give this guy a platform.

— Mavisko87 (@mavisko87) May 12, 2021
ETA: I'm just a dumb blogger with an opinion. So I totally get that some folks are very upset with Caleb right now, and I respect that.