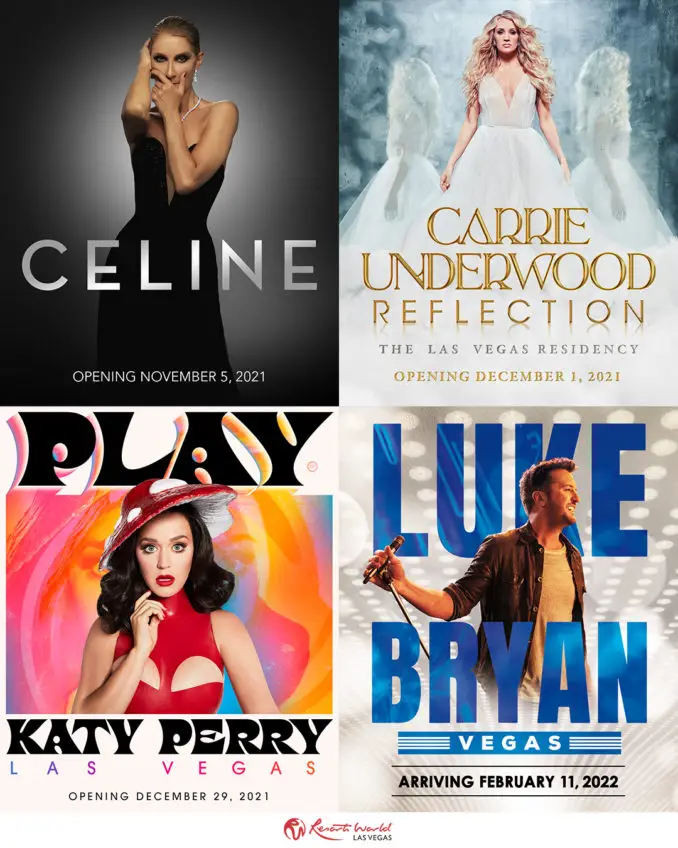 American Idol season 4 winner Carrie Underwood, Idol judges Katy Perry and Luke Bryan and superstar singer Celine Dion will become the founding headliners at the Las Vegas Strip's  new 3,500-room luxury destination opening June 24, and will call The Theatre at Resorts World Las Vegas their performing home. The 5,000-capacity, world-class theatre will open its doors in November 2021 and is exclusively programmed and operated by Concerts West / AEG Presents.
The group announced the residencies last month with a fun promo created with cutting edge VR technology.
The star-studded performances will begin with Celine Dion's return to Las Vegas with a brand-new show and a special opening night performance to benefit COVID-19 Relief on Friday, Nov. 5. Carrie Underwood follows in December with a six-show run of an all-new production beginning Wednesday, Dec. 1. Katy Perry will take the stage on Wednesday, Dec. 29, to launch an eight-show run including exclusive New Year's Eve and New Year's Day performances. Luke Bryan will keep the party going in 2022 when he kicks off his six-show engagement beginning on Friday, Feb. 11.
Tickets, plus VIP and premium ticket packages, for all 30 shows will go on sale to the public starting Monday, May 24 at 10 a.m. PST at AXS.com.
Performance schedule
Celine Dion (10 shows): Nov. 5-6, 9-10, 12-13, 16-17, 19-20, 2021
Carrie Underwood (6 shows): Dec. 1, 3-4, 8, 10-11, 2021
Katy Perry (8 shows): Dec. 29, 31, 2021 and Jan. 1, 7-8, 12, 14-15, 2022
Luke Bryan (6 shows): Feb. 11-12, 16, 18, 19, 20, 2022
Carrie Underwood to donate $1 a ticket to Make a Wish
About her new residency, Carrie told People magazine that a dollar from each ticket will go to the Make A Wish foundation:
"…I've got a few years under my belt now and been lucky enough to have songs that people will know and can sing along with me," Underwood adds. "I'm definitely looking forward to seeing all of the party people coming to Vegas to have a good time, to cut loose, let loose singing along to songs like 'Before He Cheats' and 'Good Girl' and 'Last Name' and this, all the sassy songs. I can definitely see it in my head already."
Underwood has also added a charitable element, with a dollar from each ticket sale going to the Make-A-Wish Foundation. "I love that it's like, we're all here together anyway, enjoying our night, we might as well be doing some good in the world as well," she says. "And it's such a small thing, $1 per ticket, but it really adds up. I've worked with Make-A-Wish for as long as I've been doing this."