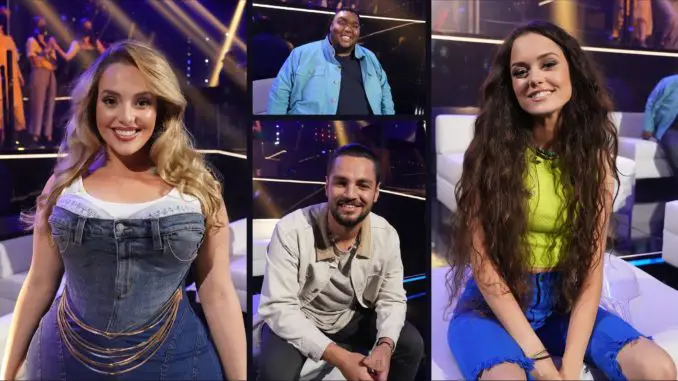 The American Idol Top 4 take the stage Sunday night (May 9) to sing THREE songs. The contestants will perform an original winners single, which you can check out HERE. A dedication to a Personal Idol, and lastly, split into two duos, the singers will perform songs by Finneas alongside the Billie Eilish sibling and musical collaborator.  (Full list of Song Spoilers)
Usually, by the Top 4 or 5, I can make a clear prediction about who I think will win. I'm not always correct, of course. But I feel confident in my ability to try. Not this season however. I am ranking the singers below, but I think that ANYTHING could happen on Sunday. There really are no front runners. 
Laine Hardy Returns to American Idol to Perform New Single (Audio)
American Idol 2021 Finale: Luke Combs, Mickey Guyton Leona Lewis and More!
How has Caleb Kennedy's abrupt dismissal affected the rankings? If he were still in it, I might have ranked him third. Maybe his fans will switch to the folk/Americana artist Chayce Beckham? They are similar, but still in separate lanes. And this close to the finale, fans stop voting when their favorite leaves the show. 
Ahead of the performances, here's how I would rank the Top 4.  The winners single studio recording did inform my list.
American Idol 2021 Top 4 Power List
4. Grace Kinstler – Grace has been improving her standing week to week, but I'm not sure it's enough to win the show. She does have a loyal fan base, but so do the others, I think. For instance, Willie Spence came into the competition with impressive social numbers. Also, she has the weakest of the winners singles. I'm surprised she didn't record a more R&B influenced number. 
3. Willie Spence – Willie's original song is very far afield from what he usually sings. But on the other hand, he's very good at flipping songs. The live rendition may be very different from the recorded version! Willie hasn't gone overboard trying to impress viewers either–he just does. The singer has spent much of the season as a front runner, and he could still come out on top.
2. Casey Bishop – Young Casey gains strength every week. Last week, she seemed more comfortable on stage than ever. And whether she's singing a standard, or belting out a rock song, her powerful voice can't be denied. Her winners single is modern, while allowing her space to hit those big impressive notes. And she received a producers credit! As Luke Bryan would say, she could "win the whole damn thing."
1. Chayce Beckham – Chayce is the darkhorse of the season. Week to week, without big notes or vocal acrobatics,  he takes the stage and pours his heart out. He's been honest about his past and his struggle with alcoholism. He's an easy guy to root for! Also, he's a songwriter, and the only one of the Top 4 to write his own single. Lastly, his track "23" is the highest charting winners single at No. 33 on iTunes. 
Poll Results
Remember last Sunday's Top 7 performance show? Seems like a lifetime ago! Here are your pole results.
American Idol 2021: Favorite Top 5 Contestant
Regular readers of the website NOT shedding a tear over the demise of Celeb Kennedy. You all love you some Casey Bishop, however. 
Casey Bishop – 36.43%
Grace Kinstler – 28.54%
Chayce Beckham – 15.43%
Willie Spence – 14.85%
Caleb Kennedy – 4.76%
American Idol 2021: Favorite Top 7 Performance
However, there is no clear winner in the favorite performance poll. 
Grace Kinstler – Fix You by Coldplay – 16.86%
Casey Bishop – Ironic by Alanis Morissette – 15.14%
Grace Kinstler – When We Were Young by Adele – 15.02%
Willie Spence – Yellow by Coldplay – 12.73%
Hunter Metts – The River by Hunter Metts – 10.44%
Chayce Beckham – Mama by Chayce Beckham – 8.94%
Casey Bishop – Paradise by Coldplay – 5.50%
Caleb Kennedy – Mama Said by Caleb Kennedy – 5.05%
Willie Spence – You Are So Beautiful by Joe Cocker – 3.44%
Hunter Metts – Everglow by Coldplay – 2.29%
Chayce Beckham – Magic by Coldplay – 1.95%
Caleb Kennedy – Violet Hill by Coldplay – 1.03%
Arthur Gunn – Simple Man by Lynyrd Skynyrd – 0.80%
Arthur Gunn – In My Place by Coldplay – 0.80%
American Idol 2021 Top 7: Which Eliminated Contestant Was Robbed?
Hunter Metts gets over 50% of the vote. But "Nobody" is not far behind him. 
Hunter Metts – 55.61%
Nobody was robbed – 38.27%
Arthur Gunn – 6.12%
American Idol 2021: Chris Martin YAY or NAY
EVERYBODY LOVES CHRIS. Heh.
YAY -83.56%
Don't care – 9.50%
NAY – 6.94%
American Idol 2021: Grade Top 7 Episode
Last week's episode graded a B+
B – 43.26%
A – 42.55%
C – 10.11%
D – 2.13%
F – 1.95%
By the end of Sunday's show, ONE singers will be eliminated as fans watch and vote in real time. American Idol airs Sunday May 16 on ABC at 8 pm ET/5 PM PT.