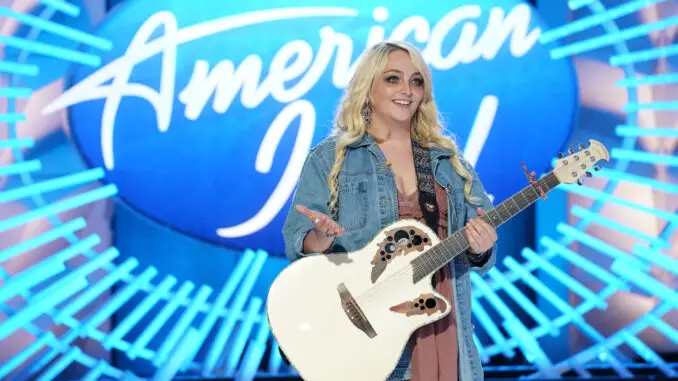 American Idol Audition HunterGirl: A voice PLATINUM enough to "cut through"
Tonight, on the premiere of the milestone Season 20 of American Idol, we met hopefuls at audition cities in Nashville, Austin, and Los Angeles (Read our Recap). There were some strong auditions, some wacky ones, and some tearjerkers. I did feel like it was the right balance, but it was a middle-tier audition episode. I'm not sure the winner was in this bunch, but we did see a standout in HunterGirl.
Hunter, whose actual last name is Wolkonowski, from Winchester, Tenn., tells the judges that through music therapy, she helps veterans with PTSD, process what they have experienced through the writing of songs. She sings "Riot" by Rascal Flatts. Her voice has a nice gravelly sound to it without overdoing it. It's very natural sounding. This style of country music is raw, but working on improving her enunciation would take her talent to the next level.
By the end of her audition, judge Luke Bryan seemed absolutely wowed and pointed to his arm noting the chills he got. He then proceeded to take a lap when she finished as Lionel Richie and Katy Perry gave her a standing ovation. 
A voice that cuts through
Katy described Hunter's voice as a "sharp knife" that "cuts through." And for the first declaration of season 20, Luke calls her top 10. The past few seasons, the judges especially Luke, told several hopefuls that they were top 5 or 10, seemingly more times than there are actual spots. He also calls Hunter "new age Miranda Lambert."
Luke suggests that Hunter sing the song a half key higher. After she makes the adjustment, the performance is even better. This little ten or so seconds is the best singing of the night, and probably earned her the Platinum Ticket. Luke calls her the best country voice he has heard in his five years on the show. The panel then unanimously send her to Hollywood.
WATCH The judges surprise HunterGirl with a Platinum Ticket at Luke's Nashville Bar
Before the episode closer, the judges facetime Hunter. They tell her that she has been invited to sing at Luke's 32 Bridge Bar in Nashville. As she performs in front of a crowd in the bar, the judges pull up and "surprise" her with a Platinum Ticket. This makes for a good TV moment, even if it was most likely exaggerated. Contestants aren't typically invited to perform at outside venues during auditions. Hunter likely knew she'd receive the Platinum Ticket.
Some lacked the "stardust"
Overall, the night's standouts for me were Nicolina and Hunter. Taylor Fagins, Cole Hallman, and Delaney Renee had me interested in their deliveries, so I'd probably pick them as honorable mentions. But I wasn't 100% sold on any of them just yet. They either didn't give off enough star quality or seemed a bit timid vocally. The rest of the yeses were all deserving enough to go through, but I either wanted more vocally or artistically from them. Some of the hopefuls I nearly forgot when looking back at the recap, and others were close to being great, but they didn't quite have the "stardust" that a star truly needs to thrive on this show.
Watch HunterGirl sing her original song "We're Not in Kansas Anymore
And in a bonus, I have dug up a video that HunterGirl posted of an audition for a chance to work in studio with Mitchell Tenpenny. For this performance, she showed off her songwriting chops with an original titled "We're Not in Kansas Anymore."