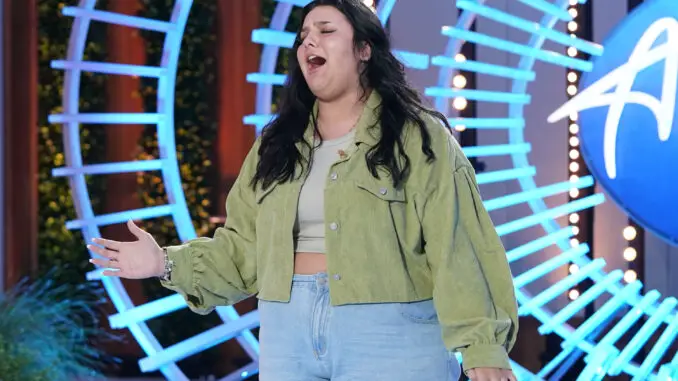 American Idol 2022 Premiere Recap – We're Live Blogging the Season 20 kickoff!
The landmark American Idol season 20 begins tonight with auditions from Austin, Los Angeles and Nashville. Judges Lionel Richie, Katy Perry and Luke Bryan along with host Ryan Seacrest will introduce a new crop young hopefuls. Who will snag that golden ticket to Hollywood?
In a new twist, one contestant from each city will be awarded the supercharged Platinum Ticket, which allows the artist to sit out the first round of Hollywood Week. Ryan teased that a singer will be awarded the super-special perk tonight.
American Idol 2022 Premiere: Meet The Contestants (Photos)
Spoilers: Top 24 Season 20 Contestant List
What Did Top 24 Sing in Hawaii? (Spoilers)
Showcase Contestant List and Song Choices (Spoilers)
Reminder: Comments on this post are a SPOILER FREE ZONE. Do not spoil outcomes. Keep spoiler discussion confined to specific spoiler posts.
The show begins with a montage of hopefuls we'll be meeting…For a Moment Like This!!!! Yes, the hopefuls actually recite the lyrics of the OG coronation single as singers cry on camera. Instead of the Idol logo, the interview space is lit up with the words "A Moment Like This."
Look at the montage of aluma on the wall behind Ryan! 
Noah Thompson – 19  – Louisa, Kentucky
Giving You Up by Kameron Marlowe – He does construction work for a living, but has dreamed of becoming a musician. But a lack of confidence has held him back, although everyone around him believes he has talent. His work friend, Arthur, signed him up to audition, "He's not born to be working for us," he says, like something out of Good Will Hunting. Arthur comes to the audition for moral support. The song Noah chooses is by a The Voice alum.
 Noah has a raspy authentic sound. He believes what he's singing. so I do too. Luke asks him to sing the chorus again and be more deliberate with the lyrics. It's an enunciation problem. Lionel calls his voice "Real life storytelling bada** voice." Katy calls him "the American dream."  Arthur enters the audition to explain why he signed his friend up. NOAH ISN'T FANCY HE DOESN'T DO WARM UPS. The judges are amused. – 3 yeses 
Normandy – 29 – Baltimore MD
Proud Mary by Tina Turner – She's a social media "influencer" and gamer taking photos of everything and everyone. She's dressed in a ridiculous outfit, but she is probably well aware of that. She speaks in a squeaky high voice. But her low singing voice freaks out Katy so much, she runs out of the room. It's like she's channeling a poltergeist, that singing voice of hers. It is very weird. She's not bad, actually. Next she sings "Set Fire to the Rain" by Adele. Her speaking voice must be a by product of a condition (Maybe this). She's hard to understand when speaking, but she enunciates beautifully while singing. Katy encourages her to let loose, and continues to be gobsmacked. Normandy is near tears as she gets 3 yeses. Pretty hilarious when poop lady Katy tells Normandy that she doesn't need all the quirky accoutrements. 
Nicolina – 18 – Toronto CANADA
She Used to Be Mine by Sara Bareilles –  Nicolina has an interesting low tone and she sings with tenderness, before opening up with some big notes. Her sound is sturdy and strong. She's not afraid to make an ugly face.  Her range is impressive, able to hit notes without resorting to her head voice. I wasn't impressed with a clip I heard earlier. But I've changed my mind. Standing ovation from the judges, and well deserved. "I felt your whole life story in that song," says Katy. Lionel calls the "journey of your voice" infectious. "You are what we have been looking for," gushes Lionel. 3 yeses
Tyler Allen – 24 – Mobile AL
I Believe in You and Me by Whitney Houston – We previewed this audition yesterday. His sister and one year old nephew were hit by an 18 wheeler and instantly killed. It happened last April, so the grief is still raw. But singing brings Tyler comfort. "Putting him to rest was the hardest thing," says Tyler. He begins the song a little off pitch. But his tone is conversational and full of feeling. It's the song he rocked his nephew to sleep with. He even personalizes it.
Tyler opens up at just the right spot, and then scales it back and doesn't oversing it. It's a lovely rendition. Katy is crying, and Luke is laughing at her, which is a little weird? Luke reads compliments off his notes. "You create a moment…that's what stars do." Lionel calls him a star, appreciating his subtlety. "You're going to Hollywood," they shout in unison. 3 yeses
Next, it's a video clip all about Ryan Seacrest. He's the only steady presence on American Idol since day one. Of course, the hopefuls grew up with him on their TVs and they love him! "Thank you for Being a Friend" plays in the background.
Maddie Belle Glidewell – 19 – Glasgow KY
Red Necked Woman by Gretchen Wilson – She's very sparkly and speaks with an extreme southern accent. She grew up with a family who played banjos and guitars, 24/7. Her mom accompanies Maddie to her audition. She LOVES Luke Bryan "SUPER GOOD LOOKING," mama gushes. "He's gotta hide," adds Maddie. When the judges hear about mama's crush they want her in the room, stat. Luke gives her a big hug.  Maddie points to Katy "YOU'RE MY IDOL," which Katy finds alarming. Because Maddie surely had too many Red Bulls that morning. Her singing is unwieldy. She needs to learn how to control her voice. But her tone is decent. She'd be a hoot in Hollywood. Katy likes her, but wants more variation. Luke likes her personality, but thinks the voice has to match. For now, 3 nos Maddie understands what went wrong: "Too much personality, not enough vocals."
Camryn Champion – 16 – Lumberton NJ
I'm Not the Only One by Sam Smith – Katy gives her some tips on how to project. She's having problems staying on pitch. The coaches try to help. I'm assuming it's a no?
Danielle Finn – 17 – Los Angeles
Mirror by Madison Ryan Ward – The judges offer advice to Danielle as well. Lionel liked the beginning notes. Katy asks her to take the song up a key. After, she calls Luke out for writing "no" on his paper." He says "It just wasn't exciting" before she opened up and hit some impressive notes. Lionel and Katy laugh. 3 yeses.
Grace Franklin – 15 – Detroit MI
Killing Me Softly by (Lauryn Hill Version) – Her grandmother is Aretha Franklin. The two were close. Lionel tells a story about how Aretha wanted to cook for him, always. However, Grace insists that she's her own artist. Oh dear. The young singer be a Franklin, but she's not ready yet. Her phrasing is weird, and she's got pitch issues. She warbles all over the woah whoa woah section. Luke calls it "sleepy and subdued." Katy calls it "soft." They don't want to call her out.
Oh commercial break. They would have already said no if the young hopeful didn't come from a famous family. Katy wants another song. CUE THE ARETHA FRANKLIN SONG. Grace sings "Ain't No Way." Hm. It's better, but still not great. Katy keeps coaching her. Ouch. "I loved your rendition." Actually, Katy, that really wasn't good. Luke wants Grace to "add command to her voice." Finally, Lionel gets real. He realizes she's not ready.
Luke says no. Katy says yes. Lionel says no. Thank you papa Lionel. SHE'S NOT READY. Katy argues for her. She's wrong. She leaves the room in a huff. Lionel says "come back when you're ready." And "I don't want this to be a crash and burn." CORRECT.
Now a segment about the bromance between Katy's fiance Orlando Bloom and Luke Bryan.
HunterGirl – 23 – Winchester TN
Riot by Rascal Flatts – OMG Luke can't believe that folks with Polish heritage live in Tennessee. Good Lord. Hunter does have a long Polish last name, and has shortened it to HunterGirl. Her day job is working as a music therapist with veterans who have PTSD. They tell her their war stories. 
Luke has the biggest smile on his face as she sings with a radio friendly tone. It's raspy, but also pleasant. The judges give her a standing ovation, and she can't believe it. Luke actually runs a lap around the room. "Your voice cuts through," says Katy. Luke wrote "Top 10" on his paper. He calls her a "new age Miranda Lambert." He asks her to sing it a half step higher. It is better. Her tone got brighter. He calls Hunter his favorite female country singer on Idol in 5 years." – 3 yeses
Cole Hallman – 22 – Manasquan NJ
Lodi by Creedence Clearwater Revival – We previewed this audition a few days ago. His sister has a chromosomal deletion that affects her intellect and behavior. Cole and his sister Katie are kinda famous on Tik Tok for singing together. He's been playing for five years. His voice is pleasant, but not distinctive and it cracked at the end. But Katy calls it character.
Luke delivers a backhanded compliment: "If you played a whole song with an out of tune guitar, and Katy Perry doesn't throw a penalty flag at you, that means we're all in to what you're doing,"  OUCH. His mom and sister enter the room to hear the judges verdict. But first, Cole and Katie sing "You Can't Always Get What You Want." The judges say it's better than his audition, because he's less self-conscious singing with his sister. – 3 yeses
Delaney Renee – 18 – Berkley MA
Opportunity by Sia – Delaney is known as the "singing babysitter" on Tik Tok. The woman she works for uploaded a secret video of Delaney singing a Disney song to her daughter. The clip went viral. It got 18 million views. "Idol was right on top of it!" The next day producers reached out. Wow. It's a peek behind the door viewers don't usually get.
Delaney's tone and phrasing are very pretty. Her head voice is beautiful. She still a little green, but there is a ton of potential. "You've got all the goods," says Lionel. Katy wants more grit, but she thinks the singer will get there. Katy wants to know her hourly rate! 3 yeses. "From Tik Tok to tinseltown," quips Luke. DAD JOKES.
Judges surprise HunterGirl with Nashville's Platinum Ticket
Later in the show, the judges invite HunterGirl to sing at Luke's bar in Nashville. The excuse they use is to see how the Nashville crowd reacts to her. But really they plan to show up and surprise her with a Platinum Ticket. TRICKY. There are a ton of people there to watch. Probably because producers invited them. Heh. The judges take the stage, open a guitar case, and present her with the Nashville Platinum Ticket. Oh. Ok. There is video of this night online. How did the Platinum ticket giveaway not leak online at the time?
Taylor Fagins – 26 – New York
He sings a song he wrote for Black Lives Matter, namechecking Breonna Taylor and others. He wrote it 3 days after George Floyd died. It's the first and only original song of the night. And it will probably make a bunch of people start screeching about "woke" American Idol. It's so weird, the stuff that makes some people mad. Anyway, the song isn't perfect, but its heartfelt. Taylor sings with a lovely falsetto. Lionel calls it "pretty powerful" calling it "very heavy." Lionel feels sad that we STILL need songs like Taylor's. Luke calls it a "magical moment." Katy is glad he didn't keep all that to himself." – 3 yeses