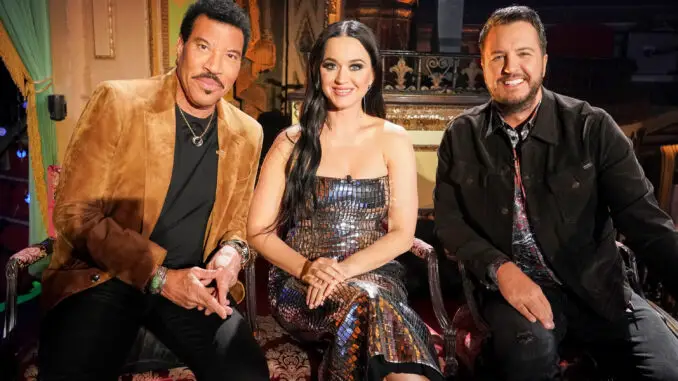 American Idol taped the 3 hour Top 20 for Season 20 episode earlier this week. It took a minute, but TheIdolPad has come through with RESULTS SPOILERS. DO NOT READ FURTHER if you don't want to know which singers will be eliminated on Sunday.
American Idol's Top 24 performance episodes became rather chaotic when frontrunner Kenedi Anderson quit the show after she taped her performance at the Disney Aulani Resort in Hawaii earlier this year. While the show aired her performance of Christina Perri's "Human," a clip of Ryan Seacrest explaining that she left the competition aired right afterward. Kenedi confirmed her departure soon after.
American Idol 2022: Full Season 20 Schedule (Updated 4/15)
A viewer vote followed each night's performances. The plan was to send two home from each set of 12 contestants. But because Kenedi from Night 2, self-eliminated, only one singer from the second set of Top 24 contestants went home. Somebody caught a huge break and a second chance. Two singers were eliminated from night 1.
SPOILERS BELOW. I've also posted your Poll results, and y'all did a pretty good job of calling the correct eliminated contestants!
The three hour Top 20 reveal airs Sunday April 17 on ABC at 8 pm ET/PT. America will vote again for their favorite singers. Also, the episode features performances from Season 11 winner Phillip Phillips, Season 17 runner-up Alejandro Aranda aka Scarypoolparty and current winner Chayce Beckham.
On Monday April 18, The Top 14 will be revealed LIVE! So no spoilers! Sorry! America's votes from the night before will determine 10 spots. while the judges Lionel Richie, Katy Perry and Luke Bryan choose 4 wildcards to fill the remaining 4 slots. 
American Idol 2022 Top 20
Allegra Miles
Ava Maybee
Cadence Baker
Cameron Whitcomb
Christian Guardino
Daniel Marshall
Elli Rowe
Emyrson Flora
Fritz Hager
Hunter Girl
Jacob Moran
Jay Copeland
Katyrah Love
Lady K
Leah Marlene
Mike Parker
Nicolina Bozzo
Noah Thompson
Sage
Tristen Gressett
Eliminated
Night 1
Danielle Finn
Scarlet Ayliz
Night 2
Sir Blayke
POLL RESULTS
More than 25% of respondents felt former college football player and country singer Dan Marshall was headed home. I actually disagreed. Being a cute southern country crooner will buy Dan some time. But maybe not much. Unless he steps up his game, there is a good chance he'll be cut before the Top 14.
American Idol 2022 – Which Two will be Eliminated? Part 1 (Pick 2)
Dan Marshall – 25.24%
Scarlet Ayliz – 24.67%
Danielle Finn – 15.35%
Elli Rowe – 7.37%
Sage – 6.51%
Jay Copeland – 6.47%
Mike Parker – 5.09%
Tristen Gressett – 3.09%
Jacob Moran – 2.73%
Nicolina Bozzo – 1.47%
HunterGirl – 1.14%
Emyrson Flora – 0.86%
American Idol 2022 – Which Two will be Eliminated? Part 2 (Pick 2)
Sir Blayke – 37.11%
Lady K – 21.46%
Cameron Whitcomb – 17.26%
Ava Maybee – 6.86%
Allegra Miles – 4.76%
Katyrah Love – 2.88%
Fritz Hager – 2.53%
Noah Thompson – 2.36%
Cadence Baker – 1.75%
Christian Guardino – 1.66%
Leah Marlene – 1.35%
American Idol 2022 – Favorite Top 24 Part 1 Performance
Nicolina Bozzo – Elastic Heart – 23.66%
Emyrson Flora – Angels Like You – 16.05%
HunterGirl – Banjo – 15.03%
Tristen Gressett – With a Little Help from My Friends – 13.22%
Jacob Moran – In My Blood – 8.63%
Mike Parker – Best Shot – 4.89%
Elli Rowe – Everywhere – 4.59%
Sage – Jolene – 4.16%
Jay Copeland – I Want You Back – 3.80%
Dan Marshall – Heaven – 2.23%
Danielle Finn – Your Song – 2.11%
Scarlet Ayliz – Levitating – 1.63%
American Idol 2022 – Favorite Top 24 Part 2 Performance
Leah Marlene – Call Me – 17.87%
Noah Thompson – Blue Side Of The Mountain – 17.69%
Fritz Hager – Waves – 11.02%
Kenedi Anderson – Human – 9.98%
Katyrah Love – Blame It On The Boogie – 8.69%
Christian Guardino – Leave the Door Open – 8.14%
Cadence Baker – Something's Got A Hold On Me – 7.83%
Allegra Miles – Adore You – 6.00%
Cameron Whitcomb – Bad Moon Rising – 4.77%
Ava Maybee – Tell Me Something Good – 4.04%
Lady K – Before He Cheats – 2.51%
Sir Blayke – Breakeven (Falling To Pieces) – 1.47%