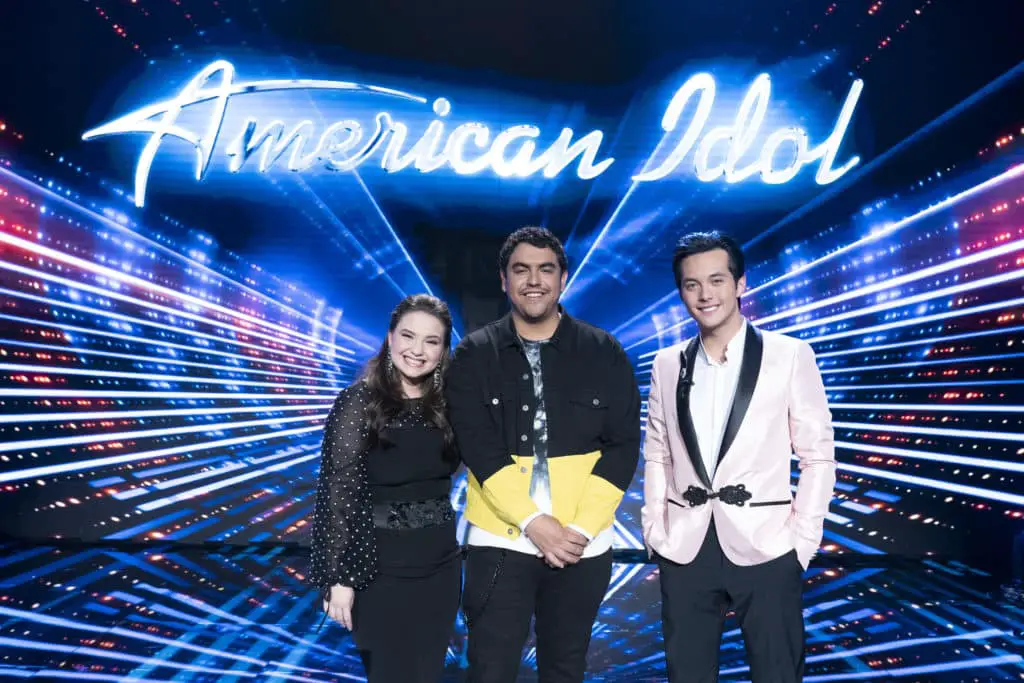 The American Idol 2019 Top 3 take the stage LIVE for your votes on the GRAND FINALE airing Sunday (May 19).  
The American Idol finale will air live across all time zones, and for the first time, the winner will be determined in real time. According to the new voting faq, one of the Top 3 will be going home during the show, based on the voting results up to that point. Fans can keep voting/change their votes for the Top 2 until the end of the show when a winner will be crowned.
American Idol 2019 Finale Guest Star Song List Revealed!
Judges Lionel Richie, Katy Perry and Luke Bryan will be on hand to throw softballs after the performances. Ha. And host Ryan Seacrest will once again ask KIERAN to DIM THE LIGHTS. 
This is it people. The final 3! Here, I will attempt to predict a winner. With no overnight voting–the first time ever for a finale–the results COULD be unpredictable. Actually, any one of the three could win! But I'll make my best educated guess. 
Who do you think will win American Idol season 17?
3. Madison VanDenburg – Madison has been the gal with the great big voice, but didn't seem to make much of an impression at first. Laci Kaye Booth appeared to be the female front runner, until she wasn't… If Madison turns in incredible performances, it's possible she'll sneak into the top spot. But I think the guys have it this season.
2. Alejandro Aranda – I KNOW. Alejandro's socials are OFF THE CHARTS. And he's got a very impassioned fan base ready to vote vote vote. Alejandro also seems to be a judges/producers favorite. From the very beginning, his audition was touted as the BEST AUDITION in 17 seasons of American Idol. That obvious hyperbole, and that he's a musician and songwriter first, a vocalist second, has made Alejandro a polarizing contestant. While American Idol will help his career, I don't think he's going to win. He's an Hispanic dude from Southern California with an edgy vibe. If Alejandro wins, the he will tick off a few firsts–first Hispanic winner, first Southern California winner, first winner to sing mostly original songs. 
1. Laine Hardy – I'm going to base my prediction on history. Laine will win American Idol. He's southern, he's white (Yes. I know he's part Asian, but the Louisiana good ole boy is what people see at first blush), he's cute.  Socials don't tell the whole story when it comes to American Idol results. There's a silent majority of fans who aren't necessarily online, and they vote. Also, Laine doesn't have the polarizing baggage that Alejandro brings. He's a talented vocalist, who knows how to perform a crowd pleasing song. He appeals to the masses. 
But again–the coast to coast real time voting could have unexpected results. For instance, fans of the eliminated 2nd runner-up will be able to vote for one of the Top 2. In the past, finale eliminations were based on already tallied votes. So….anything could happen Sunday night, truly. 
*Earlier this week, the Top 3 headed back to their hometowns for a hero's welcome. Idol will feature clips from the visits on Sunday. But, check out highlights from each of the finalists' special day here:
Alejandro Aranda American Idol Hometown Visit Highlights
Laine Hardy American Idol Hometown Visit Highlights (VIDEO)
Madison VanDenburg American Idol Hometown Visit Highlights (VIDEO)
Poll Results
American Idol 2019 Top 3 Revealed: Polls and Photo Gallery
Favorite Top 3 Contestant
Alejandro is in the lead, but is running neck and neck with Laine!
Alejandro Aranda 44.6%
Laine Hardy 40.09%
Madison Vandenburg 15.3%
Favorite Top 4 Performance
Alejandro's original song "Blesser" was a fan favorite.
Alejandro Aranda – Blesser (Original Song) 23.15%
Alejandro Aranda – Sorry Seems to Be the Hardest Word by Elton John 14.93%
Laine Hardy – Something About the Way You Look Tonight By Elton John 14.47%
Alejandro Aranda – No Woman No Cry by Bob Marley and the Wailers 8.91%
Laci Kaye Booth – Dreams by Fleetwood Mac 8.1%
Laine Hardy – Hey Jude by The Beatles 7.99%
Madison VanDenburg – Make You Feel Me Love – Bob Dylan/Adele 5.09%
Laine Hardy – Can't You See by the Marshall Tucker Band 4.17%
Madison VanDenburg – Your Song by Elton John 3.36%
Laci Kaye Booth – The House that Built Me by Miranda Lambert 3.24%
Wade Cota – Hard Luck Woman by KISS 2.66%
Madison VanDenburg -What About Us by Pink 1.62%
Wade Cota – You Are The Best Thing by Ray Lamontagne 1.39%
Wade Cota – Rocket Man by Elton John 0.58%
Laci Kaye Booth – Saturday Night's Alright for Fighting by Elton John 0.34%