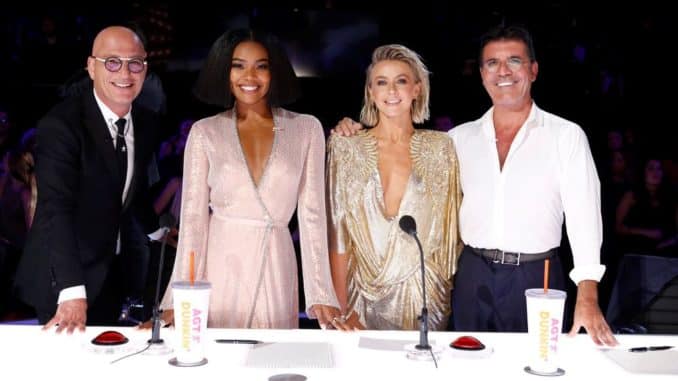 NBC America's Got Talent Review Claims No Sexism or Racism
As
America's Got Talent
premiered Tuesday night
(May 26) did you wonder what happened to the third party investigation NBC
embarked upon
, prompted by former judge
Gabrielle Union's
explosive charges of on set racial insensitivity and racism
? The network
released its report today
, which states that despite what Gabrielle charged, the AGT work environment is inclusive, although it does acknowledge (vaguely) areas that could be improved: 
"We have a shared passion to make America's Got Talent a positive, inclusive and diverse show that is open to all individuals from any country or background. We are proud and grateful that our contestants and audiences support our ongoing mission, which is represented in the incredible people who participate in the show each year. We have heard from contestants and talent alike that their experience on AGT has had a positive impact on their lives. When we heard Ms. Union had concerns about her time on the show, we took them extremely seriously.

NBC, Fremantle and Syco immediately engaged an outside investigator who conducted more than 30 interviews to review the issues raised by Ms. Union. While the investigation has demonstrated an overall culture of diversity, it has also highlighted some areas in which reporting processes could be improved.

Through the investigation process, it has been revealed that no one associated with the show made any insensitive or derogatory remarks about Ms. Union's appearance, and that neither race nor gender was a contributing factor in the advancement or elimination of contestants at any time. The investigation has shown that the concerns raised by Ms. Union had no bearing on the decision not to exercise the option on her contract.

NBC, Fremantle and Syco share Ms. Union's dedication to diversity and inclusion in the industry. We continue to remain committed to having an inclusive environment for everyone associated with the show, and to upholding AGT as one of the most diverse programs on television."
After Dismissal from AGT, Gabrielle Union Reports Racism, Sexism on Set 
It's probably no coincidence that NBC released a statement on the day that Variety released a cover story on Gabrielle. After she and Julianne Hough were fired from AGT last December, all hell broke loose. Reports of sexism and racism on set emerged.
For instance, Gabrielle claims that she received notes from AGT producers saying that her hairstyles were "too black." Additionally, Gabrielle complained of an environment that had no chain of command for complaints. When she reported executive producer Simon Cowell's indoor smoking inflamed her allergies, she was told nothing could be done to change his behavior. She says she hit a similar brick wall after she complained about a Jay Leno dog eating joke that stereotyped Koreans. When she pointed out that an impressionist's act bordered on blackface, the show let him audition anyway, although the act was later cut from the broadcast. 
Gabrielle Union Speaks Out on Allegations for the First Time
In her new Variety story, Gabrielle speaks out for the first time about her issues with America's Got Talent:
About Simon's smoking: "I couldn't escape. I ended up staying sick for two months straight. It was a cold that lingered, and turned into bronchitis, because I couldn't shake it. It impacted my voice, which affects my ability to do my job," Simon through a spokesperson told Variety: "when he was directly informed of the smoking complaint during the first couple of days of the season, he immediately changed his behavior and the issue was never raised again."
While the front of the camera reflected diversity, behind the camera not so much. Gabrielle charges that black contestants weren't provided adequate hair and makeup "Some contestants get the full Hollywood treatment, and then some are left to dangle," Union says. "When they hit that stage for the opportunity of a lifetime, they want to put their best foot forward and have all of the confidence that everyone else has. 
About the contestant who mimicked blackface: "At the very beginning of his act, he put on black gloves to [represent] a black performer," Union says. She was concerned, to say the least, that any expression of blackface — historically offensive caricatures of black and brown people performed by whites and often using dark paint — was not immediately shut down.
Gabrielle took a swipe at Julianne: "I'm a part of a show that hired one of my co-workers who had an unfortunate incident doing blackface," she says, referring to an event in 2013 in which Hough was photographed at a Halloween party with darkened skin, in imitation of African American actor Uzo Aduba of "Orange Is the New Black."