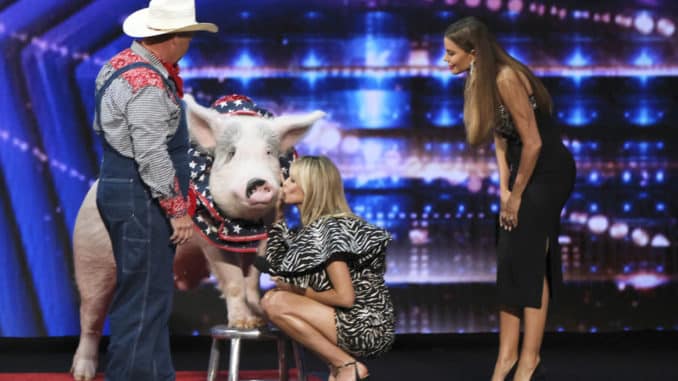 America's Got Talent returns to NBC tonight with Simon Cowell, Howie Mandel, Heidi Klum and new judge, Sofia Vergara. Heidi returns to summer AGT after a season off the panel. Terry Crews hosts. See the new acts vying for the 1 million dollar prize.
America's Got Talent: Vincent Marcus Impersonates Fav Rappers (VIDEO)
America's Got Talent: Wrongly Jailed Singer Moves Simon Cowell (Video)
America's Got Talent 2020 Premiere – Meet the Contestants (PHOTOS)
The show kicks off with a nod to the coronavirus pandemic with shots of front line workers doing their thing. But then cut to this season's new acts.
Pork Chop Revue – PERFORMING PIGS Y'ALL. The couple who run the act, adopt them right off the farm. They're goal? To be the first performing pig act on the Las Vegas strip. That's thinking big. These oinkers are pretty hilarious. And surprisingly athletic! The little one is adorable.  The piggies get a standing ovation. Deservedly so. Sofia calls it "super fun." Howie calls it unique and exciting. Heidi wants to give the pigs a kiss. She does! Sofia joins her. 4 yeses
Bad Salsa – Mumbai based Salsa dancers competed on Britain's Got Talent: The Champions. Sonali Sumanth won India's Got Talent 4, while his partner Sardar Puja was a semifinalist in seasons six and seven. "Bad" is an acronym. The female dancer is only 15. Both grew up in poverty. The couple's brand of Salsa is danced to Indian music and is full of crazy tricks. I'm not sure Len Goodman would approve? But they're fun to watch. Heidi calls it amazing. Howie says "You are the opposite of bad." Sofia calls it exciting. "You look beautiful together." Simon calls it "fantastic." 4 yeses
Eileen Chase – Actress, comedian, singer does a nutty bit in a pink suit. She's buzzed off the stage pretty quick.
Broken Roots – Austin Edwards and Joey Kar are country music duo Broken Roots. They work as cops in Chicago. One of them just quit to start a music school for kids. It's the first time they ever played together. They cover "Wanted Dead or Alive" by Bon Jovi, and are as amateur as one might expect. Lots of gravelly screaming going on here. Howie thanks them for their service. He can't believe they haven't worked together before. Heidi loved them and the tone of their voices. Sofia calls it "beautiful." Simon wants to know if they have kids. Oh. One of them remarried after his first wife passed from cancer. Simon is drumming up some backstory realness. Because the vocals don't cut it.  4 yeses
Malik DOPE Drummer – Drummer and percussionist from Washington DC. After high school he drummed for Howard University. He's been street performing and living on the edge. He fell asleep behind the wheel of a car one night and got into a bad accident. He promises to drum in a way they've never seen before. Malik throws his entire body into his playing. He even moonwalks. Oop. He drops his drumstick but recovers nicely. Howie calls him an entertainer. "That was dope." Sofia wanted to get up and dance. Simon calls him "super talented." 4 yeses
Ryan Tricks – English mind reader and magician. He stars in the BBC 3 series Ryan Tricks on the Streets and Dirty Tricks and also appeared on Britain's Got Talent. Ryan invites Howie and Simon on stage to test out their "subconscious connection." He does a trick with cards that involves Howie and Simon picking the same card out of separate decks. Not impressive so far. But then the act takes a mentalist turn, and it appears as if Simon is controlling Howie's movements. The last trick, is pretty good. Howie imagines a cookie, and one appears in Simon's hand. Sofia calls it "incredible." Heidi loved it. Simon really likes him, behaving as if he's never seen him in his life! 4 yeses.
Archie Williams – Archie served 37 years in prison for a crime he did not commit, DNA evidence freed him. The Innocence project is responsible for helping to exonerate him. He stayed strong in prison through prayer and song. He watched AGT in prison, and imagined himself on stage. The guy who actually committed the murder and rape was a serial criminal. Archie doesn't have a great voice or a big range, but his raw, emotional performance makes an impact. He's a man who has been through too much. The judges are visibly moved. Simon says he will never forget his audition for as long as he lives. 4 yeses
Dan Nowman Niswander – He's singing a song called "Funky Space." Total joke. He screams while wearing an alien mask. He's buzzed into oblivion. In actuality, Dan is a Bernie bro who interviews socialists on Youtube.
Old School Skaters – No. Not skateboarders who perform in a retro style. The title is literal. It's a roller skating act made up of older people. They skate to "I will Survive."  They also get buzzed into oblivion.
Michael Goldenberg – He's a former juggler turned sketch artist from Munster, Ind. Oh gosh. Sock puppets. He's not going to last two seconds. Indeed, when one of the puppets barfs on his t shirt, all four buzzers go off. The series of joke acts that fail are a set up for the next act, Peruvian twin singers who are looking on in horror as one act after another fails.
Double Dragon – Peruvian Twins, Andrea and Irene Ramos, were contestants (separately) on La Voz Peru and winners of the Peruvian show Divas. The two work in customer service in San Francisco. They sing "It's Raining Men" in ridiculous outfits. They can sing, but border on a joke act. It's so cheesy. The audience love it, though. Sofia calls them amazing. Fellow Latina girls! Heidi calls them "super entertaining." Howie loved them, calling them "campy and funny." Simon loves that the girls become so emotional afterward, one is visibly shaking – 4 yeses
Vincent Marcus – El Paso, Texas native is an impressionist and comedian and currently lives in Los Angeles. Initially, he built a following on Vine. But he only does his thing online. AGT is his first live performance. His bit is impersonating rappers performing nursery rhymes. I am pretty sure this isn't an original bit–I've seen it elsewhere. Still, his impersonations are good. He's confident for a dude who has never performed live before. Heidi says "You did fantastic." Sofia loved it. Howie calls him an amazing live performer. Simon thinks he has star quality. 4 yeses
Muy Moi Show – He got the Golden Buzzer on Spain's Got Talent for an act that was so gross, that I had to stop watching. He's a contortionist, danger act and sometimes lights himself on fire. I'll be keeping my eyes closed. Y'all can tell me how it goes. "Does your mother know you do this?" asks Sofia. Heidi calls the act "scary." Simon says "It was everything." He calls him a "born entertainer." – 4 yeses
Voices of Our City Choir – Break out the tissues! It's another choir. This time, made up of homeless people in San Diego. They raise money to help the homeless to get off the streets. They sing a song the group wrote in a songwriting workshop. They have a band too. The leader sings the solos and plays guitar. An older lady who has been homeless all her life does a tone poem. This is funkier than I expected. Many musicians make up the group.     Sofia calls it "beautiful." Heidi feels the camaraderie and togetherness of the group. "There is strength in numbers," says Simon. So, unsurprisingly, Terry hits his Golden Buzzer. Last season he also chose a choir as his golden buzzer–a group from his hometown, Detroit. The tone poem lady is so happy, she falls to the floor.