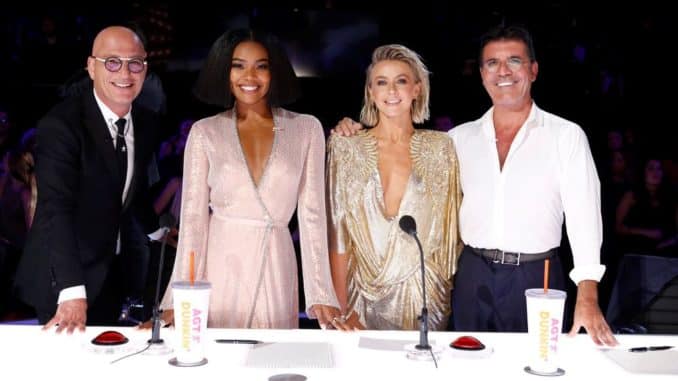 America's Got Talent Controversy
NBC and America's Got Talent producers Fremantle and Syco released a statement on Sunday regarding the Gabrielle Union's firing. According to the statement, they are working with the ousted judge to hear her concerns about workplace culture:
"We remain committed to ensuring a respectful workplace for all employees and take very seriously any questions about workplace culture. We are working with Ms. Union through her representatives to hear more about her concerns, following which we will take whatever next steps may be appropriate."
This, after news broke that the 3 year contracts Gabrielle Union and Julianne Hough signed to be America's Got Talent judges would not be renewed for a second season. Soon after, reports surfaced claiming that the two female judges endured a toxic workplace environment throughout their stints on the show. Julianne released a statement insisting her relationships with AGT and NBC were good. But Gabrielle had a host of complaints that ranged from executive producer Simon Cowell's smoking indoors, to NBC execs ignoring complaints of racism. Reportedly, Gabrielle was exploring her legal options.
Perhaps NBC and America's Got Talent producers reached out to Gabrielle after her firing sparked a probe from the actors union SAG-AFTRA.
We take issues of workplace health and safety very seriously. We immediately reached out to Ms. Union's representatives when these reports came to light. It is our practice to work closely with members who reach out to us and their representatives in instances like this, as that usually affords the best protection and best resolution for the affected member.

For certain matters, our investigation and enforcement needs to happen independently and we are prepared to handle this issue accordingly, as warranted.

Our enforcement action is usually handled confidentially to protect the member involved, and we typically do not publicize these matters unless the member requests that we do so.

While we have taken steps to investigate this matter, we have nothing to report now.
UPDATE: Also speaking on the America's Got Talent controversy, The women's advocacy group, Times Up, has released a statement defending Gabrielle. From CEO Tina Tchen:
"Gabrielle Union's experience at 'America's Got Talent' is exemplary of the double bind that black women face at work. Not only did Union reportedly endure and witness racist and inappropriate behavior – including racially-insensitive comments and excessive criticism about her physical appearance – but it also appears she was punished for speaking out: the company labeled her as 'difficult' before ousting her from the show altogether. Union's story is deeply troubling on its own, but her experience is particularly problematic because it follows a pattern of NBCUniversal protecting the careers of powerful men at the expense of women who speak out. Union's experience shows that NBCUniversal still has a lot of work to do to change its culture so discrimination, harassment, and retaliation are no longer tolerated at the company. Building a culture of safety and equity requires continuous, intentional work sustained over a long period of time – even when a company isn't in the throes of a crisis. Ensuring people of all kinds are respected and supported at work is critical for any company, but especially a media company like NBC that has such an outsized influence in our culture and in our lives."
As the controversy sparks all hell breaking loose, celebrities have weighed in, including former America's Got Talent judge, Howard Stern. The SiriusXM radio personality sat on the AGT judges panel from 2011-2015. Howard has made it clear there is no love lost between him and Simon after it came out in the Sony hack that Simon wanted NBC to ditch Howard in order to take his place on the panel.  On his radio show on Monday (Dec 2) Howard accused Simon of "orchestrating" the situation:
"How is it that Simon Cowell has orchestrated this? He sets it up that the men stay, no matter how ugly they are, no matter how old they are, no matter how fat they are, no matter how talentless they are," Howard continued on The Howard Stern Show, later adding that it's "obvious" that "AGT" continuously switches out female judges for "hotter chicks and younger chicks."
And lastly, Jay Leno spoke with TMZ reporters, calling Gabrielle a "great girl" while refusing to address the controversy. While the former Tonight Show host served as guest host during the America's Got Talent judge cuts round, he told a joke that stereotyped Asians as dog eaters. Gabrielle's complaint to NBC brass was ignored, however. Jay seems very uncomfortable as he deflects the reporter's aggressive questions.