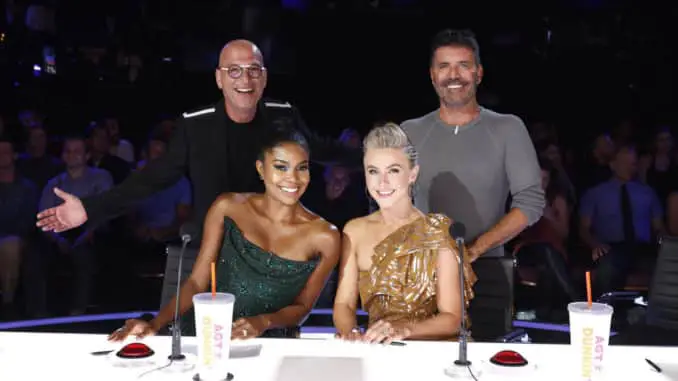 Last Friday, reports said Gabrielle Union and Julianne Hough were not returning to America's Got Talent as judges for season 15. The report from Variety was vague. Did Gabrielle and Julianne quit? Were they fired? Executive producer Simon Cowell is notorious for changing up his judging panels from season to season. It could be one reason or the other.
But now, Variety  is out with a new report that claims Julianne and Gabrielle's contracts were NOT renewed by NBC, although they could have been. And there's more to the story. Variety sources report a "toxic" atmosphere on the America's Got Talent set.
When former Tonight show host, Jay Leno appeared as a guest judge on the Judge Cuts part 4 episode, he told a racist joke that upset Gabrielle and crew members on the set.
On the second floor of a production building on the North Hollywood lot, Leno taped an interstitial segment in the presence of show judges including Gabrielle Union and Julianne Hough. While taping, Leno made a crack about a painting on display in a hallway of Simon Cowell, the show's executive producer and judge, surrounded by his dogs. Leno joked that the pets looked like something one would find "on the menu at a Korean restaurant," four people present for the taping told Variety.
Individuals found the joke to be offensive, especially for what one insider described as "the very few Asian staffers" employed by the show, one of whom was present when Leno taped the segment. Some felt that the joke perpetuated stereotypes about Asian cultures eating dog meat.
Gabrielle urged AGT producers to report the joke to human resources at NBC, sources told Variety. She argued that production needed to understand why the joke might offend the staff and audience of the show. However, although the issue of reporting to HR was specifically raised with an NBC executive on set, it never was escalated to that department.
The line was cut from the episode when it eventually aired on August 6.
Reportedly, the Leno incident is one of several examples of what insiders called a toxic culture at the show. According to Variety, the season ended with NBC deciding not to renew Gabrielle and Julianne's contracts. Both could have been renewed for another season under their contractual options.
NBC and production company Fremantle released a joint statement:
America's Got Talent' has a long history of inclusivity and diversity in both our talent and the acts championed by the show. The judging and host line-up has been regularly refreshed over the years and that is one of the reasons for AGT's enduring popularity. NBC and the producers take any issues on set seriously.
Gabrielle declined to comment on the matter. Representatives for Simon Cowell's Syco Entertainment had no comment. A spokesperson for Jay Leno did not return Variety's request for comment.
WOW. I wonder if Simon will personally comment on the matter.
UPDATE: More from the Variety piece: Gabrielle and Julianne were also said by sources to have received excessive notes on their physical appearance. Two set sources said Julianne had received consistent criticism on hair, makeup and wardrobe, which impacted her morale and led to tensions. Hough denied this in a statement to Variety as not accurate to her experience.
"I had a wonderful time on 'America's Got Talent,' I loved working with the cast, crew and producers. I am happy to continue my working relationship with NBC," she said. She also expressed excitement for two upcoming NBC shows she'll be featured in, "Holidays With the Houghs," co starring her brother Derek, and Christmas in Rockefeller Center in December. "I'm looking forward to what the future holds," she added.
Gabrielle was also given many notes on her appearance, specifically about her rotating hair styles being "too black" for the audience of AGT. Reportedly she received the note over half a dozen times, according to four Variety sources. One network insider disputed the volume of notes, saying there was only feedback about hair continuity for both judges.
Julianne still has a relationship with NBC, it's unsurprising that she is playing down the controversy. Still. WOW. If this is true, it's terrible.