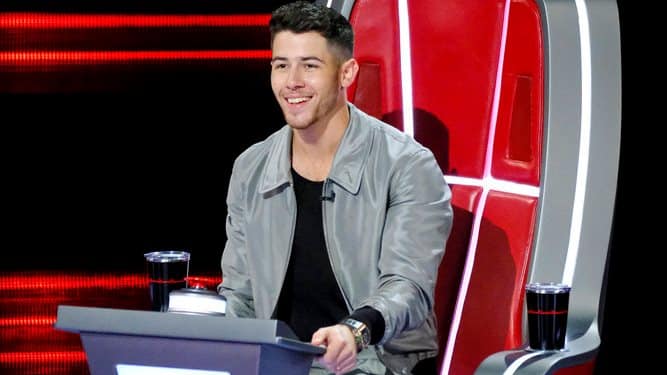 We reported back in October, based on fans who took part in The Voice season 20 Blind Auditions virtual audience, that Nick Jonas returned to the series as coach, while Gwen Stefani departed (at least for now!) Now, NBC finally makes the news official.
The multi-award-winning singer, songwriter, actor and producer will be returning to The Voice for the show's 20th season, which will begin in spring 2021. John Legend, Blake Shelton and Kelly Clarkson will join him in the big red chairs.
The Voice 19 Top 16 SPOILERS: Battle, Knockout Results, Song Choices
Nick first joined The Voice as a coach in season 18 (spring 2020). During that season, he brought Thunderstorm Artis to the show's finale. 
I'm a little surprised NBC waiting so long to make the announcement, as the season 20 lineup became common knowledge among fans. Typically, the spring cycle films the Blind Auditions in October, and films the Battles and Knockouts the following winter.
Up next, Nick can be seen in Lionsgate's post-apocalyptic thriller, Chaos Walking, which stars Daisy Ridley and Tom Holland, and is set to star in AGC Studios' action thriller, The Blacksmith, opposite Laurence Fishburne. Through his production company, Image 32, Nick executive producer the newly released TV series Dash & Lilly for Netflix.
? Nick is back!? @NickJonas returns to #TheVoice next season with @BlakeShelton, @KellyClarkson and @JohnLegend. pic.twitter.com/7DN6d153OE

— The Voice (@NBCTheVoice) November 17, 2020
Warriors never sleep. I'm back and ready to win this thing ? See you next season on @nbcthevoice!!

PS – Hope you've been training @blakeshelton @kellyclarkson @johnlegend…. ? #TheVoice pic.twitter.com/yFAPq18Y4r

— NICK JON?S (@nickjonas) November 17, 2020