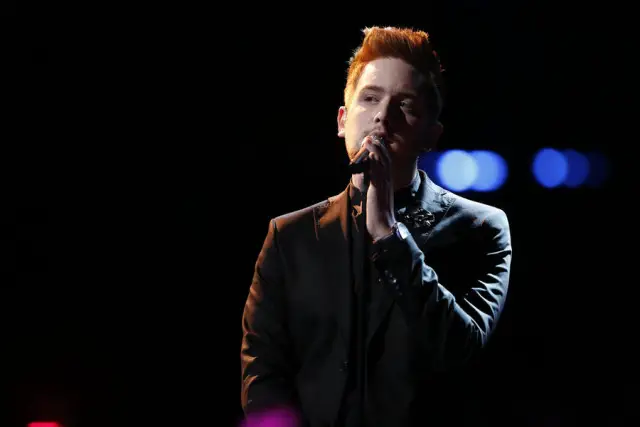 The Voice 9 Recap Live Playoffs Part 1
Tonight, join us as we live blog The Voice 9 Playoffs Part 1. Team Adam Levine and Team Gwen Stefani will perform tonight for YOUR VOTES. Click for tonight's Song Spoilers. Fellow coaches Blake Shelton and Pharrell Williams will be on hand to offer their critiques before their respective teams are up Tuesday night. Host Carson Daly will announce the results Wednesday night at 8 pm. Two singers from each team advance based on your votes. A third is chosen by the team's coach.
For the first time ever, each coach brought back a singer who was eliminated in a prior round. Adam brought back Chance Peña from the Battle Rounds, Gwen's pick is Ellie Lawrence late of the knockouts. Will a second chance mean a spot in the finals? Follow our live blogs all this week to find out. Click for the Top 20.
WE'RE LIVE YA'ALL!
The singers compete for YOUR VOTES. Click for Voting Rules.  No phone. No texting. Online voting only at NBC.com or via The Voice smartphone app. And of course, iTunes downloads count as votes!. Don't download until 10 pm ET!
Adam has hair again, thank jeebus. The coaches talk how grateful they are to be able to bring one eliminated team member each.
Blaine Mitchell – Team Adam – Never Tear Us Apart by INXS – Blaine got married over the weekend! He's very connected to the song's sentiment.  "You can't be too dramatic," Adam says in their mentor session. He thinks he could be in INXS tomorrow. Who knows. Maybe it will happen. The Voice producer, Mark Burnett produced Rock Star INXS back in the day. He's got the connections. I generally like Blaine's voice. I'd take him over the cheesy Keith Semple any day. But he's been flying under the radar all season. And performing first? Not good. This is a solid vocal, but not the major home run he needs to be noticed. Blaine had to take the stage and perform as if his life literally depended on it. I'm not getting an urgent vibe here. Too karaoke–which I was afraid would happen when I heard the song choice. Former coach, Blake, feels he's gotten with the right coach, who "de-hillbillied" him. Pharrell felt it was the right song choice. Gwen calls his body language "perfect" and compliments him on his outfit. She has one like it. Hm. "You're exactly where you need to be," gushes Adam.  Ready to leave the competition? –  Download from iTunes
https://www.youtube.com/watch?v=EAfBv5Wd94c
Regina Love – Team Gwen – Hell0 by Adele – Gwen can't wait to hear Regina sing a contemporary song. The singer was incredibly excited when the brand new Adele song was handed to her. It's the type of song she wants to record. Gwen compares her to Anita Baker. She's relevant, Gwen insists. I'm not crazy about Regina's pacing and phrasing here.  She's shouting the chorus, and it's not pleasant. Without the opportunity to church up a song, she's an unimpressive singer. Her breath control is terrible. She would have been better off with another oldie. I mean. C'mon. Adele? Her new song? Can't help but make comparisons, and Regina falls way short. Plus, death spot. Bye girl. Adam is proud of her. Kiss off basically. "Moving" compliments Pharrell. Gwen is "honored" to be on this journey with her.  Download from iTunes
https://www.youtube.com/watch?v=oVnacryeASg
Carson reminds us that any artist who enters the iTunes Top 10 will have their iTunes votes multiplied by 10.
Keith Semple – Team Adam – To Be With You by Mr. Big – Keith talks about all of the stuff he's done, including a boy band, and fronting a group in Chicago. He's been around.  He's got supporters back in his Irish homeland. Adam calls Keith "the lone rocker." Uh. Blaine just sang INXS? How soon we forget! Keith accompanies himself on guitar. OK. This is actually a really good song choice for him, and he sounds good on it. Keith actually benefits from holding a guitar–it keeps him grounded and from jumping cheesily around the stage. It lends some cred. He's in very good voice tonight, hitting notes cleanly. His experience shows. He's cool as a cucumber on live TV. He brought some nice energy to that performance. Eventually, he needs to sing something contemporary, though. Blake name checks Cole Vosbury who did well with that song a few seasons ago. He compliments Keith on his adlibs. Gwen likes where his "beautiful high" voice sits. Adam compliments him on establishing his identity tonight.  –  Download from iTunes
https://www.youtube.com/watch?v=DcisCTlWbhs
Shelby Brown – Team Adam – You're No Good by Linda Ronstadt- Her gigs at the bowling alley back home are packed now! Cute. The hometown peeps are a little disappointed she's not on Team Blake. Heh. Adam thinks Ronstadt is the perfect pop/country/folk crossover for her.  Young Shelby explains how she's gained confidence throughout her Voice journey. I like her outfit. And her hair. So pretty. And she's singing her ass off. She brings the requisite anger to this 70's classic. She's got that amazing tone and range that Linda had. She loses her breath at one point on the chorus, but overall this is a great, gritty performance. I hope she advances. She ends an awesome performance with some fierce, impressive ad libs. – Blake is PISSED OFF she's not on his team. He calls her a cross between Trisha and Carrie. He bickers a little with Adam. Pharrell has liked her since the blinds and dug the way she let loose at the end. Adam absolutely adores her. "You just crushed it," he says. He reminds us that SHE'S ONLY 17 YA'LL. Heh.  Download from iTunes
https://www.youtube.com/watch?v=yTDfpnXO5Fs
Korin Bukowski – Team Gwen – Adia by Sarah McLachlan – Gwen picked another super-emotional song for Korin. But first, Gwen brings her style people in to work on her. (OH NOES NO COWS PLEASE). Kidding. Actually, Korin looks lovely in a long scarlett dress. During the performance, she has a few tuning issues, but that tone is so gorgeous.  Waiting for her to go big, or go into that incredible head voice–she never really does. The arrangement of the song could have been better. It was flat, emotionally, compared to prior performances. Adam heard some new things in her voice tonight. Blake reminds Gwen that the last person whose hair she cut (Craig Wayne Boyd) won the competition. "Great job sis," he says to Korin. Gwen felt she rose to the challenge and gave the song her own twist. Also, Korin is blossoming!.  It's going to take the good will Korin's accumulated up to this point to advance to the finals. The performance was lovely, but emotionally underwhelming.  –  Download from iTunes
https://www.youtube.com/watch?v=FX1WkKLfvHk
Gwen reveals her "comeback" artist, Ellie Lawrence!
Ellie Lawrence – Team Gwen – Ex's & Oh's by Elle King – Gwen really connects personally to Ellie. She hasn't shown her full potential! One of her songs got a ton of downloads, Ellie was shocked to learn. Gwen encourages her to bring the quirk and theatricality.  This week, Ellie's hair is blue. This is a MUCH BETTER song choice for her. Ellie is bringing the raspy rocker chick goodness. There might be a place for her in this competition. Gwen should probably always pick her songs.  Ellie does a little victory dance afterward. She says she died a little bit when she got the phone call to return. Adam calls it her best performance. Blake calls it his fav of the night. "I'm going to pee my pants right now!" Ellie responds. HEE. Pharrell likes how she had herself a really good time. Gwen thought it was "awesome" because she finally manned the stage with loads of personality. –   Download from iTunes
https://www.youtube.com/watch?v=VjhUzGyTrGw
Jeffery Austin – Team Gwen – Say You Love Me by Jessie Ware – Back home, Jeffery performed his first show ever! Gwen urges him to be honest with himself. Such a shame this singer has been riding under the radar. He's really good. I'd take him over that over-pimped Jordan Smith any day. Sorry not Sorry! It's his beautiful soulful tone, and depth of emotion he brings to performances that makes him special. Comparisons to Sam Smith are apt. He's a bit underpitch tonight? But he's NOT HOLDING BACK. Take a lesson, Korin. Adam says Jeff could win this whole thing! "I think you've got it all." Keep listening to Gwen, he says. Pharrell calls it the best of the night.  "I'm going to win this whole thing!" enthuses Gwen. She calls him an artist, emoting–much more than just a contestant. During his mentoring session, Jeffery causally used male pronouns when talking about an ex. In case you were wondering? Yeah, he's gay.  –  Download from iTunes
https://www.youtube.com/watch?v=TbratncCutk
Hello Christina Grimmie. She's the style chick this season.
Braiden Sunshine – Team Gwen – Everything I Own by Bread – Aw. Braiden sang with his favs,  Blues Traveller, in Las Vegas recently. Gwen loves the idea of a young singer performing a powerful song. Whatever that means. Get really passionate! She says. But he's only 15, so…  Well. This is odd. I don't know if he's nervous? He isn't connected to what he's singing. He's doing the opposite of what Gwen suggested. His approach is super low key. He's not managing the mic well or something, because his voice fades in and out.  The song comes to life a bit at the end. But. That was a dud. He's awfully cute, though. Oh. He can't see Adam because he's not wearing his glasses. Is that affecting his performance? Adam thinks he's spectacular. But he felt Braiden could have done more. He's one of Blake's favorites. He didn't take it over the top like he planned, but he's always consistent, he says. Gwen saw a performance that I didn't, calling it wild and emotional? Watch her choose him as her pick to advance on Wednesday. She seems to love him. – Download from iTunes
https://www.youtube.com/watch?v=JD0xj5LCfUo
Amy Vachal – Team Adam – The Way You Look Tonight by Frank Sinatra – When she was 13, she stole her brother's Maroon 5 album. So, Amy is a fan. Adam wants to build on her "jazz chops".  He compares her to Amy Winehouse. Amy, without the swag, maybe. They got her sitting on a stool, in a long black dress. Good thing she gets up to move around. I find her tone arresting, but lethargic. She's got a few tuning issues. Her tone and jazzy phrasing almost make up for her subdued approach. But I wonder, if she won't eventually appear one-note. I'm not sure I could enjoy an entire evening of her singing. Blake wants her to do a Christmas album, calls her a "crooner." He says, 'That felt like home." Pharrell calls it "effortless." He feels like she could win, with her "super colorful" runs. Adam says "That was not The Voice. That was watching an artist performing." Hm. Overrated, I think. Don't kill me please. –  Download from iTunes
https://www.youtube.com/watch?v=6IUH4IAYs8w
Viktor Kiraly – Team Gwen – All Around the World by Lisa Stansfield – Hunky, Hungarian pop singer teaches Gwen a few words of his language, and she's all ears.  This song is a super guilty pleasure of mine. Gwen wonders if they should make it more contemporary, so they change up the arrangement? I'm not hearing much difference once he hits the stage. But so what. He's so soulful and geez, kill me with that falsetto! He gives the song a sexy spin, and manges not to come off too cheesy. A little, but I'm not mad. The only thing: A midtempo song might not be the thing right now. Moments are what will advance a contestant. There were a few sweet spots, but nothing show stopping. He could be in trouble.  Adam is super proud and happy for his ex team member. Blake says Team Gwen is "whipping the crap" out of Team Adam. He might be a little biased. And not because he "hates" Adam. Right? Gwen is all whoaa…I'm so happy! That was so great!  Download from iTunes
https://www.youtube.com/watch?v=cJEjQxuc5yk
Adam introduces his "Come back" singer. He was sad to let him go in the first place, so he brought him back!
Chance Peña – Team Adam – Barton Hollow by Civil Wars – I was bummed when Chance was let go. I'm glad he's back too. Adam advises him not to ornament his performance too much. Simplify, he says.  This 15 year old has the beginnings of an interesting voice. He's not QUITE there yet, but he swings for the fences, at least. On one hand I'm thinking he's not ready. On the other, I'm curious to see what he can do with that old soul voice of his. There's something about this kid that I really like.  Blake says he leaves nothing on the table when he's performing. Adam says even if he's gone tonight, he's learned so much.  Well, that's a ringing endorsement. /sarcasm. Rushed through those coaches critiques. Running low on time!  –  Download from iTunes
https://www.youtube.com/watch?v=2WdrFxjVzOY
Jordan Smith – Team Adam – Halo by Beyonce – He's from Harlan KY. But before you imagine his kin sweating in some coal mine, his grandfather OWNED the mine. And the company store, I imagine. Adam doesn't want Jordan's performance to sound karaoke. He creates an arrangement that will highlight his vocal gifts, but allow him to make the song his own. There are some pitch problems here and there, but Jordan hits those great big show stopping notes. Why am I unmoved? Smartly, he brings it down and ends the song on a softer note. His control and tone is good, but for me, there's something missing. The crowd loves him. Pharrell says God has signed his voice. Gwen also invokes God. Sheesh. Will God come down from heaven and crown him the next "The Voice?"  Adam calls him a "figure" someone that everyone "draws energy from." Just build a shrine to him now, why don't you.   –  Download from iTunes
https://www.youtube.com/watch?v=FCCoWOTQ918