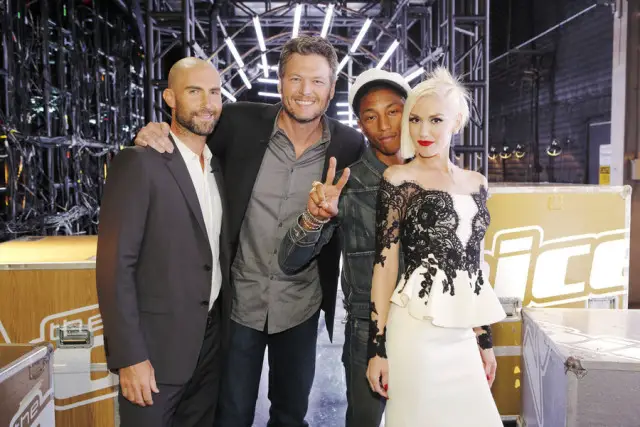 NBC has just posted the Voting Rules for The Voice season 9, and there are a few notable changes.
The big news. ALL voting will be conducted online. That's right. Put those land lines away. No more phone numbers or text numbers. Voting methods will be online and iTunes downloads.
Additionally, the live shows are only 6 weeks long, which probably means a dreaded triple elimination at some point in the competition. Finale week is December 14/15.
Here are The Voice voting methods:
1. Online Voting: Individuals who are 13+. Includes voting by logging in with your email address or Facebook login through NBC.com or directly on Facebook. Limit 10 votes, per artist per email address/per artist per Facebook account.
2. iTunes Voting: iTunes Bonus and the Cumulative iTunes Vote Total – Each song that an artist performs (excluding duets and group performances) can be downloaded from iTunes and will count as a vote. The song has to be downloaded during the voting period for that episode. Only songs performed during the episode, downloaded during the voting window, will count as 1 vote for an artist. Multiple downloading of a single song will not result in multiple votes. The voting window begins and ends at the same time across time zones: 9:55 pm – 12 pm EST the next day. Click to see a chart.
iTunes Vote Bonus: Any song that reaches the iTunes Top 10 by the end of the voting window, will multiply the iTunes votes by 10, and will be added to the total number of votes. Notably, NBC warns that the iTunes charts include metrics–Apple music streaming for instance–other than digital downloads that they have no control over. It appears that streaming a song via Apple prior to the voting period closing can help an artist. receive the bonus.
Cumulative iTunes Vote Total: The finale audience vote includes an iTunes vote bonus AND a cumulative iTunes vote total. Cumulative iTunes Vote total includes every eligible (from the live shows) The Voice song downloaded in and outside the voting periods, and iTunes bonuses, between November 9 and December 15. In other words, at finale time, if you haven't downloaded all of your fav's songs yet, you can do so at that time and the downloads will count as votes.
3. The Voice Official Google App can be downloaded from iTunes and Google Play. Ten votes per artist per email address/10 app votes per artist per Facebook account during each voting period.
4. The Instant Save is Back: You must have a public twitter account to participate. The Instant Save will be in play during these results shows: November 17, November 24, December 1 and December 8. Artists in danger of being eliminated will be revealed and will sing a "save me" song. Twitter users have 5 minutes to save their favorite using a hashtag containing their name. The Voice official twitter account will tweet details for those not watching on TV or living in a western Time Zone. THIS IS IMPORTANT AND SO MANY GET IT WRONG INCLUDING WELL KNOWN MEDIA PUNDITS. ONLY ONE VOTE PER ARTIST PER TWITTER ID. HOWEVER RETWEETS OF HASHTAGS COUNT AS VOTES.
ALSO: MISSPELLINGS WILL NOT BE COUNTED: However each artist will have 4 acceptable alternate spelling variations, which will be officially announced.
For a fuller explanation of the voting rules, Click this Link.
The voting rules state that NBC can change the rules at any time at their own discretion.