The Voice 9 LIVE Playoffs begin tonight! According to spoilers at Idol Forums, Team Adam Levine and Team Gwen Stefani are up tonight. Rumor has it that Ellie Lawrence is Team Gwen's wildcard pick, and Nadjah Nicole will be returning to Team Blake. If true, so much for Blake reaching back to the Battle Rounds to bring back Krista Hughes. Grrr. In case you're catching up, each of the coaches will bring back a wildcard contestant eliminated from either the Battle or Knockout rounds. Details have been sketchy, but it looks like there will be a Top 24 instead of a Top 20.
UPDATE: According to rehearsal photos tweeted by contestant, Mark Hood, Adam's wildcard is Chance Peña and Pharrell's is Celeste Betton
Also, according to NBC's official Voting Rules, phone and text voting are a thing of the past.  There are 3 ways to vote: 1. Online via email or Facebook. 2. Via The Voice smartphone app 3. iTunes downloads. Click for all the details.
In the meantime, here are your Top 20 with photos.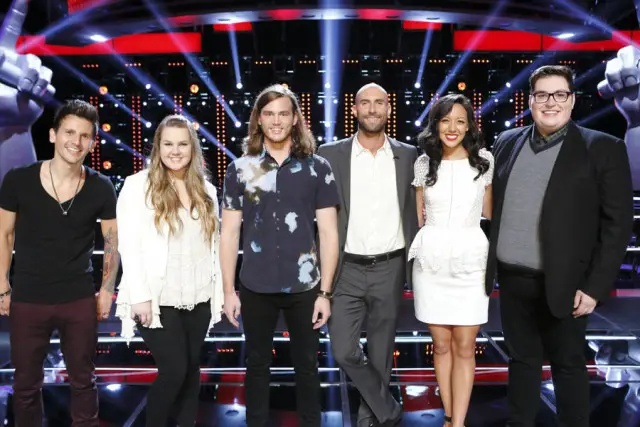 Team Adam Levine
Team Adam is a competitive team.  There really is no cannon fodder amongst his five team members. If Nadjah is wildcarded, as reported, she may be headed right back out the door again.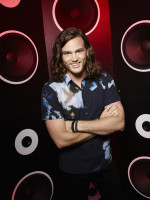 Blaine Mitchell –  – Audition – Battle Round – Knockout – Blaine is the 90's rocker whom Adam has compared to Michael Hutchence. This singer has been under the radar, and will need a real breakout performance to move on to the finals.
Jordan Smith – Audition – Battle Round – Knockout – This golden throated contestant, with his choir boy tone and amazing range has been a favorite of the coaches and viewers alike since day one. It's hard to imagine him not moving on the the finals.
Keith Semple  – Audition – Battle Round – Knockout –  I find Keith to be classic rock karaoke, but he's got fans, and a shot at the finals. shot
Shelby Brown – Audition – Battle Round – Knockout –  On a weaker team, this talented young country singer would be a shoo in. But with only three advancing from Adam's team, she's really going to have to sing well tonight in order to advance.
Amy Vachal – Audition – Battle Round – Knockout – Amy was a very smart steal from Team Pharrell. She's already a fan favorite, with song charting well on iTunes. Unless she blows it, Amy is moving on to the finals.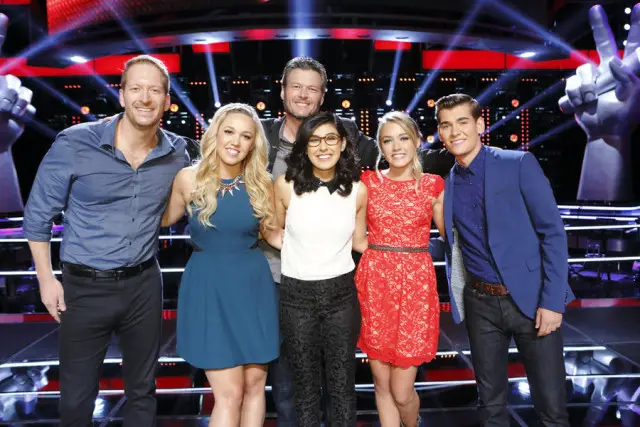 Team Blake Shelton
Team Blake isn't quite as competitive as Team Adam, but he's got contestants who will go the distance, and possibly win it all.
Barrett Baber – Audition – Battle Round – Knockout – Barrett is a The Voice fans; dream.  He's an experienced and talented singer paired with cuddly daddy vibes. He'll talk up that plane crash that almost killed him, and bust out a religious hymn at just the right moment. BOOM. Top 3 at least, if he doesn't win it all. Needless to say, he advances to the finals.
Emily Ann Roberts – Audition – Battle Round – Knockout –  Emily's natural and effortless country vocals give off Danielle Bradbery vibes. But she's got a depth of understanding and love for the old stuff. Her potential to appeal to both young and old make her a pretty good bet for the finals.
Ivonne Acero – Audition – Battle Round – Knockout – Scrappy Ivonne is a comeback kid. Turned away Season 8, she ended up on Team Pharrell before Blake stole her. She gave an outstanding Knockout performance, but I think it's going to be tough for her to make the finals.
Zach Seabaugh – Audition – Battle Round – Knockout (Zach was montaged) – I do believe Zach is cannon fodder.  That he was montaged at knockouts didn't help him a bit. There are too many good country singers on this team for him to survive.
Morgan Frazier – Audition – Battle Round –  Knockout – Morgan wound up on Team Blake, was stolen by Team Pharrell and then Blake stole her back. She's a bit of a ringer, coming to The Voice after losing a major label contract. She's good though. Real good. I hope she survives.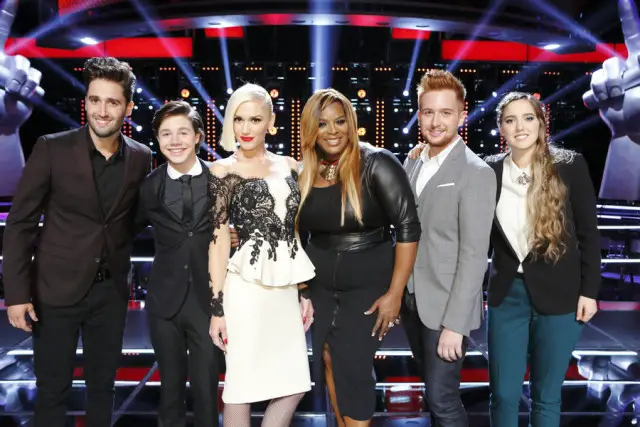 Team Gwen Stefani
Gwen strengthened her team with the addition of Viktor Kiraly.  If the rumors are true, and Ellie Lawrence is coming back, Gwen's going to have to help her pick good songs.
Braiden Sunshine – Audition – Battle Round – Knockout –  Such an adorable, dorky child.  His vocals are half-baked, but his pinchable cheeks will make up for the young singer's vocal deficiencies when it's time to vote.
Jeffery Austin – Audition – Battle Round – Knockout – Like Blaine Mitchell over on Team Adam, Jeffery is a hidden gem. Fortunately for him, Team Gwen is a weaker team. Unfortunately for him, Gwen stole another blue eyed soul singer, Viktor Kiraly, during the knockouts.  Between the two, Viktor has better chops and a bigger fan base.
Korin Bukowski – Audition – Battle Round – Knockout – Despite confidence problems, this singer/songwriter is Gwen's strongest singer. She's already got a fanbase–I think she's already earned a place in the finals.
Regina Love – Audition – Battle Round – Knockout – This big voice soul singer can belt with the best of them. She's strictly old school however. History has shown a singer can't keep advancing on Motown, Whitney Houston and Disco era hits alone. She's got a shot at the finals, but I can't see her lasting long if she makes it.
Viktor Kiraly – Audition – Battle Round – Knockout – A smart steal from Team Adam, the good looking and soulful Viktor is like Robin Thicke, but without the ick factor. Actually, Viktor is a better singer. He's quite possibly the best singer on Team Gwen. I have a hard time imagining the finals without him.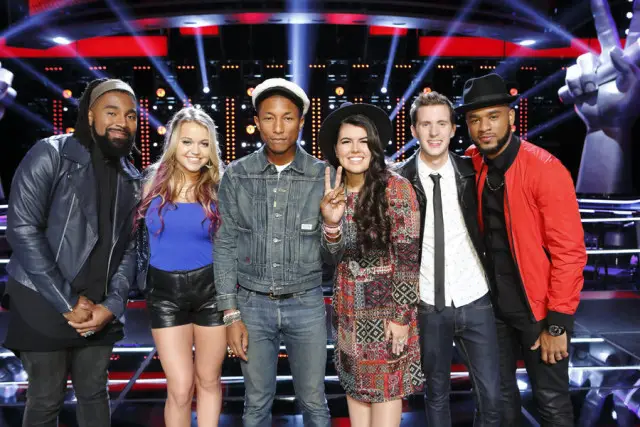 Team Pharrell Williams
Pharrell has a team full of strong and diverse singers. I wish every single one of them could advance.
Darius Scott  – Audition – Battle Round – Knockout –  Darius is a master technician when it comes to vocal interpretation. Unfortunately, if passion takes a backseat to perfection, that could hold him back.
Evan McKeel – Audition – Battle Round – Knockout – I really hope this versatile and talented singer advances. Will he sing soul or rock? or both? Or maybe bust out a polka! Just kidding. I like that he's full of surprises, in addition to being a talented singer.
Madi Davis – Audition – Battle Round – Knockout –  An effortless and inventive vocalist, Madi's  fresh and original take on songs, should earn her a spot in the finals.
Mark Hood – Audition – Battle Round – Knockout – Mark is endlessly entertaining, but I thought his knockout performance revealed his vocal weakenesses. If he hopes to advance to the finals, he better break out something showy.
Riley Biederer – Audition – Battle Round – Knockout –  Pharrell took Riley back from Gwen, and rightly so. He should have never given her up in the first place. She's like a young Kelly Clarkson and could be a break out season 8 star, if Pharrell nurtures her talent–and confidence. She's got to get over those nerves. I hope she advances.