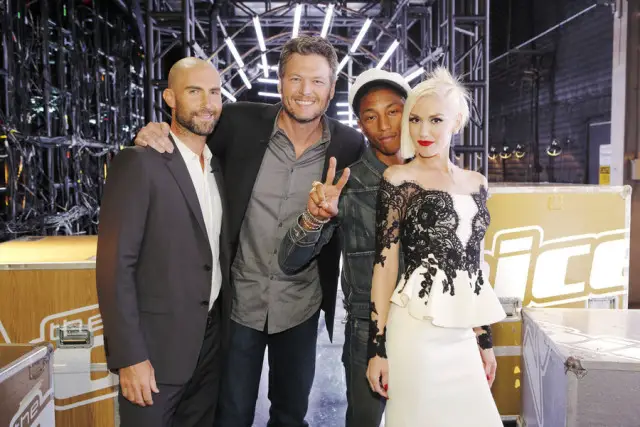 According to an exclusive from Lyndsey Parker at Reality Rocks, a brand new twist will be introduced to The Voice Live Playoffs round:
Next week during the Live Playoffs, there will be four "Bring Back" contestants, one per coach, that were eliminated during the Battle or Knockout Rounds, that will return to compete for wild-card-style spots in the top 12. Which four singers will get a second chance and join the 20 semifinalists here? Find out next week.
The coaches are reaching all the way back to the Battle Rounds to pick a wild card. That's a pool of 28 eliminated contestants to choose from! Who would you give a second chance? Here's my list:
Team Blake – BRING BACK KRISTA HUGHES! The rootsy singer deserved to win her battle, and she deserves another chance. THE END.
Team Pharrell – Tim Atlas. I was bummed Tim couldn't/wasn't saved after he was eliminated from a matchup against the talented and versatile Evan McKeel in last night's Knockouts. Tim's second chance has come. Give it to him, Pharrell!
Team Gwen – Ellie Lawrence showed promise during her blind audition, and suffered during the knockouts from a poor song choice. Cool for the Summer just was not her jam. With some coaching, she could blossom.
Team Adam – Dustin Christensen was a contestant I felt, arguably, was robbed in his Knockout matchup against Keith Semple. Please give him a second chance, Adam.
Which contestants would you bring back?  Lyndsey has some exclusive photos too. Check them out here.
The twist is being coined "Coaches Comeback." The Live Playoffs performances air Monday and Tuesday at 8 pm. The Top 12 will be revealed on Wednesday, at 8/7c PM. FYI: The Results show will air at 8/7 for the rest of the season.
https://youtu.be/W1BHHdSbMoI