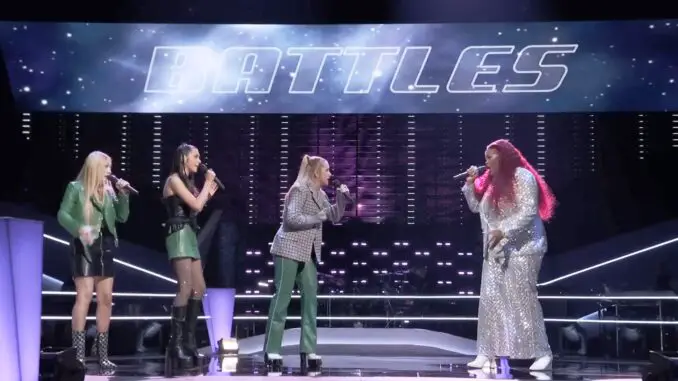 The Voice 23: Trio Sorelle and Manasseh Samone Battle for a Spot on Team Chance
The Voice season 23 Battle Rounds begin on Monday! Check out a preview featuring Team Chance the Rapper artists Manasseh Samone and Sorelle who perform Adele's "Someone Like You."
Chance put together two very different artists. Manasseh's soulful alto contrasts with Sorelle's somewhat discordant yet angelic soprano harmonies. Nevertheless, Chance's harmonic arrangement makes the most of each singer's gifts. At one point in the performance, Sorelle's harmonies take the song to a soaring crescendo, after which Manasseh brings it back down to a quiet and moving place.
The Voice 2023: Full Season 23 Schedule
The performance impressed fellow coach Kelly Clarkson. "No one's heard that song like that. That was really cool!" She compliments Sorelle's intricate harmonies and says that singers like Manasseh, who lived and breathed the song are why The Voice exists.
When the singing started separately, Blake Shelton wondered how the duet would ever blend. "Now I never want you guys to not sing together!" Blake compliments Sorelle's "attack," saying he's never heard a group on the show sing "so tight with each other." He would pick Sorelle.
Niall Horan calls Sorelle "phenomenal" adding, "I can't believe what I just heard." He describes the trio's sound as a "wall of harmonies" that "sounds like a record." As for Manasseh, Niall says, "Where you started that song and where you ended it are two different planets." But like Blake, Niall would choose Sorelle.
"I'm so proud of you guys," says Chance. "That was a masterful performance on both parts." Chance mentions Manasseh's ability to take notes, saying that "it all came together and I don't want that to be lost at all." On the other hand, he believes Sorelle's youth, talent and poise are something the competition needs.
The Voice 23 introduces the "Playoffs Pass"
Who will Chance pick? One of three things can happen: Chance picks an act, the other goes home. Chance picks an act, another coach uses their one steal to nab the loser. OR, in a brand new twist for season 23, Chance picks one act, but hands the other a "Playoffs Pass." Each coach can use one pass during the round which allows an artist to skip straight to the Playoffs without competing in the Knockouts.
Find out which path Chance chose on The Voice Monday March 27 on NBC at 8 pm.