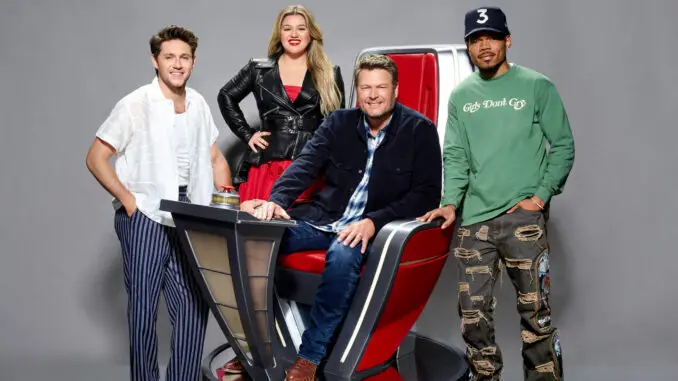 The Voice season 23 premieres on NBC Monday March 6. The new season features coaches Chance the Rapper, Kelly Clarkson, Niall Horan and Blake Shelton. Country superstar Reba McEntire will join the team as Mega Mentor for the Knockout rounds.
Check out the FULL SEASON 23 episode schedule below.
Notably, there are NO Battle Round advisors this season. And that's not the only big change.
The Voice 23 Spoilers Blind Auditions – Top 40 Teams, Song Picks
The Voice 23 Contestant List and Guide: Meet the Artists!
The Blind auditions end with only a Top 40, considerably smaller than Season 22's Top 56. During the Playoffs, each coach can use a "Playoffs Pass" to send an artist straight through to the Playoffs, skipping the Knockouts. The Knockouts are once again two artists vying for a spot in The Playoffs (Season 22 introduced Trios.
And here is a huge change: Instead of serving as the first LIVE show of the season, The Playoffs were taped ahead and will play out over several episodes. The coaches chose the two artists (out of 20) to compete in the semifinals. The Voice 23 will feature on TWO WEEKS of Live Shows–the semifinals and the finals. Check out all the details:
The Voice 23: Reba McEntire Mega Mentor, Mega Format Changes
The schedule will initially reflect when each round premiers. TBAs will be filled in when episode titles are officially announced. A few clip shows could be scheduled here and there.
UPDATE: The Voice Tuesday episodes will air at 9 pm and will end after Tuesday March 28. On Tuesday April 11, a new game show, The Wall premieres.
*Also, according to TheFutonCritic.com, The Voice does not air the Tuesday after the live shows begin. How will voting work? Or will the coaches continue to choose the winners? Will The Voice take a stab at in-episode voting? (The round premieres come from an NBC press release.)
The Voice Season 23 Schedule
Monday Mar 6 – Blind Auditions Premiere – 8 pm
Tuesday Mar 7 – Blind Auditions Part 2 – 9 pm
Monday Mar 13 – Blind Auditions Part 3 – 8 pm
Tuesday Mar 14 – Blind Audition Part 4 – 9 pm
Monday Mar 20 – Blind Auditions Part 5 – 8 pm
Tuesday Mar 21 – Blind Auditions Part 6 – 9 pm
Monday Mar 27 – Battle Rounds Premiere – 8 pm
Tuesday Mar 28 – TBA
Monday Apr 3 – TBA
Tuesday Apr 4 – TBA
Monday Apr 10 – TBA
Monday Apr 17 – Knockout Rounds Premiere – 8 pm
Monday Apr 24 – TBA
Monday May 1 – The Playoffs Premiere – 8 pm
Monday May 8 – TBA
Monday May 15 – LIVE Shows Premiere – 8 pm
Monday May 22 – LIVE Final performances – 8 pm
Tuesday May 23 – LIVE Finale (Winner Crowned!) – 9 pm