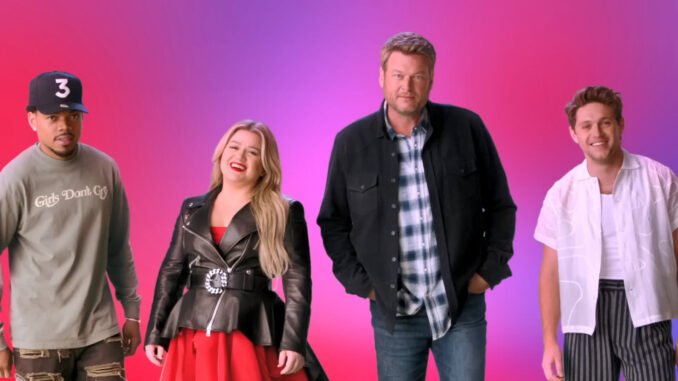 NBC makes it official. Country music icon Reba McEntire will serve as Mega Mentor on The Voice Season 23 which premieres Monday, March 6 (8-10 p.m. ET/PT).
Reba joins coaches Chance the Rapper, Kelly Clarkson, Niall Horan and Blake Shelton to mentor the remaining artists who have made it through the Battle Rounds as each team prepares for the Knockouts that begin April 17. Reba served as Battle Advisor to Team Blake on season 1, and now she returns for the veteran coaches final season.
Notably, there are NO Battle Round advisors this season. And that's not the only big change. We outlined the changes in our spoiler posts but if you don't want contestant spoilers, all the official format information is at the bottom of the page.
The Voice 23 Spoilers Blind Auditions – Top 40 Teams, Song Picks
The Voice 23 Contestant List and Guide: Meet the Artists!
The Voice season 23 format changes
The Blind Auditions end with a Top 40: Ten members on each Team (Season 22 had a Top 56!)
The Battles (starting March 27) – An all-new "Playoff Pass" allows both artists in a battle to advance, with the "Playoff Pass" winner gaining a major advantage when they skip the Knockout Rounds and automatically advance to Playoffs. Each coach has one "Playoff Pass" and one "Steal" during this round. Seven artists per team advance (six competing in the Knockouts and one "Playoff Pass" artist).
The Knockouts (starting April 17) – Artists are paired against each other, selecting their own songs to perform individually while their direct competitors watch and wait. Coaches choose the winner and the artist not selected is available for a "steal." The pressure is on as each coach only has one "steal" during this round. Five artists per team advance (four Knockout winners and one "Playoff Pass" artist).
The Playoffs (starting May 1) – The Playoffs are back, but will be taped ahead of time, rather than air live. Also, the round is split into two weeks. The 20 remaining artists perform, and each coach can only advance two artists to the live semi-finals.
The live shows kick off Monday, May 15 (8-10 p.m. ET/PT). Looking at the May calendar, that's ONLY TWO WEEKS OF LIVE SHOWS Y'ALL
The Voice airs on NBC beginning Monday March 6.