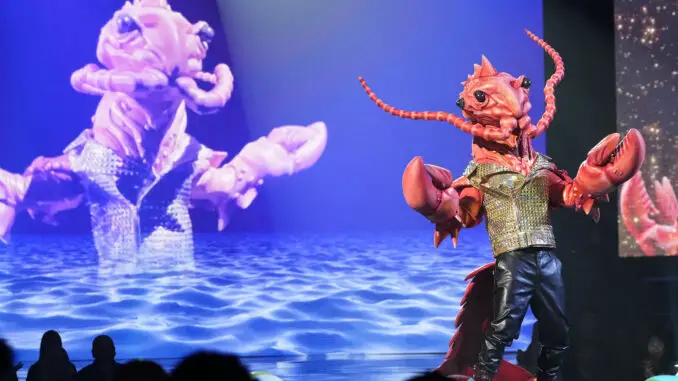 The Masked Singer season 9 continues with Week 2′ theme ABBA Night, featuring with Nick Cannon as host, Robin Thicke, Jenny McCarthy, Ken Jeong and Nicole Scherzinger on the judges panel.
The season 8 format remains unchanged. Three costumed celebrities will perform for the studio and judges panel votes. A celeb will be unmasked in the middle of the show. The remaining two celebrities will go head to head in a "Battle Royal." The winner moves on to compete again in next week's "New York Night." The loser will be the second celebrity to unmask. There is a new twist, however, that allows the judges to save one singer per round.
Tonight's celebrity costumes: New masks Rock Lobster and Night Owl, plus the reigning mask, Medusa.
The entire gang kicks off he show "singing" the ABBA classic, "Mama Mia."
Medusa
Clues: Medusa is the reigning champ so far. She's a softy underneath. A photo of Chris Martin flashes on the screen. Hm.
Performance: Dancing Queen – Medusa spins up her own version of the beloved ABBA song. It's an alternative take–she sings the song like a maniac. More edge, less cotton candy. On stage clue: For some reason, former Bachelor Nick Viall is delivering the hint. It's a first class plane ticket number 1996 heading to Tokyo. "Want to know where I'm from?" asks Medusa, "Take a little look closer." Nicole guesses Lorde. Robin guesses Apple Martin, Chris and Gwyneth Paltrow's daughter. OK that's a real dumb guess. As if. Ken guesses another nepo baby, Dakota Johnson daughter of Don Johnson and Melanie Griffith.
Prediction: Medusa is singer-songwriter Bishop Briggs. She lived in Tokyo as a child and the big chess pieces point to her name.
Night Owl
Clues: She calls herself a "straight up triple threat" and a forerunner of current pop stars, including Nicole Scherzinger. FOX only hired her 24 hours ago!
Performance: Fernando – She's an older singer, and sounds VERY familiar. She sings with a distinct, warbly vibrato. She will probably be unmasked tonight. Her voice is interesting, but not great. A kid actor playing "Napoleon" delivers the clue–a box of Bubble Gum. "If you're feeling blue, give this a chew, it's sweet and bubbly just like me." Jenny guesses Debbie Gibson. Nicole guesses Paula Abdul or Belinda Carlile. Robin guesses Kylie Minogue.
Rock Lobster
Clues: Hottest club, lobster a go go. He's done movies and tv shows since before you were born. "Elaborate pranks." He dances every day for 15 seconds. "The things that got me in trouble get me paid today." He's made an entire career out of being uncomfortable.
Performance: SOS – He's a terrible singer and will surely be eliminated soon. It's not even singing, it's off-key yelling. He's some kind of comedian or a comic actor, for sure. He finishes the performance, wandering off stage. "I feel like a princess in a fairy tale!" Nick thinks he knows who it is. RuPaul queen and Dancing with the Stars alum Shangela delivers the clue, which is a jewel encrusted gavel on a tray. "I'm a great judge of character," says Rock Lobster, "That's why I know these people have no idea who this character is."
Ken guesses Howie Mandel. Hm. Jenny and Nicole thinks Howie is too germophobic to don a costume. Nicole guesses Martin Short. Maybe! But Martin is a wonderful singer. So unless he's faking a bad singing voice, no. Robin guesses Steve-O. That's a good guess. There was a "Jacka**" clue in the package.
First RESULT
The singer leaving the competition first is…The Rock Lobster. Night Owl and Medusa will prepare for the Battle Royale. Final guesses: Robin: Steve-O Jenny: Martin Short Nicole: Martin Short Ken: Howie Mandel. OH MAN ROCK LOBSTER IS HOWIE MANDEL! I literally had no idea, even with the medical clues in the package (He starred in the 80's hospital drama, St. Elsewhere). And of course Nick knows him! Nick used to host America's Got Talent! Howie is a veteran judge of that show! HOWIE HUGS NICK! They exchange "Miss you mans!" Howie says he did it to have a reunion with his buddy. Guess his contract with NBC isn't exclusive. Heh. He makes a joke about lobsters not being kosher. "It's so weird for a Jew to be inside a lobster."
Battle Royale
The Night Owl and Medusa go "mask to mask." The two both sing "The Winner Takes it All" in their own styles. The dramatic song suits Medusa. She's probably got this. Night Owl's version is more classic, the way an 80s pop star would sing it. Her vibrato is really distracting! The panel decides who wins. Will they ring the bell?
Second RESULT
The singer moving on to next week is…Medusa! Nobody rang the bell. Final guesses: Ken: Sarah Jessica Parker. Robin: Kylie Minogue Nicole: Belinda Carlisle. Jenny: Debbie Gibson And Night Owl is…Debbie Gibson. Wow, I don't remember her singing with such a pronounced vibrato. Odd. Debbie toured with Jenny's husband, Mark Wahlberg. She took the place of someone who had to drop out of the competition. Wonder who? And will we see them next season? She's doing the show in honor of her mother, who recently passed away.