Now we know that Howie Mandel is not under exclusive contract to NBC. The America's Got Talent judge appeared on the FOX competition, The Masked Singer this week as the Rock Lobster.
If you were wondering if Howie could sing? The answer is absolutely NOT! But he had fun throwing "claws" and dancing around the stage as he comically caterwauled the classic hit "SOS" on ABBA night.
Masked Singer host Nick Cannon new EXACTLY WHO IT WAS after the clues package and performance. He seemed to be dying to spill the beans, but held off.
In the clue package, Rock Lobster said he'd been in movies and TV shows "since you were a kid." The man in black dressed in scrubs clue pointed to Howie's first big break playing a doctor on the 80s drama St. Elsewhere. The clip also hinted at Howie's popular Tik Tok dance videos. The clues also mentioned his neurosis and how it's actually fuels his career. Howie is known as germaphobic, an issue that he's incorporated into his comedy. A deck of cards hinted at his stint hosting Deal or No Deal 20 years ago.
For once, Ken Jeong Got it Right. Nick Knew all along
RuPaul's Drag Race queen and Dancing with the Stars alum, Shangela delivered the onstage clue: A jewel encrusted judges gavel. JUDGE get it? Howie is a judge on AGT. Ken Jeong guessed Rock Lobster's identity correctly from the start. But Jenny McCarthy poo pooed him, believing Howie's fear of germs wouldn't allow him to don a costume. But he stuck to his guess and wound up being correct! "For once, Ken Jeong has a good guess!" said a knowing Nick.
The Masked Singer 9 Week 2 Recap: Who Was Unmasked?
Unsurprisingly, the tone-deaf but amusing Rock Lobster was unmasked in the middle of the show. And once again, Nick hinted, "I have a feeling I know who this is. And this person DEFINITELY knows me." Robin Thicke's final guess was Steve-O from Jack**s. Jenny and Nicole Scherzinger guessed Martin Short (who can actually sing, but whatever). And Ken, who obviously KNEW stuck to Howie.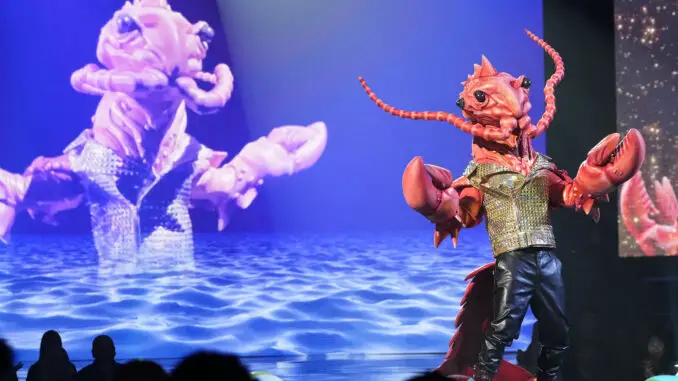 Howie and Nick's epic reunion
After pulling off his mask, Howie and Nick actually embraced. "And he hugged me!" shouted Nick. "I love you man!" said Nick. "I miss you buddy," Howie responded. When Nick asked Howie why he did the show, he answered, "No. 1, I love you buddy, and I miss you and I wanted to be here with you." But also, Howie just "wanted to have fun." He mentioned that over 10 million people watch him sing and dance on Tik Tok. "I must be amazing, I'm going to compete!" he thought.
Howie joked, "I'll be honest with you. As a Jew, we're not supposed to put lobsters or shellfish in us because it's not kosher," adding, "It's so weird for a Jew to be in a lobster." He said, "Everything is backwards tonight!" including being on the other side of a judges panel for once. During his sing out, Nick donned the lobster claws, and the two danced together.
Then, Nick sat in the audience and watched the remainder of the competition. Night Owl was unmasked as 80s pop star, Debbie Gibson at the end of the show. Medusa reigned supreme for the second week and will move on to next week's "New York Night."
Howie loved being inside the costume
Howie told People in a post-show interview: "I really was hurt in getting cut. And I felt, 'Oh my gosh. This must be what it feels like on my other show.'" He continued, "Empathy is a good thing to have. And this allowed me to kind of experience what I've been empathetic about. But I really was disappointed in getting cut. I thought I was fantastic."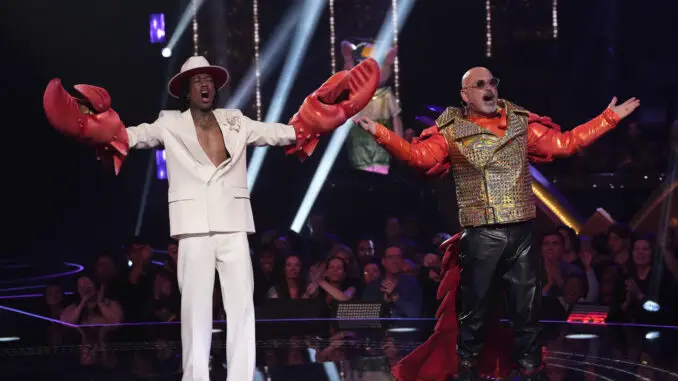 Howie is currently serving as a judge on America's Got Talent: All Stars. The series Grand Finale airs Monday Feb. 27 on NBC.
As far as the costume is concerned. it did not trigger his anxiety and OCD. "Any time you conceal me in something that has never been worn before by anybody else, and it is impossible to touch things and even hard to breathe the air that other people are breathing, I'm happy," he told People. Jenny was very much off the mark believing Howie would never be able to wear a costume, "I was happy as a lobster. I was sweating. I couldn't see, but I was content. I love to be locked away and not able to touch. Yes, that was my happy place."
Nick Cannon quit America's Got Talent amid a swirl of controversy
As far as Nick is concerned, he served as America's Got Talent host for eight seasons, seven of those seasons working with Howie. Nick abruptly quit AGT during the off-season in 2017 after NBC executives threatened to fire him over jokes he told in a Showtime special.. In 2019, he began hosting The Masked Singer. But he almost lost ALL his jobs over anti-semitic remarks he made in a podcast. Howie doesn't appear bothered by that.