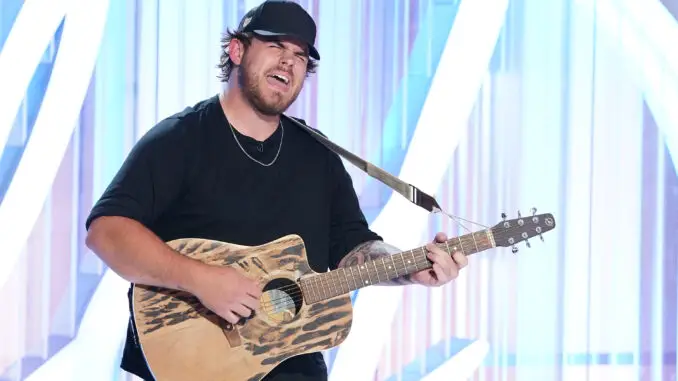 Twenty-one year old country singer, Jon Wayne Hatfield shared an incredible story before performing his song "Tell Me Ray" in front of the American Idol judges.
The clip is a preview from the upcoming episode, Auditions 2, airing Sunday Feb 26.
The singer grew up in a small Ohio town. But his mother struggled with drug addiction. His grandparents–country folk through and through–raised him. It was the best childhood a kid could ever have, Jon said, sharing that he considered his grandparents his mom and dad.
Sadly, his grandmother died three years ago. His grandfather, Ray, lost his best friend, and shut down for a year and a half. But Jon had no idea Ray was harboring a secret–that he was gay. Ray met his wife at 16 and told her about his sexuality. And she responded, "I love you. It's OK." Jon was the last person Ray told because Ray was "scared he would stop loving me."
Jon's grandfather, Ray, had a secret, that he was gay
But Ray needn't have worried. "After about a year and a half of not talking to me," said Jon, "He sat me down and told me he was gay." He quickly told his grandfather, "Don't think that changes a damn thing, because you are my best friend and my dad."
"It turned out he was there for me more than anybody," said Ray. In turn, Jon was inspired to write an original song called "Tell Me Ray," that means a lot to grandpa Ray. "It made me believe more in myself," he said.
Ray joins Jon in the audition room to watch his audition. He's already crying, even before Jon begins to sing. Jon allowed Ray to open up without judgement, and in turn, Ray feels proud. "I'm gay," he says, "and there's nothing wrong with it."
In the acoustic, Americana styled song, Jon asks Ray to "tell me your fears" and "why did you wait so long, to tell me what was wrong, tell me Ray." The chorus goes, "If I knew what was wrong, I could help you move on." It's a well constructed and touching story that Jon tells. The judges give him a standing ovation.
"You're a songwriter, you have a story to tell," says Katy
calls Ray "a hell of an inspiration." He adds that not everybody gets the encouragement they need. "A lot of us have to fight for it." He turns to Jon and says, 'Great songwriting."
"What I love about being a part of this show is people come in and bare their souls in front of us, and people at home that may be dealing with the same stuff get to realize they are not alone," Luke Bryan says, adding, "We knew by the way you played the guitar that you've got the time in and really showcased the right foundation of what we're looking for."
"What you shared with us today is so authentic, so beautiful," says Katy Perry adding, "You're a songwriter. You've got a story to tell." She turns to Ray to say, "It's never too late Ray. Welcome to the club, honey!" She adds, "Not everyone gets to live their authentic life. Good for you."
The judges give Jon three yeses. He's on his way to Hollywood.
American Idol auditions 2 airs on ABC Sunday February 26 at 8 pm ET/PT.