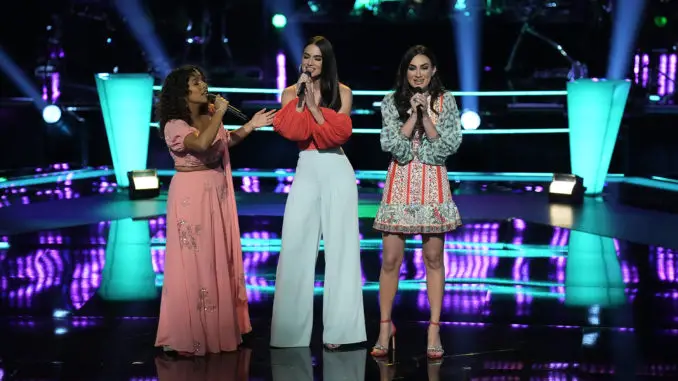 The Battles continued on The Voice on Tuesday (Oct 18) and we are about halfway done with them (Read our Recap)
The most anticipated battle of the night due to her audition hype was a pairing that included 17-year-old R&B and soul singer Parijita Bastola. Her audition blew up on all platforms after the first Nepalese The Voice contestant had a standout 4-chair moment.
Coach John Legend paired her with the Miss Maryland pageant pop country singing duo, The Marilynds. He put them together, partially because both acts are from Maryland. This was a bit of an odd pairing, but John's song choice, The Bee Gees "How Deep is Your Love" was a good song choice for them to mesh together. Team Legend mentor Jazmine Sullivan advised Parijita to not show it in her face when she messed up.  John also advised The Marilynds to sing more solos instead of harmonizing every part. In the rehearsal, there are some clashing harmonies, but the three singers work it out, pleasing Jazmine and John prior to the actual performance.
Harmonies come together in the end
Parijita starts out in control, with a beautiful tone that is reminiscent of timeless singers from years ago. She's beyond her years both vocally and emotionally. The sister duo's harmonies are nice and well-executed, but the duo's vocals and stage performance felt a bit stiff. The sister dressed in red (Kacey) with a huskier, soulful sound appears to be a bit stronger singer than the sister dressed in floral (Lindsay). Her tone is more nasally and country sounding. Both competitors sounded good, and although the harmonies did come together at the end, due to stylistic differences, this felt like two separate performances and not a cohesive duet. Nevertheless, the vocals were good, and Parijita was both the stronger singer and performer.
John uses his Save
Blake Shelton felt that The Marilynds were "locked in together," adding that Parijita is prepared to "blow your face off" before naming Parijita as the winner. Camila Cabello compared the pairing's tight sound to "dripping a vanilla candle" to her ear. Gwen Stefani  noted how different The Marilynds voices are and compared Parijita's sound to a "70s singer-songwriter." John appreciated how the three fit in together, calling The Marilynds harmonies "flawless" and Parijita's voice "phenomenal." In the end, John declared Parijita as the winner. He noted Parijita's blind audition and her "magical presence" as reasons why he picked her. However, he saves The Marilynds. John thinks they have more to give, calling them "compelling" and noting their lane of country-pop as "unique" on his team.
This battle was solid, but the standout battle of the night came from Team Camila's pop singers Eric Who and Sydney Kronmiller. Sydney's tone was special, and Eric's performance was very entertaining. It was sad to see Sydney go.