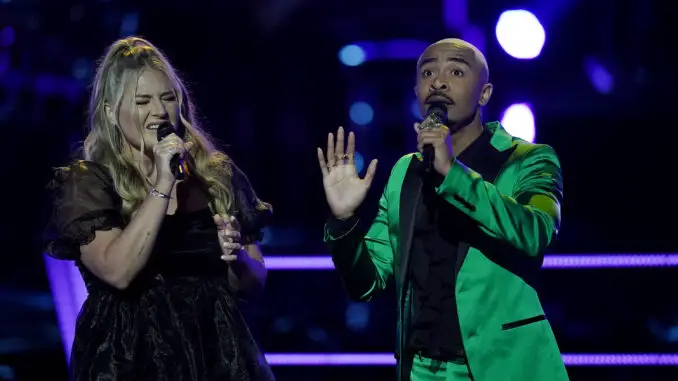 The Voice season 22 Battle Rounds continue tonight with returning coaches Blake Shelton, Gwen Stefani and John Legend. Pop star Camila Cabello joins the panel.  Carson Daly returns as host.  We'll be live blogging all the Battle performances right here.
Celebrity advisors will join each team: Jazmine Sullivan joins Team Legend, Sean Paul joins Team Gwen, Charlie Puth joins Team Camila and Jimmie Allen joins Team Blake
The coaches will pair up their team members for unforgettable duets. Afterward the coach will choose the winner. The eliminated contestant can be saved by the coach, or stolen by a rival coach. Each coach gets 1 steal and 1 save.
The Voice 22 Contestant List – Meet the Artists! (Photos, Videos)
The Voice 22 Spoilers: Blinds, Battles, Knockouts, Top 16
The Voice Season 22 Full Schedule CONFIRMED
REMINDER: NO SPOILERS IN COMMENTS. Keep spoiler talk under spoiler posts above. Thank you.
Note: The live blog might be a little janky tonight, as I'm relying on a probably illegal livestream to watch. Stupid NBC Boston 10 is airing an NFL game in the time slot.
Kique vs Tanner Howe – Team Gwen – Don't You Forget Abou Me by Simple Minds
Kique is only 18. Tanner got 3 turns for his Blind Audition. During the pandemic, Tanner hit it with "drive up" concerts. Gwen warns them not to mess up a song she loves. No pressure! Gwen asks them not to change up the melody too much, because the song is beloved. Both are having issues with the "heh, heh heh, heh" part. She's telling them to literally mimic the song.  Why bother covering a song if the artists can't bring their own flavor?
Tanner sings with more assurance. This is probably not a great song choice for Kique, who is a more soulful vocalist than alt-rock Tanner. He flirts with Gwen during the performance. In front of her husband. The duo sings the "la la la las" in unison, and it's a highlight. They finally break into some harmonies. This is a tough song for a singing competition. They did about as well as they could with it.
John calls the performance "compelling." He liked Kique's pronunciations. He appreciated Tanner's tone and confidence. He'd pick Tanner. Blake calls Kique's voice "completely different." He'd pick him. Camila would also choose Kique. Gwen loved the way Tanner hit the notes. She loves Kique's stylized voice, and is happy he took her notes to dial it back. Gwen picks Kique, Tanner is eliminated.
Kevin Hawkins vs Hillary Torchiana – Team Blake – Preach by John Legend
Hillary was a one chair turn, while Kevin, who is a teacher, got FOUR turns. The odds are stacked against poor Hillary. Gwen blocked Kevin from choosing John. Is Blake trying to torture John, who hates when his songs are covered. Blake advises the singers not to overdo the runs and high notes. Hillary did not know the song. She loves the lyrics though, because she has battled through self image and confidence problems. 
The harmonies are beautiful. But Kevin is the standout here. A solid performer, Hilary deserved more than only one turn. John doesn't look unhappy. They took Blake's notes and kept the adlibs tasteful. Hillary has an impressive range. The song's dynamics build nicely and then it all ends on a quiet, spiritual note. Kudos to the arranger.
"I loved it!" John gushed, "It was really beautifully executed." John mentions Gwen's block. He's still big mad about that. He would pick Kevin. Gwen loves Kevin's outfit. She compliments Hillary's tone, but she couldn't keep her eyes off Kevin. She'd pick him. Camila called it "fun to watch." She could feel Hillary trying to push herself out of her comfort zone, but thinks Kevin had more confidence. Blake thanks the pair for taking his notes. He says that Hillary "stepped up to the plate." Blake believes Kevin has even more to give. Blake picks Kevin. Hillary is eliminated. Poor Hillary was the sacrificial lamb.
Sasha Hurtado vs Devix – Team Camila – Electric Feel by MGMT
Sasha's dad is from Mexico. Camila calls the two artists her "Indie" singers. Devix plays a slew of instruments. Charlie gushes over their performance. He and Camila both think they need to work on connecting with the audience, however. Sasha admits that she's nervous. Camila gives her tips on phrasing, and advises Devix to play with his vibrato. 
Both artists are great singers, but in different ways. Sasha is an incredible effortless vocalist. Her tone is divine. Devix has a quirky, unique vocal style that cuts through. This duet is wonderful. Who to choose. If Camila had a save left, this would be a great time to use it. OH WELL. The judges give them a standing ovation.
Gwen loves Sasha's tasteful range. "What the hell," she exclaims about Devix. John declares the duet his favorite of the day. He would pick Devix, who he calls "different and special." Blake thinks Sasha has more to give. Camila notes, in her defense, that Sasha didn't know the song. She believes that Devix has a tremendous amount of confidence. Camila picks Devix, Gwen STEALS Sasha She wants to help Sasha overcome her nevers and gain confidence.
Kim Cruse vs David Andrew – Team Legend – Heartbreak Anniversary by Giveon
Kim was a 4 chair turn. David worked as John's body double! Having endured a bad breakup, Kim relates to the song's lyrics. A clip shows Kim, a nature lover, fishing with her dad. David explains that kids bullied him because he didn't like boy things like sports. But since then, he's learned to be himself. John gives the singers tips on ad libbing, saying "It's a little too choiry." Jazmine is full of praise for Kim, but suggests she back away from the mic. For David, she advises that he stick to the melody more. Both Jazmine and John tell the singers not to get in each other's way.
The pair deliver a smooth and soulful performance. Kim has a jazzy side and is a particular standout here. They build the emotion slowly until they break out into impressive ad libs. David is impressive, but Kim is a dang skilled vocalist, and is the clear winner here.
Blake thinks both did great, but Kim has something extra. He'd pick her. Camila appreciates David's tone, but compares Kim to a dragon. Gwen calls David's voice and look "pretty." John finds David "joyful…lighting up every moment." But he calls Kim, magical special and an "elite vocalist." John picks Kim, David is eliminated
Kate Kalvach vs Madison Hughes – Team Blake – Every Rose Has its Thorn
During the Blinds, Blake tried to entice Kate to his team with a goat. Hijinks! Her parents are pastors and moved the family to Oklahoma City 10 years ago. Jimmie thinks Madison's voice is a mix between male and female country. He suggests that she just go for the big notes, but not worry about chasing Kate's high notes. On the other hand, Kate thinks Madison will excel in her lower register. She's not used to performing in front of big audiences. She gets teary discussing it. 
The have very different tones, but their harmonies are beautiful. Kate can hit those high notes, but there's something about Madison's tone and delivery that's unforgettable, even though she has some pitch problems here and there. She's old school. 
Camila calls Kate's voice one of her favorites. She compares her voice to butter. Camila loves Madison's personality. Gwen calls Madison's tone soft and tender. Kate calls Kate's body language effortless. John loves Madison's "tender alto." Blake compares Madison's tone to Elvis. However, Blake picks Kate. Madison is eliminated.
Alyssa Witrado vs Ian Harrison – Team Gwen – Happier Than Ever by Billie Eilish
NBC previewed this battle last week. Alyssa auditioned with "Don't Speak." She's a fan girl! Ian got three chairs to turn. He was the first member on Team Gwen. He's 20 and works at a bar. Gwen thinks the first part of the song needs work. "Let that theater and personality come out." She wants a "saturated version" of their personalities to come through. 
Gwen is correct about the first half of the song. It's still problematic on stage. Billie has odd phrasing and tone. Her songs can be hard to cover. But then, on the next verse, both singers open up and the song EXPLODES. Ian's delivery is like a primal scream. Alyssa's tone is interesting but I can't stop watching Ian. 
John calls them both "freaking cool" and thinks they both look like stars. He would pick Alyssa. Blake would pick Ian. He thought he was great all through the song. Camila wants to start Twitter fan accounts for both singers. But she prefers Alyssa. Gwen had one idea about who she would pick. Now she's maybe changed her mind!  Gwen picks Alyssa, John STEALS Ian "Ian is from my hometown. I really love your voice," John explains. But he picked Alyssa at first!
The final six Battles will be waged Tuesday night (Oct 25) and then it's on to the three-way Knockouts. Blake Shelton still has a save.