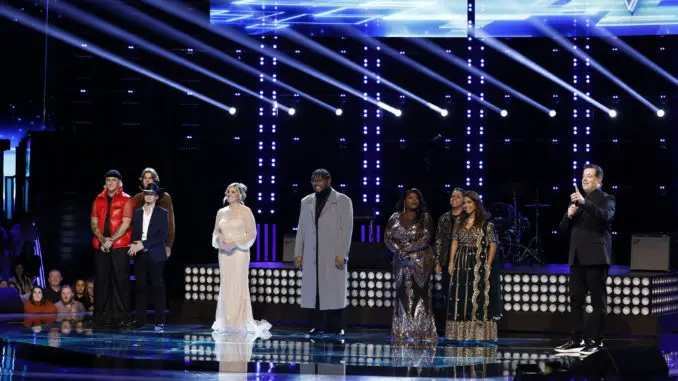 The Voice 2022 Recap Semi-Final Results – Top 5 revealed!
The Voice 2022 Recap Semi-Final Results are here. In what's sure to be a night full of drama, the Top 5 finalists heading to next week's FINALE will be revealed LIVE.
The Voice 22 Semi-Final Poll Results and Elimination Predictions
The Voice 22 Recap: Semi-Final Performances (Video)
Who from Team Blake Shelton, Team Gwen Stefani, Team John Legend and Team Camila Cabello will make the finale? After last night's viewer vote, 4 artists will be declared safe. Next, the bottom 4 singers will perform for America's vote in the Instant Save. The winner will round out the Top 5.
First up, Blake Shelton takes the stage to sing his hit "No Body." Twang. Twang. Twang. Let's get to the results!
Results!
The Top 8 take the stage. First dumb question from Carson goes to Omar Jose Cardona. Winning The Voice would mean the world to Omar! Bodie says "Blake's the Man" and calls him a visionary. The first artist saved by America's vote is…Bryce Leatherwood!
Next, John Legend performs his hit "Nervous." His grand piano is surrounded by Christmas trees. It looks claustrophobic.
MORE Results
After that interlude, the remaining 7 semi-finalists take the stage. The Voice has made Morgan a better artist, she says. Parijita thanks her parents for supporting her.
The next artist advancing to the finale is…Morgan Myles! The third finalist is…Bodie from Team Blake!
Next, Carly Pearce takes the stage to perform her big hit "What He Didn't Do."
Now, the remaining 5 semi-finalists take the stage. Kim wants people who are struggling with confidence to know that you are all that and then some! "Stand Up" was important for Justin to sing because folks need to "stand up" and do this together.
SHOCKING Results! Or not
The last finalist voted in by America is…Brayden Lape! TOLDJA TOLDJA TOLDJA. Sure, I played it safe with my prediction, but I did add Brayden Lape as a surprise caveat. Four of the best singers of the season are left to fight for the final spot: Omar Jose Cardona, Justin Aaron, Parijita Bastola and Kim Cruse. Sigh. I have another observation, but I'll keep it to myself, at least for now.
I mean…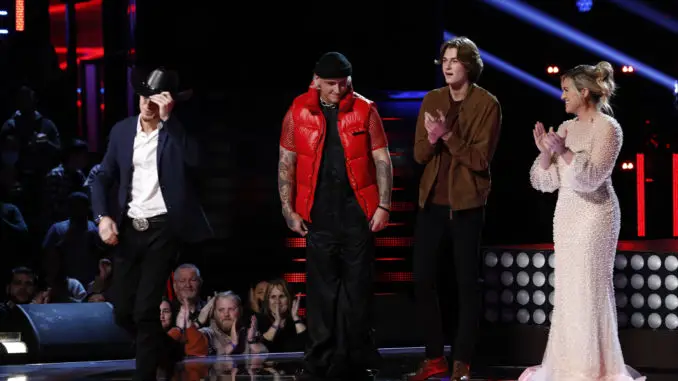 The Bottom 4 sing for the Instant Save
Parijita Bastola – To Make You Feel My Love by Bob Dylan – For the first time, Parijita seems less than completely composed. At this point, the show is obviously not invested in her. That was a decent, but not great performance. John calls the performance "gorgeous." He compliments her for "rising to every occasion."
Kim Cruse – Team Legend – All By Myself by Eric Carmen – Well, I'm glad Kim made it as far as the semi-finals. She turned in a season defining performance last night with "Summertime" so good for her. This performance is also really great. Her runs are creative and make the song uniquely her own. John has three singers fighting for a spot. Wow. He calls Kim "just incredible…so powerful."
Justin Aaron – Team Gwen – Made a Way – Pulling out a Gospel song for that last chance to advance to the finale. It's a rousing performance from Justin. But Omar is closing the joint. He's probably got this. Gwen has been up all night praying for Justin. Camila calls him the kindest person on the show. Hm. She doesn't beg America to vote. Poor Gwen is going to miss having a singer in the finale on what's probably her last The Voice season.
Omar Jose Cardona – Team Legend – You and I – Figured Omar would go last. It's somewhat shocking Omar didn't advance by America's vote. But America lurves their country singers! Omar did his Omar thing and it is probably enough. John is stunned that he's in this position. "If this is The Voice and we vote for people because of their voice, Omar is The Voice." Very diplomatic way of pimping him considering he has two other singers fighting for a spot.
Time to VOTE
Y'all have 5 minutes to vote on The Voice app or at NBC.com/VoiceSave
Parijita says she's grown so much since her blind audition. She's grateful to her coach John. John calls her a wonderful young woman. You represent your family and culture so well. Kim thanks John for believing in her and giving her the extra push. She hopes to inspire. "You inspire me Kim," says John. He feels lucky to have worked with her. Justin thanks Gwen for believing in him. He calls her an icon. Gwen calls her one-chair turn gifted and open hearted. Omar calls John "cool" and is grateful for his advice. Uh oh. Omar swore. John remarks that Omar can do anything with his voice. "It's crazy that your standing here."
Omar Jose Cardona wins the Instant Save
And Omar Jose Cardona wins the Instant Save. Look at those faces.
On one hand, it's wild that some of the best singers in the Top 8 had to fight for a spot in the finale while a sweet but underbaked teen country singer sailed right in. But that's the story of singing competitions! Brayden isn't the best singer by a long shot, but he's immensely likeable. And Blake Shelton is kinda the goat! He's a good coach who knows how to get a singer across the finish line. Plus, his own fan base is motivated to vote.
And to be fair, while Blake is known for advancing bland country singers farther than they deserve, he has also also worked with several Black singers. For instance, the talented Cam Anthony won the show a few seasons back. And Wendy Moten, a middle aged music vet, finished in second place last year. Older Black women in particular seem to leave the competition too early. But Blake was in Wendy's corner overy step of the way.
I predicted (and so did the poll voters) Bryce, Morgan, Bodie Omar and Justin into the finals. Actually, if life were fair, Kim should have been in that lineup somehow. But that's just how it goes in singing show land.
The Voice 2022 Top 5
Bryce Leatherwood – Team Blake
Morgan Myles – Team Camila
Bodie – Team Blake
Brayden Lape – Team Blake
Omar Jose Cardona – Team Legend – Instant Save winner
Eliminated
Justin Aaron – Team Gwen
Kim Cruse – Team Legend
Parijita Bastola – Team Legend