The Voice 22 Top 8 perform LIVE for America's Vote, vying for a spot in next week's FINALE. At this point of the season, coaches Blake Shelton, Camila Cabello, John Legend and Gwen Stefani will have NO SAY in the results. It's all up to America. Carson Daly hosts!
The Voice 22 Top 8 Ranked – Now YOU Rate The Artists
VOTE on the NBC voice phone app or go to http://nbc.com/voicevote. Fans have until tomorrow morning to vote for their favorites. The Top 5 will be revealed on the Tuesday Dec 6 results show.
This week, the singers will perform twice: A solo and duet with a fellow contestant. The duets will feature Whitney Houston songs to promote her upcoming biopic.
Justin Aaron – Team Gwen – Stand Up by Cynthia Erivo
Gwen wants to show fans that Justin is continuing to grow. That's what a dark horse does! His wife is thrilled with the song choice. She urged Justin to audition for the show in the first place. Gwen suggests hyping up the song's drama. She reminds viewers again that Justin was a one chair turn.
It's another big number for the soulful singer, which he ably navigates. Will performing first hurt him? He hits not only the big notes but the high notes…mostly. The song is a little bit out of his range, but the rasp at the top adds urgency and passion to the performance. In the past, Justin has been a little TOO smooth. The rough edges are welcome. Seriously, that could have ended the show.
John calls it "Glory on steroids." He loves watching Justin grow on the show. Blake loves that his performances start big and go bigger. "You set this impossible bar says Camilla, calling him a "born performer." Gwen calls his confidence unbelievable. "You're just shining up there."
Morgan Myles and Bryce Leatherwood – Saving All My Love for You
These two aim to countrify a Whitney song. At least they didn't go for low hanging fruit like "I Will Always Love You." They sit center stage, facing each other as they perform. At the very least they make a connection and deliver a sweet version of the classic. Considering it's a duet, Morgan tones down the vocal acrobatics until she hits a warbly high note on the chorus.
Brayden Lape – Team Blake – In Case You Didn't Know by Brett Young
Blake warns Brayden that he can't ease his way through the song. Which is basically what he does every week. Laconic is one way to describe Brayden's vocal style. Blake pushes him give to more. He believes that Brayden can win the show. Advance to the finale? Yes. Win the show? NOPE.
The chorus is where Brayden should be REALLY pouring on the passion. It's not in his DNA. Or maybe it's his age? He's only 16. He has a very pretty appealing tone. Once he learns how to phrase and deliver a song, he'll be pretty good! But it may not matter. He's a cute likeable guy and has a strong chance to make the final.
Camila is so excited about his career and where he is going. "You have such a gorgeous sounding voice." She feels he has room to grow. Gwen loves his "understated" performances. She calls him "loveable." Blake thinks he "stepped up" this week.
Parijita Bastola – Team Legend – Unstoppable by Sia
Alessia Cara reached out to Parajita after she performed "Scars to Your Beautiful" last week. John suggests not doing so many runs. He reminds her that the stakes this week are high. For her part, Parijita says her Nepalese parents give her the support to be confident.
Her Nepalese dress is so beautiful. Having said that, Parijita peaked too early, maybe. She's got a gorgeous voice, but she doesn't top herself every week. A line of drummers join Partita on stage, which lends drama. The show is really breaking out the big staging this week.
It's crazy to Camila that Parijita, at 17 years old, has the guts to own herself. Gwen is shocked by how she can connect to her body and voice at a young age. John thinks the belief she has in herself is infectious.
Bodie and Brayden Lape – I Wanna Dance with Somebody
Well. This is an interesting song choice. Their version is slow and ballady. Bodie is a much more developed and dynamic singer that Brayden. On the other hand, Brayden has a prettier tone. They make for a disjointed pair, however. It's better on the chorus when they sing in unison with background singers who do the heavy lifting (harmonies).
Kim Cruse – Team Legend – Summertime by Billie Holiday
Kim was classically trained as a 1st soprano. but then she developed vocal polyps which completely changed the complexion of her voice. The shift affected her confidence. This week, she's going "super jazzy." OK. This is a good song choice for her.
The jazzy side of Kim's voice is superb, but fans haven't heard much of that so far. Instead of just belting out an R&B song, Kim shapes and phrases this classic with nuance and skill. She unleashes her big voice on the last chorus. It's one of her best performances in the competition. Will it advance her to the finale? It could!
The coaches are on their feet. Blake compliments her head voice. Camila felt entranced in a film. "I want to go to a Kim Cruse concert," she says. Gwen calls the performance "perfect." John calls her divine, regal and beautiful. "A masterclass in how you perform a song that's been performed a million times."
Omar Jose Cardona – Team Legend – My Heart Will Go On by Celine Dion
John was skeptical of the song choice initially, but after Omar shared his ideas for the song he could "see the vision." Omar will dedicate the song to his girlfriend. "Put a little more gospel and soul on it," John suggests. Also, he wants Omar to go for the high notes in a rock n roll style.
He's showing more variation in his phrasing which is good. However, it's obvious he's not entirely comfortable singing softly. The song choice isn't all THAT surprising. It's fit for a big voice, whether male or female. He keeps modulating the key into a crazy crescendo, and a final big note. Didn't love that arrangement. John built it up to be groundbreaking. It was not.
"The stage levitated," said Blake and jokes that old people will like it? Gwen calls it "unbelievable." John shouts, "Omar can do it!"
Bodie – Team Blake – Without Me by Halsey
Team Blake has a special bond, Bodie explains. He wanted to challenge himself with a girl song. Blake wants more big notes at this stage of the competition. "Bodie is teaching me at this point," Blake declares. He thinks it would be a "disaster" if Bodie doesn't make the finale. Oh, he will.
Oooo….a few of these notes in the verse are off pitch. Bodie is rarely pitchy. But he overcomes the issue once the chorus kicks in. I'm not sold on the song choice, which does not seem suited to his voice, but the performance is going to be enough to get him into the finale.
The crowd is chanting for him. BODIE BODIE. "You're so dang creative," Camila remarks. John believes in Bodie as an artist. He sees the path for him. "Dude I think you're going to the finale," predicts Blake. "I want America to know what's in this guy's heart." Blake calls him a "good man."
Justin Aaron and Omar Jose Cardona – Greatest Love of All
That could have been way too much. Two big voiced singers can egg the other on. Surprisingly, Justin has the bigger, louder voice. His voice is thicker. Omar's tone is more refined. But other than the unison singing being a little shaky, the two deliver a solid performance.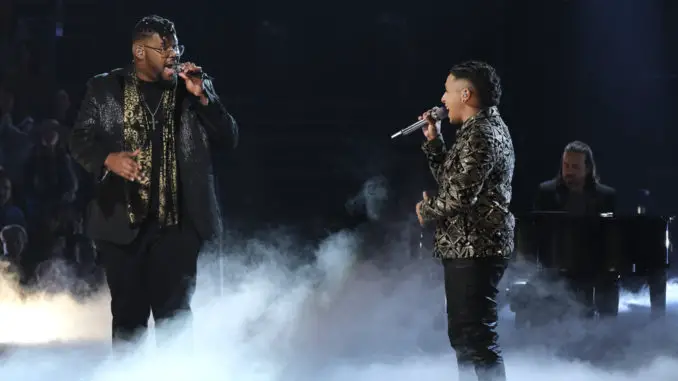 Bryce Leatherwood – Team Legend – If Heaven Wasn't so Far Away by Justin Moore
Bryce describes this week's song pick as the most emotional that he's sung so far. He tears up as he talks to his grandparents on the phone. Blake plays acoustic guitar while giving Bryce advice on phrasing. He believes Bryce could be on the radio as soon as the season is over.
He told Blake the cowboy hat was coming back. PSYCH. No hat this week either. Actually, it's beside him on a hook. Best of both worlds? He seems more vulnerable hatless. He puts it on during the last verse. So EMOTIONAL but COUNTRY THROUGH AND THROUGH. He does have a classic country sound that belongs on the radio. These weepers are smart choices. There may or may not be room for him in the finale.
Gwen calls Bryce authentic and old school, but also effortless with star quality. John calls it Bryce's best performance. Blake is sure that performance will get him into the finale. "You just engaged the army of country fans who watch that show." Sounds like a threat!
Kim Cruse and Parijita Bastola – I'm Every Woman
This song is dated and lame. But Kim and Parijita do their thing on it. The two are a natural pairing. This performance concludes the synergetic pimping of an upcoming Universal bio pic, coming to a theater NEAR YOU!
Morgan Myles – Team Camila – Always Remember Us This Way by Lady Gaga
Morgan was extremely close to her cousin, who died of a brain tumor at 33 years old. Her grandfather died of the same thing. Camila advises Morgan to bring her soulfulness into the performance. Her parents are driving 3000 miles to sit in the audience, which will certainly amp the emotion.
Morgan's dress features a dramatically long train, which is spread behind her as she sits at the piano. Morgan can barely get through the first verse without choking up, but she keeps it together. This is a very beautiful, soulful version of Lady Gaga's dramatic song. She gets up and takes the stage for the last verse and chorus. Her voice soars effortlessly. And on the last line, she tears up. Morgan is a born storyteller. Bravo.
Gwen loves how she "builds the songs…very gorgeous." Camila is wearing a goofy headpiece. She's so silly as she tries to seriously describe Megan's performance. "You could be the next county pop superstar. The show is called The Voice…you are that. Your voice has truth and grit and your tone is so beautiful."
Tomorrow: Carly Pearce will perform. Plus, John and Blake take the stage. The Top 5 will be revealed!