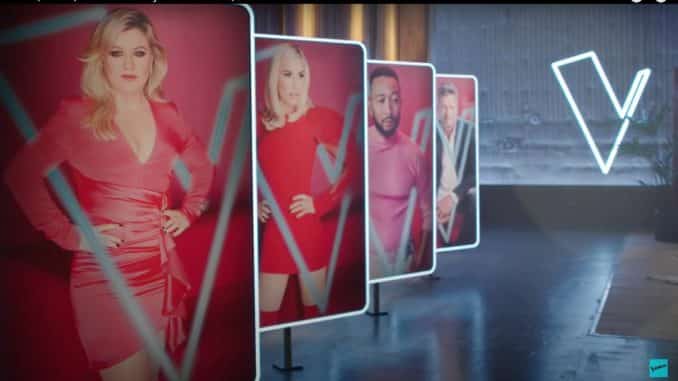 The Voice returns to NBC on Monday October 19 for season 19. After quarantining all summer, coaches Blake Shelton, Kelly Clarkson, John Legend and returning coach Gwen Stefani are back in their big red chairs on the Universal studio lot for another season of competition.
In this new clip, each of the coaches describe what they did over the summer. Blake and his gal pal Gwen hunkered down at his house. They had so much time on their hands, they learned to make sourdough bread and peach jam. Gwen was grateful for more time to spend with her kids.
John finished and promoted his latest album Bigger Love, along with hanging out with his wife Chrissy Teigen and two toddlers (Maybe making some babies, too…)
The Voice 19 Promo Features Socially Distant Shenanigans! (Video)
The Voice Alum Adam Wakefield is Engaged to Jenny Leigh (Photos)
NBC Confirms The Voice 19 Premiere Date, Battle Rounds Taping Soon
Kelly kept busy with her afternoon chat fest, The Kelly Clarkson Show, hosting the show remotely from Montana and then Los Angeles. In this clip, the American Idol OG winner does NOT mention being busy filing for divorce from her husband, Brandon Blackstock. Not the kind of thing that's suitable fodder for a lighthearted promo clip!
The coaches and host Carson Daly will finish taping the season 19 battle rounds today, before the Blind Auditions kick off on October 19. Covid-19 protocols keep the coaches chairs spaced far apart. Also, Carson stands mainstains social distance from the coaches and artists. The hopefuls audition in studio, but not until everyone is tested for COVID-19.
Still, it's great to see competition reality shows start getting back to normal.
Watch Blake, Gwen, John and Kelly share their summer quarantine routines in the clip below.