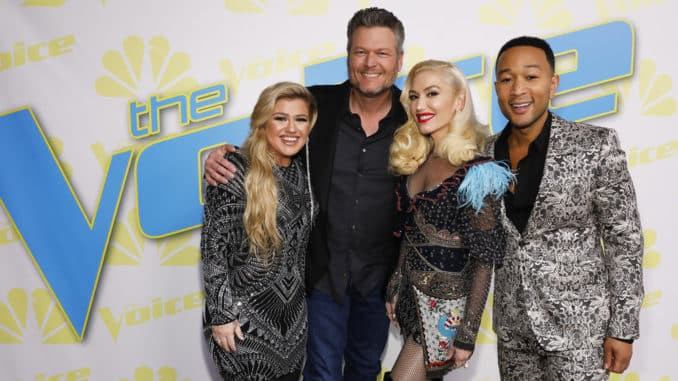 Gwen Stefani returns to the big red chair with socially distant presents for her new artists when The Voice returns for Season 19 on Monday, October 19 at 8/7c on NBC.
The coaches are back at Universal Studios after COVID-19 restrictions forced The Voice production to film from the homes of the cast and artists.
Now, host Carson Daly and coaches Blake Shelton, Kelly Clarkson, John Legend and Gwen Stefani are back in their big red chairs. But they now sit 8 feet apart.
In the clip, Gwen welcomes one artist to her team during the Blind Auditions by launching a t-shirt at him with a t-shirt cannon. "I got a present for you but because we're social distancing, I'm going to launch it at you. You ready?" she says.
Unfortunately, the cannon turns out to be a bust. So Gwen takes her boyfriend Blake's advice and places the t-shirt on a long pole with a glove at the end to give it to her new team member. Oh, the pandemic opens up so many new opportunities for shenanigans, amiright people?
Gwen returned to The Voice last fall after long-time coach Adam Levine abruptly quit the show. Pop star Nick Jonas joined Blake, Kelly and John in the spring. And now Gwen is back, hoping to coach the winning artist.
The coaches will finish filming the Battle Rounds on September 21. The Knockouts will follow, but are not on the 1iota.com schedule yet. The audiences are VIRTUAL this season. That means fans can watch the artists perform from the comfort of their living rooms.
Check out the brand new The Voice season 19 promo below. 
https://youtu.be/dsA9pj1UPTg