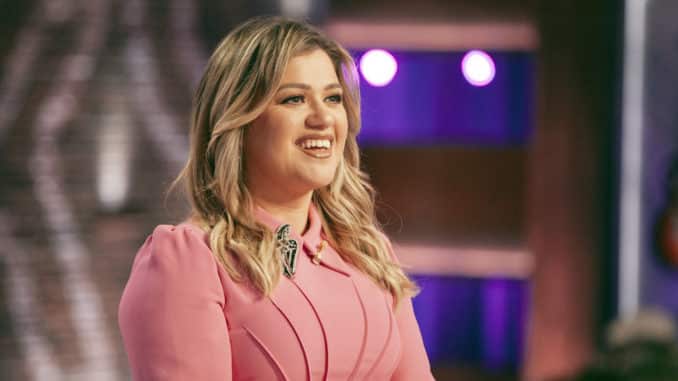 Kelly Clarkson kicked off season two of The Kelly Clarkson Show with John Legend, a slew of surprise guests and a fun homage to beloved TV theme songs. But, during her opening monologue, The Voice coach and American Idol OG winner opened up about her divorce from husband Brandon Blackstock.
Calling 2020 a "dumpster fire," adding, "just all the words I can't say on this show piled together and it was on fire."
Kelly dove right into describing the elephant in the room.
"2020 has brought a lot of change also to my personal life. Definitely didn't see anything coming that came," Kelly shared with viewers.
What I'm dealing with is hard, Kelly shared
While Kelly is usually an open book, she won't talk about the divorce much. "What I'm dealing with is hard," she explained, "because it involves more than just my heart, it involves a lot of little hearts. We have four kids and divorce is never easy. She continued, "We're both from divorced families. We know the best thing here is to protect our children and their little hearts."
"I'm usually very open and I usually talk about everything," Kelly said. "but in this case I will talk about a little bit here and there about how [the divorce] affects me personally, but probably won't go too far into it because I'm a mama bear and my kids come first," she said.
Kelly Clarkson Says Life is "A Bit of a Dumpster" After Divorce (Video)
Kelly Clarkson: Next Record "Most Personal I've Ever Released" (VIdeo)
The singer assured her fans that she's doing "OK," and that her mom taught her to write her feelings down. "Music's always been my outlet to help me get through difficult times," she said.
Kelly filed for divorce from Brandon in June, requesting joint custody of their two children, daughter River Rose, 6, and son, Remington.
Kelly sings classic TV themes with Bob Saget
Kelly opened the show with a medley of classic TV theme songs, including from Cheers, The Golden Girls and Full House. Bob Saget joins Kelly to serenade her with the theme from The Mary Tyler Moore Show. Plus, Ed Asner from Mary Tyler Moore, George Wendt and John Ratzenberger from Cheers and David Coulier and Jodie Sweetin from Full House joined her virtual audience.
Speaking of virtual audience, instead of a virtual "wall" each remote audience member is assigned a seat. It's a little…weird.
https://youtu.be/iLB_cQCo9Ag
Kelly and John Legend plan to "destroy" Blake Shelton
Kelly's fellow The Voice coach, John Legend drops by. The two hatch plans to "destroy" fellow coach Blake Shelton. Plus, John participates in an "Ambush Thank You" and cooks chicken tenders with Kelly. During the segment, DJ Khaled,  DWTS contestant Nelly, Josh Groban & Kenny G crash her show.
https://youtu.be/Tk58ahHRSuY
When Patty Griffin surprises Kelly, she totally freaks out
One more special guest. Watch Kelly totally geek out when her favorite musical artist, Patty Griffen Zooms Zooms in unexpectedly. When she suggests the two "hang out" Kelly kinda looses it!