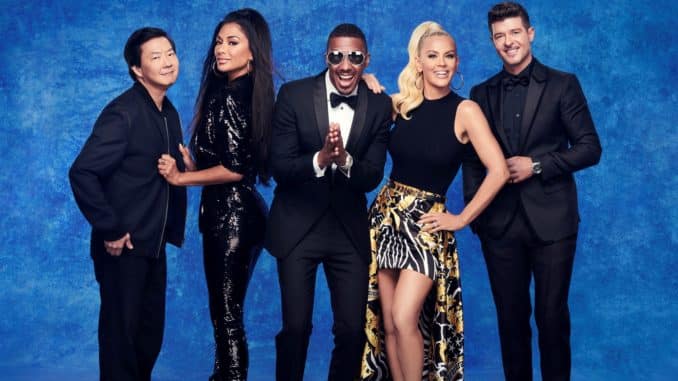 The Masked Singer season 4 will feature a fun twist when it premieres on Wednesday Sept. 23. Not only will the masked celebrities be competing for a trophy. But so will the judges!
The show will now have Ken Jeong, Jenny McCarthy, Robin Thicke, and Nicole Scherzinger write down their first guess after every performer's first song. The judges will hand over their slips to host Nick Cannon, who then DRAMATICALLY locks them away in a cheesy vault backstage. 
The judge who receives the most correct guesses–there are 16 masks competing– will win the "Golden Ear Trophy."
The Masked Singer Season 4 Premiere First Look Video
The Masked Singer Season 4 Sneak Peek – First Clues! (VIDEO)
The conventional wisdom is that Jenny is best at the guessing game and Ken is hilariously the worst. But until now, has anyone actually put together a tally? Ken makes ridiculous guesses, but he has nailed one or two of them down. Robin and Nicole have had their fair share of good guesses as well. I think any of the four judges could win. However, bad guesses are Ken's shtick, so he probably won't even try to win. 
The Masked Singer season 4 premieres on FOX Wednesday Sept. 23 at 8/7c.