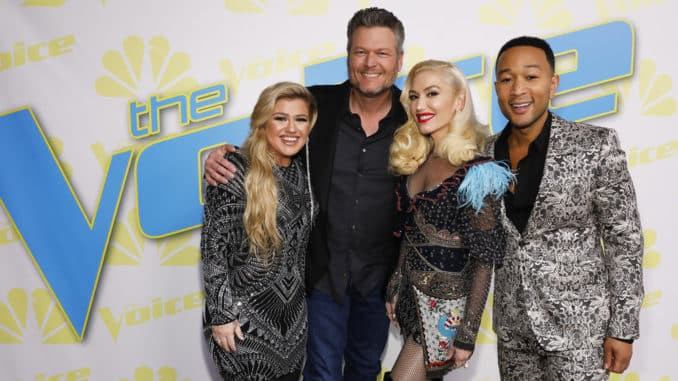 NBC has released an updated Fall schedule. As we reported earlier, NBC confirms that The Voice will premiere Monday October 19. Premiere week will feature a Tuesday October 20 2 hour edition of the show. But The Voice will air 9-10 pm on Tuesdays beginning October 27.
The network taped The Voice season 19 Blind auditions in July and August with a virtual audience. And now, 1iota.com is booking virtual audiences for the Battle Rounds scheduled to take place with coaches Kelly Clarkson, Blake Shelton, John Legend and Gwen Stefani on Tuesday September 8 and Wednesday September 9.
Returning series set to debut after Jan. 1 include "Brooklyn Nine-Nine," "Good Girls," "Making It," "Manifest," "New Amsterdam" and "Zoey's Extraordinary Playlist."
New series set to launch in 2021 include "Kenan," "Law & Order: Organized Crime," "Mr. Mayor," "That's My Jam," "Small Fortune," "True Story," "Who Do You Think You Are?" and "Young Rock."
The premiere dates and times for the remainder of 2020 are below. All shows, with the exception of "NBC Sunday Night Football" and "The Voice," will be available on Peacock after its broadcast air date.
SEPTEMBER
"Transplant" (Tuesday, 9/1, 10-11 p.m.)
"American Ninja Warrior" (Monday, 9/7, 8-10 p.m.)
"NBC Sunday Night Football" (Thursday, 9/10 and Sunday, 9/13, 8:20 p.m. ET)
"Weakest Link" (Monday, 9/28, 10-11 p.m.)
"Dateline NBC" (Friday, 9/25, 10-11 p.m.)
OCTOBER
"Connecting …" (Thursday, 10/1, 8:30-9 p.m.)
"Ellen's Game of Games" (Tuesday, 10/6, 8-10 p.m., then shifting to 9-10 p.m. on 10/13)
"The Voice" (Monday, 10/19, 8-10 p.m., Tuesday, 10/20, 8-10 p.m. then switches to 8-9 p.m. on 10/27)
"Superstore" (Thursday, 10/22, 8-8:30 p.m.)
NOVEMBER
"This Is Us" (Tuesday, 11/10, 9-11 p.m.; returns to 9-10 p.m. on 11/17)
"Chicago Med" (Wednesday, 11/11, 8-9 p.m.)
"Chicago Fire" (Wednesday, 11/11, 9-10 p.m.)
"Chicago P.D." (Wednesday, 11/11, 10-11 p.m.)
"Law & Order: SVU" (Thursday, 11/12, 9-10 p.m.)
"The Blacklist" (Friday, 11/13, 8-9 p.m.)