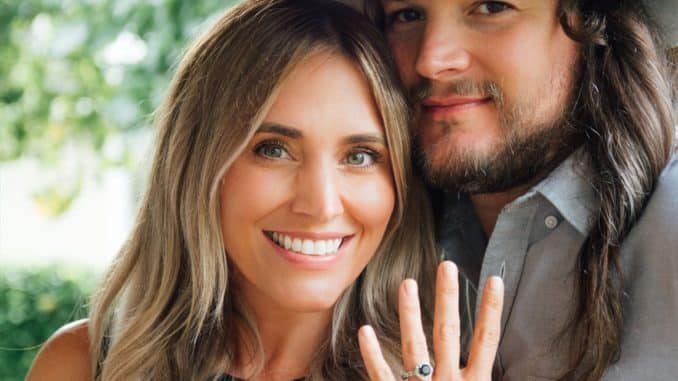 Adam Wakefield is engaged,
The Voice season 10 runner-up recently proposed to his girlfriend of nine years, country singer and actress Jenny Leigh, at a lakeside restaurant in Maryland while on vacation with her family, reports People magazine.
"I knew I wanted to propose to Jenny in front of her family," Adam told People. "They're such great people, and I already feel like they treat me like family. I was originally going to put it in a crab shell, but luckily I was talked out of that one."
"The most important thing was that I wanted to surprise her," he continued. "She had no idea it was coming, so I think I got her pretty good."
Fellow The Voice singer Craig Wayne Boyd helped pick out the ring
Adam popped the question with a unique black diamond halo ring, which he found with the help of fellow Voice alum and Texas Hill trio-mate Craig Wayne Boyd (Season 7 winner).
American Idol & The Voice Alums Drop First Single as a Trio (Video)
"He done good!" Jenny told People. "I've always been attracted to darker diamonds but had/have little knowledge about rings — so little, in fact, that I thought my ring size was two sizes bigger than it actually is, so we have some adjustments to make."
Adam and Jenny met at a music festival
The two first met at a music festival in Baltimore 9 years ago. When Adam learned Jenny sang, he invited her to a recording session to do some "gang vocals" (where a bunch of people sing together).
"None of the other vocalists showed up so she ended up doing the part by herself," Adam said. "I remember from the first note she sang, my — and everyone else's in the room — jaw dropped. I said then and there that I was going to marry her someday."
At the time, neither of them was looking for a relationship, Jenny told People that they got to know each other "organically."
Check out People magazine for more photos of the happy couple.
Texas Trio EP out on September 25
Next, Adam is set to perform during the Pure River Broadcast Live from the Ryman on Sept. 21, days before the Texas Trio, featuring Adam, Craig and American Idol season 9 alum Casey James will release Texas Hill's self-titled debut EP on the 25th.