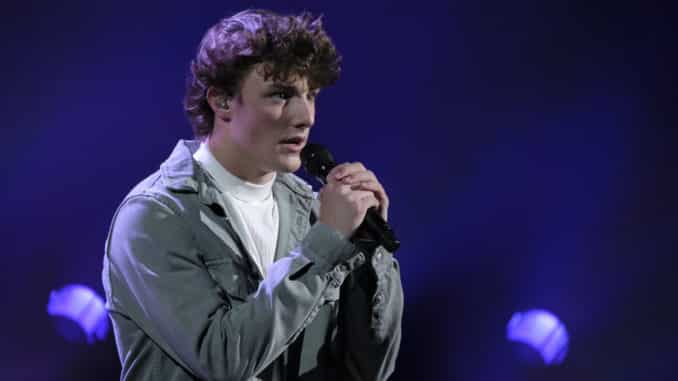 Teen singer Thomas Day has had a confusing, and somewhat disingenuous journey on America's Got Talent.
AGT producers chose the young singer to advance to the Quarterfinals. But while NBC promoted him as one of 11 Week 3 acts to perform that week, days before the episode aired, Thomas suddenly dropped out of the competition. Singing duo Broken Roots took his place.
Thomas quit the show, followed by a surprise return
But then, much to the surprise of America's Got Talent viewers, Thomas was back in the mix as a Semifinal wildcard. Without performing in the Judge Cuts OR Quarterfinals, Thomas suddenly had another chance to make the finals. In his video package, Thomas confesses that he dropped out initially after he and his mother tested positive for COVID-19 while they awaited filming the show in Los Angeles. 
America's Got Talent 2020 Recap: Semifinal 1 Live Blog (Video)
America's Got Talent 2020 Semifinal 1 POLLS: Vote for your Favorites
Who wouldn't have sympathy for a poor teen who tested positive for corona days before his big break? Except that after he dropped out, Thomas initially lied about the reason. Well, you might say, he's just a kid! And his health is nobody's business!
Thomas charged fans money for info on why he quit the show…and then he lied about it
Except that Thomas would only reveal why he dropped out to fans willing to shell out $25 bucks for a Cameo clip. That's right, fans had to PAY for Thomas lying straight to their faces. Oy boy. He's only 17 chalk it up to immaturity, but it's still not right.
 "I withdrew because I couldn't make it because of football," Thomas said on a Reddit poster's cameo request (watch it here) "I am still pursuing music, and in college I'll be pursuing music. That's the truth. I wish there was something more to it." 
Here's Thomas confessing the truth on last night's (Sept 8) AGT episode. The video package is affecting. His poor mother felt horrible and worried about her child. Thomas and his mom had to separate for weeks. Scary stuff. 
Judges and fans applauded Thomas' cover of Billie Eilish's "When the Party's Over"
After the clip ran, Thomas performed a rendition of Billie Eilish's "When the Party's Over." He got some good reviews from fans and from all three judges for the performance. However to me, he sounded off pitch, and didn't bring enough emotion to the wrenching lyrics.
Judge Sofia Vergara felt he "deserved to be here." But she also called him handsome, adding "I think the girls are going to go crazy for you!" That's probably true, and why the producers were willing to invite him back.
Will fans forgive and send Thomas to the final?
It wasn't Thomas' fault that he tested positive for the coronavirus. And sure, an artist needs to make a buck, so charging fans to find out why he dropped out is somewhat understandable. But fans who shell out dollars for information deserve the truth in exchange. Hopefully he's learned that monetizing lies may not be the smartest move. AGT fans will find out tonight if Thomas makes it to the final or not.