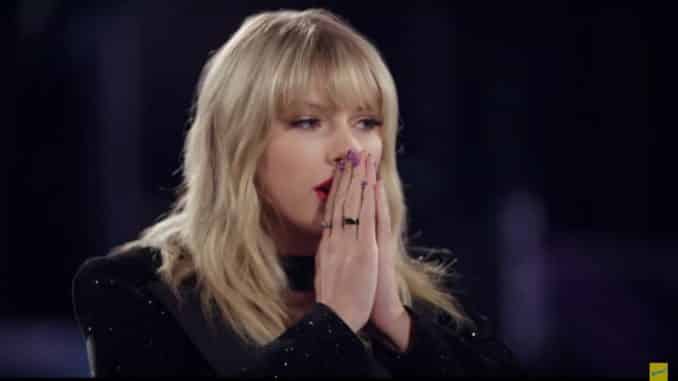 Watch The Voice artist Melinda Rodriguez share a heartwarming story with Mega Mentor Taylor Swift. It's a preview from Monday's (Oct 28) The Voice Knockouts premiere. 
You may remember Melinda as the talented jazz/pop singer whose brother Chris is waiting for a heart transplant. She and her sibling are very close, and despite his illness, has been by Melinda's side every step of her The Voice journey.
As it turns out, both Melinda and Chris are major Taylor Swift fans. She's the Mega Mentor for the Knockouts, and as she helps Kelly Clarkson prepare Melinda for her Knockout against country singer Jake Hoot, she learns that Chris was called for his transplant and was in surgery as they spoke. 
The Voice 17: Max Boyle vs Katie Kadan Knockout Shocks Coaches Video
The Voice Season 17 TV Schedule: Blinds, Battles, Knockouts, Lives
The Voice Season 17 Contestant List Spoilers: Blinds, Battles, Knockouts
Chis is such a big Taylor fan–each of her album titles are tattooed on his body–he insisted Melinda NOT miss her mentoring session with the pop star.  "Chris has to wake up," Melinda cries, "There's no way I can't tell him about this. That would be the world's biggest injustice."  As you can imagine, there are tears all around.
Back to the mentoring session, Kelly says that it's "very hard to find consistent dependable singers…Melinda is never affected." Melinda's song choice is "Always Be My Baby" by Mariah Carey. Taylor suggests that the young singer emphasize the song's hook. Kelly takes it s step further. She suggests Melinda start her performance with the chorus. Taylor jumps in to demonstrate how drums could punch up the melody. 
In an aside, Taylor insists that her major contribution to music are the hooks that she's written, and will ALWAYS champion the melody. She adds, "Melinda has an amazing voice. And it was like night and day when she started that song that second way."
Jake watches the emotional mentoring session unfold. He doesn't say it, but he's gotta know he's toast. Maybe Blake will steal him. Heh.
Watch Taylor Swift help Kelly Clarkson mentor Melissa Rodriguez below. The Voice Blinds end/Knockouts begin episode airs Monday on NBC at 8 pm. ET/PT.