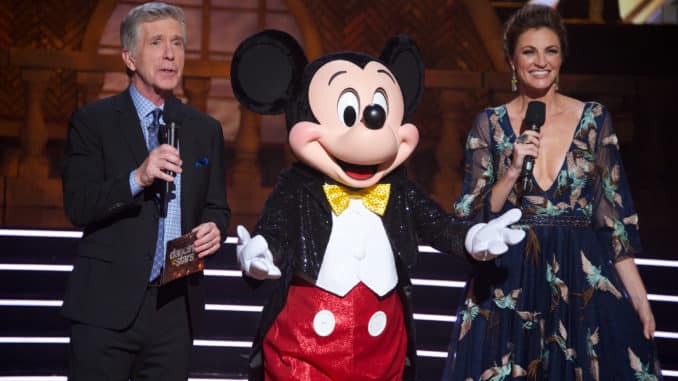 Host Tom Bergeron revealed the Dancing with the Stars Season 28 schedule on Twitter. Just like last year, the finale will be a one night affair, which probably means live voting during the episode will determine the winner.
According to Tom, the finale is set for Monday November 25. He had to correct himself–originally the post noted November 28 as the finale date. That's Thanksgiving. Tom confirmed that the actual date of the finale is November 25.
Yeah, thanks for catching that. The Finale is on the 25th. The 28th is reserved for awkward conversations with extended family members. And overeating. ? https://t.co/V0XsxtcylA

— Tom Bergeron (@Tom_Bergeron) October 24, 2019
Another fan asks Tom to confirm a one night finale, like last fall, and Tom answers "Yup."
Yup

— Tom Bergeron (@Tom_Bergeron) October 24, 2019
The date of the finale isn't unusual. DWTS never airs past Thanksgiving. But prior to the fall 2018 season, even after the show cut back to once a week, Dancing with the Stars aired a two night finale.
DWTS producers seem to be taking a page from American Idol. ABC cut back its spring 2019 season to a one night finale. Live voting made the difference. If the result can be tabulated by the end of the episode–which DWTS currently employs–no need to stretch the finale out over two nights.
Of course, whether live voting delivers the best outcomes is the subject of another blog post.
With The Voice ratings continuing to drop, NBC may eventually cancel live Tuesday shows as well.
Anyway, check out the schedule for the rest of the season. Hopefully, former Fifth Harmony member Ally Brooke will still be in the competition for boy band and girl group week! However, after Ally wound up in the bottom 2 last week, who knows…
Dancing with the Stars 28 Schedule
Monday Oct 28 – Halloween Night – 8:00 PM-10:00 PM EST
Monday Nov 4 – Dance Off Week – 8:00 PM-10:00 PM EST
Monday Nov 11 – Boy Band & Girl Group Week – 8:00 PM-10:00 PM EST
Monday Nov 18 – TBA – 8:00 PM-10:00 PM EST
Monday Nov 25 – Finale – 8:00 PM-10:00 PM EST