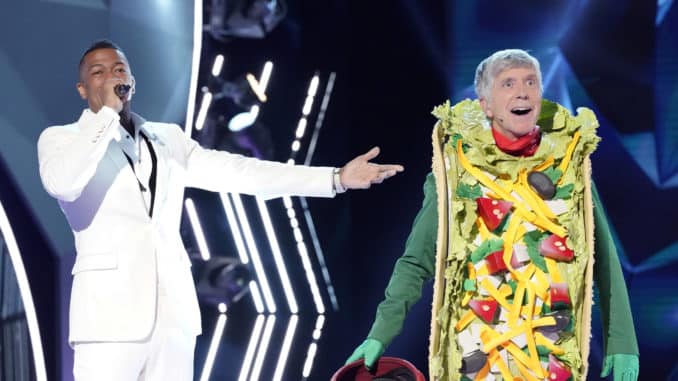 A fan favorite host was unmasked on The Masked Singer last night! Dancing with the Stars host Tom Bergeron tickled viewers for three weeks as he competed in group B as the yummy TACO.
To those who have followed Tom's long career, the clues throughout the past weeks were pretty obvious! In week one, Taco wowed the judges with a performance of the standard "Fly Me To The Moon" along with the following clues:
The anchor represents his former anchoring jobs on ABC (GMA) CBS and FOX. 
Rubik's cube–Tom hosted Hollywood Squares!
Toy trolly hints at Tom recording a song for the recent Mr. Rogers tribute album.
In week 2, Tom switched it up, performing a cheesy Bossa Nova by Elvis Presley. The clues from his clue package:
Taco talks about his previous life as a hot head. As a young man, Tom had a terrible temper, but starting a Transcendental Meditation practice changed his life.
The Whoopie cushion in the package refers to his Hollywood Squares partner, Whoopi Goldberg.
In the package, Taco tangos with a woman, then dips her in front of a ball full of constellations. Certainly a reference to his years hosting DWTS.
And in week 3, Tom performed The Four Tops "Can't Help Myself." In his clue package, good buddy Bob Saget had a few things to say, amid more clues:
The bowl of baked beans in Taco's package referred to Tom's hometown of Boston.
A menu spelled "ME" in capital letters, which is Emmy sounded out. Tom has won two Emmys including Best Host. t
Taco gave Nicole a  "Kiss" friendship bracelet. She won Dancing with the Stars in 2010 and got a perfect score after dancing to a KISS song with her partner Derek Hough.
The shrimp, baked beans and "Cheers" clues all point to Tom's hometown Boston.
So there you have it!  Tom signed up for The Masked Singer because he knew people who worked on the show, and thought the chance to fool them "was too good to pass up."  But it was a lot of work. He admits to being relieved that it's over. As far as the secrecy is concerned, Tom says instead of hosting TV shows, he "knows how to be a member of the CIA." Tom admitted that singing "has not been on my list of things that I wanted to do professionally." But he added, "That was part of the reason this was so much fun." Tom tells TVline he was nervous at times–a thing he's not used to at this point in his career.