The Masked Singer season 3 Group C round is done. Out of six celebrities, Astronaut, Rhino and Night Angel survived and will move on the the Super 9. Speaking of the Super 9. All masks have had a chance to compete, and it's time to move on to the next round. Now, let's gather ALL the Group C clues and make predictions. Masked Singer producers have promised to offer more difficult clues this season. But that did not stop internet sleuths from quickly determining the identity of the celebrities behind the masks…AGAIN!
Check out our Group A and Group B predictions:
Group A: The Masked Singer 3 Predictions: Who is Turtle, Kangaroo, White Tiger?
Group B: The Masked Singer 3 Predictions: Who is Kitty, Banana, Frog?
Who are Astronaut, Rhino and Night Angel? Read ON to find out.
The Masked Singer 3 Recap – Group C Kickoff Live Blog (VIDEOS)
The Masked Singer 3 Recap – Group C Playoffs Live Blog (VIDEOS)
The Masked Singer 3 Recap – Group C Championships Live Blog (Videos)
Astronaut is Hunter Hayes
Hunter Hayes is a 30 year old country music singer, but he's been in the business since he was a kid. He rode the top of the charts back in the aughts, opening for Carrie Underwood and Taylor Swift, touring with Danielle Bradbery. He eventually headlined his own tours. But in the past five years or so, Hunter has dropped off the charts. The singer's fans recognized Hunter's voice right away. Indeed, take a listen to a you tube performance, and Astronaut's identity is immediately apparent. Check out a collection of clues below.
CLUES
Listen to Astronaut sing. It's obviously Hunter.
"I've always dreamt of flying high" from Kickoff package points to Hunter learning to fly a plane.
The Hawaiian lei from Kickoff package may refer to a meaningful trip Hunter took to Hawaii 
In the playoffs package, there's a shot of the Orion Constellation, which depicts the Hunter in Greek mythology. 
Astronaut talks about overreaching, crashing and burning in his playoffs package. Hunter was a "bright star" i the aughts, but isn't played by country radio anymore. 
"But in the wild I kept wandering" says Astronaut in his kickoff package: Hunter recorded a song tilted "Wild Blue." 
The French Horn in the kickoff package likely refers to Hunter's Cajun heritage. 
Astronaut's good friend delivered his championship clues. He shared a story about him faceplanting, and getting right back up. Hunter did did take spill on stage in 2013.
Astronaut's championship hint was directed to Nicole. "Don't you remember when we were together for a huge birthday?" he asked her. The hint was "Mall."  Hunter and Nicole performed on the 2015 PBS Capitol 4th special which takes place on the Washington MALL.
The shot of a coffee cup during Astronaut's Championship package refers to Hunter's love for coffee. He shot a promotional clip for Keurig.
And, Hunter was born in Breaux Bridge, Louisiana, hence the tiny model bridge in Astronaut's championship package. 
Rhino is Barry Zito
Barry Zito had a long career in Major League baseball, pitching for the Oakland A's and the San Francisco 49s.     various Major League baseball teams, including the Oakland A's and San Francisco 49s. He started playing guitar in 1999 and began songwriting, hoping to switch to a career as a country music singer/songwriter. It's not an odd career change for Barry. Music IS in his blood. His parents were musicians who worked for Nat King Cole. His father arranged music for the legend. Barry co-wrote the song "Butterflies" that appeared in the Eddie Murphy film A Thousand Words. He wrote a book titled Curveball: How I Discovered True Fulfillment After Chasing Fortune and Fame which details his ups and downs in life, and conversion to Christianity. Check out the convincing clues below.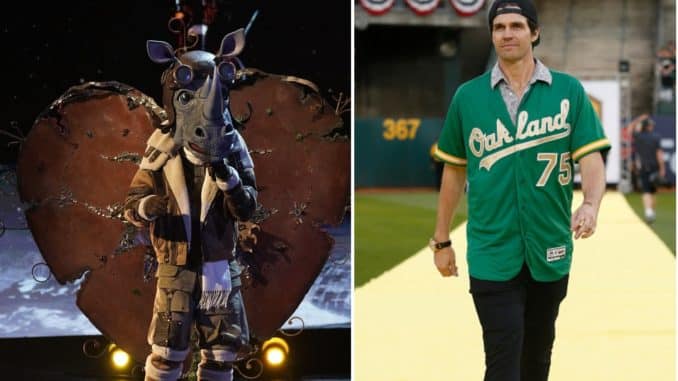 CLUES
I'm really just a gentle giant" from the kickoff package Barry played for the San Francisco Giants
Rhino talks about crashing and burning and not handling fame well in his kickoff package. Barry struggled as his baseball career came to an end. He wrote a book, Curveball, that details his journey back to fulfillment.
In his kickoff video, a guard presents Rhino with a pitcher of tea. Barry was a baseball pitcher.
A guitar with Grand Ole Opry printed across the frets from the kickoff package: After baseball, Barry picked up a guitar and moved to Nashville. 
Barry rides by an album called "Faith." Barry became a born again Christian.
The blue haired guard in the kickoff video: Barry dyed his hair blue
Rhino and Barry sound a lot alike. Here's a youtube performance. 
The sandwich cutting in the kickoff video refers to Barry's special pitch, the "cut slider." 
Rhino's kickoff hint "Family is very important for success. Especially when performing for a king is in your blood" refers to his father, who composed and arranged music for Nat King Cole.
Rhino's kickoff package ends with "How can you not be romantic about something like that?" Is a play on the line from the movie Moneyball, "How can you not be romantic about baseball?" The movie was about the Oakland A's, the team that drafted him out of college. 
The shot of 3 quarters in Rhino's championship package refers to Barry's baseball jersey number 75.
The map of Missouri topped with a crown refers to Barry's wife, a former Miss Missouri.
Rhino's college buddy delivered his championship clues. The references to surfing in the package refers to Barry playing baseball for the University of Southern California.  And, according to his wiki page, Barry does surf. 
Rhino's championship hint for Robin, "1000" and the reference to being on the same track points to Barry and Robin both appearing on the soundtrack for the movie A Thousand Words.
And, the planet wearing a cowboy hat in the championship package refers to Barry's son Mars.
Night Angel is Kandi Burruss
At 15, Kandi Burruss joined a girl group called Xscape and starred in a BET series, Teen Summit. She moved on to songwriting, penning "No Scrubs" for TLC and "Bills Bills Bills," for Destiny's Child. She went on to release music as a solo artist. Kandi embarked on a career in reality television. Besides Real Housewives of Atlanta, she also starred in The Kandi Factory, Kandi's Wedding, Kandi's Ski Trip and Celebrity Big Brother. Additionally, Kandi co-owns a southern food restaurant called "The Old Lady Gang."  Check out the clues that prove Night Angel is Kandi below.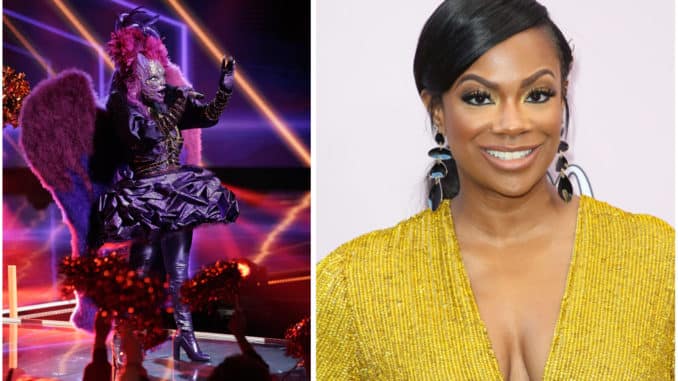 CLUES
The "gangster grandmas" from Kickoff package refers to Kandi's restaurant "Old Lady Gang"
The security guards wearing bills in the kickoff package refers to the TLC song "Bills Bills Bills." Kandi co-wrote it.
The "4, 5, 6" motel room numbers in Angel's kickoff package refers to 1999 single "4, 5, 6" by Solé, which featured Kandi.
The No. 2 motel key from Kickoff package may refer to Kandi joining RHOA in season 2
The sweet tea in Angel's playoff package is a reference to Kandi's southern Atlanta roots.
"Built an Empire"  from her playoff package is is apparently Kandi's tagline.
In her playoff package, Angel is in a room with two other angels, "that lost in the crowd." Angel had a thirst for more. Kandi was in a girl group, Xscape as a teen. 
Angel talks about rejection in her playoff package. Kandi has a child with an ex-boyfriend. Also, a fiance, AJ Jewell, died after sustaining head injuries during a brawl. 
Night Angel's clues in her playoff package were delivered by a friend from high school. He shares that her career began in her teens in the mid 90s. Kandi first appeared in the BET series Teen Summit at 15, where her girl group, Xscape debuted.
Kandi missed her prom because she was in the studio recording "Off The Hook" with Xscape (hence the shot of the old fashioned phone in Angel's championship package)
"Destiny led me back to the stage," Angel says in her championships package – Kandi co-wrote "No Scrubs" for Destiny's Child.
Kandi hint for Jenny in the Championships: "I've heard you say my name on your show" she said. Kandi had guested on Jenny McCarthy's talk show many times to chat about RHOA.
The Masked Singer airs on FOX Wednesday at 8 pm ET/PT with judges Robin Thicke, Jenny McCarthy, Ken Jeong and Nicole Scherzinger. Nick Cannon serves as host.