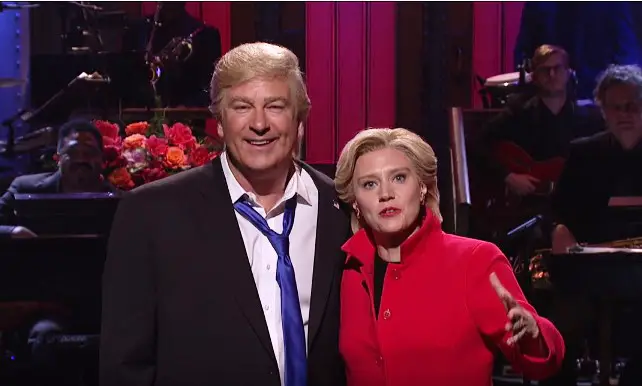 Last night's Benedict Cumberbatch hosted Saturday Night Live was the last before Tuesday's presidential election. That meant one final cold open featuring Donald Trump and Hillary Clinton together. The premise here is completely made up: Trump (Alec Baldwin) and Clinton (Kate McKinnon) face off one more time on CNN to state their case.
There is Trump disavowing ties with certain folks, only to reveal his "close" relationships (I won't give it away!). Despite all the outrageous stuff happening on Trump's side of the screen, Erin Burnett (Cecily Strong) insists on getting back to "the emails." And in the end, Alec and Kate break the 4th wall in order to shake off the nasty election they've been parodying these last couple of months. Let's just say it's a really good thing (or bad depending on your perspective) that Trump is too busy campaigning to watch television, or another angry tweet storm would be forthcoming.
https://youtu.be/hxH6bKNPBIA
During Weekend Update, the Church Lady (Dana Carvey) returns to offer her comments on the state of the election. She's conflicted!
https://youtu.be/p5JK-en8kW8
Also during weekend update, Bill Murray led a group of "SNL The Voice" winners in a rousing rendition of "Go Cubs Go." The singers were REAL World Series Chicago Cubs Anthony Rizzo, David Ross and Dexter Fowler.
https://youtu.be/YreZRQupCYk
And, for you Benedict Cumberbatch fans (Me! Me! Me!), here is his opening monologue.