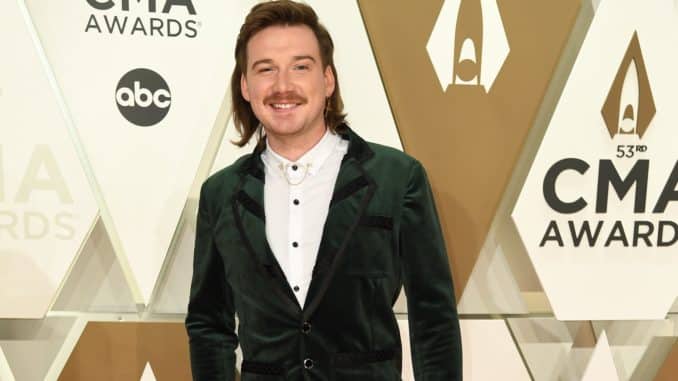 After Morgan Wallen was caught using a racial epithet on video, The Voice alum was banned from radio, awards shows, tours and more. The singer apologized and kept a low profile, announcing that he won't be touring at all this summer.
But now, Variety reports that the four month old radio ban on Morgan's music is being "quietly lifted." The country singer's tunes have "slipped back"  onto the air at most country stations in the last few weeks, even as he remains unwelcome at awards shows and other high-profile events.
It's a "soft opening"
"There was no fanfare at all when people started adding it back in," one high-level radio exec told Variety. "It's been completely subdued and unnoticed. It's like a soft opening."
Morgan's songs have registered as reappearing on stations owned by iHeartMedia, Cumulus Media, Cox Media, TownSquare Media and other major chains. Reports say that "the top execs at these companies are now allowing stations to make their own decisions about whether it feels appropriate to put Wallen back on the air in their markets."
Chains are telling their affiliates  "make your own decision. If you're comfortable with putting his music on the radio and think the guy has been on the sidelines long enough, that's your call."
Radio station chain reps did not immediately respond to Variety when contacted for comment. Or, they insisted they had no update on the situation.
Radio stations are playing his songs without fanfare
Stations playing him again are behaving as is nothing happened. "Nobody is saying, 'Guess what's coming up next, a guy you haven't heard in six months!'" a radio insider told Variety. "It's a thing that people are going to do quietly and not want to make a lot of noise about. It's like, have him blend back into the mosaic of the thing and not make a big deal about it." 
The shift may be quiet, but it's widespread, although some stations are playing him, and others aren't. Audacy stations, for instance, have not played him at all yet. 
Stations feared country fans would abandon them
Sources say that radio stations have wanted to reinstate Morgan for quite some time. A few already had, including the singer's hometown stations. But  no chain wanted to be the first to break the ban. Cumulus was the first to ban Morgan after the incident, so other chains kept an eye on them. When the chain began playing him, others followed.
One exec who wished to remain anonymous told Variety that "with reasonable signals coming from his world that he's dealing with his challenges, it just felt like our point was made."
Fans complained about "cancel culture"
But some fans of the country singer contacted local stations with complaints about Morgan's absence on their airwaves. They beefed that radio was  giving in to "cancel culture." Thus, radio stations feared that a continued blackout would drive country fans to  streaming services, where Morgan has continued to rack up massive numbers.  
Also, the singer's label, Big Loud, which had said at the outset of the controversy that it was "suspending" him has done its own quiet reinstatement, as the singer now appears on the official roster again on the company website.
Morgan's last album Dangerous: The Double Album has continued to sell and top streaming and download charts all through the singer's ban.