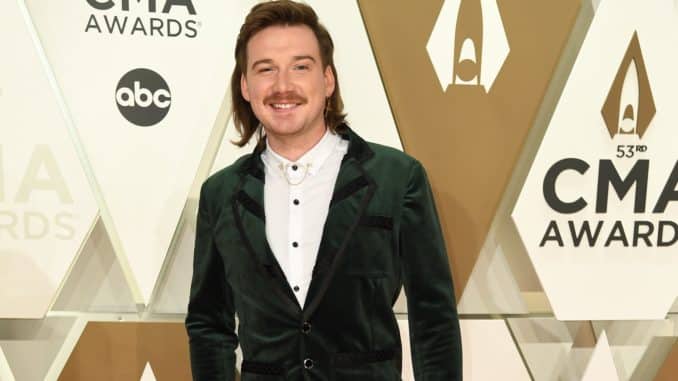 Morgan Wallen's second album, Dangerous: The Double Album, debuts at No. 1 on the Billboard 200 and Top Country Albums charts dated Jan. 23, while the single "Wasted on You" launches on top of Hot Country Songs.
The Voice season 6 alum is the first artist ever to debut at No. 1 on Top Country Albums and Hot Country Songs simultaneously, reports Billboard.
The 30 song set released Jan. 8 on Big Loud/Republic, launches with 265,000 equivalent album units earned in the week ending Jan. 14, according to MRC Data.
Morgan earns his first Billboard 200 No 1 after his first album, If I Know Me, debuted in May 2018 and reached No. 13 in August 2020. Dangerous: The Double Album is his second Top Country Albums No. 1, with If I Know Me reaching he top of the chart last August in its record-breaking 114th week; on the latest chart, it ranks at No. 5 (17,000 units, up 6%).
"This is absolutely insane," Morgan told Billboard. "Thank you to the fans for making this one of the best weeks of my life. When we decided to go for it with a double album, I knew we were taking a risk, but I believed in the music and hoped it would be something y'all loved. This goes way beyond any of my expectations.
"I have to thank my family and friends for always believing in me, my team for all of their hard work in putting this project together and everyone who has supported me along the way," Wallen muses. "I'm blown away by the success of this record and all 30 of these songs. I will never forget this."
More Morgan Wallen Milestones
The set scores the largest streaming week ever for a country album, more than doubling the 102.3 million streams achieved by Luke Combs' What You See Is What You Get (Nov. 7, 2020).
With 265,000 overall units, Dangerous boasts the biggest week for a country album since Carrie Underwood's Cry Pretty debuted with 266,000 in September 2018.
Morgan achieves the largest week for a solo male since Luke Bryan's Kill the Lights opened with 345,000 in August 2015.
The singer becomes the first artist ever to debut simultaneously at No. 1 on Top Country Albums and the airplay-, streaming- and sales-based Hot Country Songs chart.
He's the only artist with multiple No. 1 Hot Country Songs debuts in the chart's 62-year history, as the new album's "7 Summers" launched in the top spot on Aug. 25, 2020.
Morgan earns his third No. 1 on the chart with "Wasted on You." He first led with "Whiskey Glasses" for two weeks starting in May 2019.
"Wasted on You" begins with 17.9 million U.S. streams and 10,000 downloads sold and lands atop Country Streaming Songs (marking his fifth No. 1) and Country Digital Song Sales (third).
Morgan dominates the Hot Country Songs top 10 with a one-week record six titles, all from Dangerous. Previously, seven acts (including Morgan) placed as many as three tracks in the top 10 at once. Joining "Wasted," "More Than My Hometown" ranks at No. 3, followed by "7 Summers" (No. 4), "Somebody's Problem" (No. 6), "Sand in My Boots" (No. 8) and "Warning" (No. 10). The singer has now earned 11 Hot Country Songs top 10s.
Overall, 27 of the 30 tracks on Dangerous chart on the 50-position Hot Country Songs chart, also a new weekly best. Previously, Luke Combs claimed the most with 16 (Nov. 23, 2019).