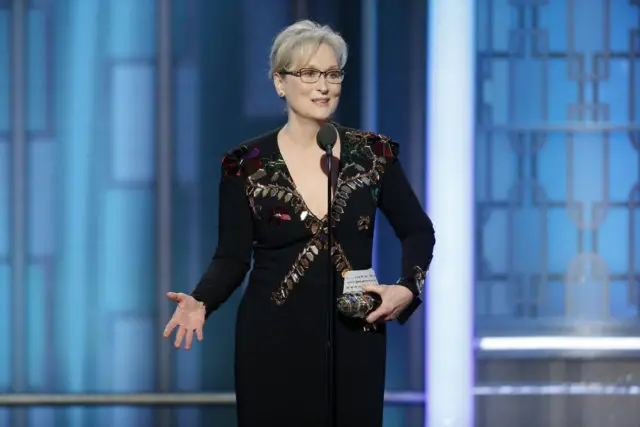 Meryl Streep accepted the Cecil B. Demille Award Sunday night at the 2017 Golden Globe Awards in Lost Angeles.
The acclaimed actress delivered a moving and generous speech, lauding her fellow actors and people in her life that have helped her along her 40 plus years in the business.
But she also made a powerful case for empathy and kindness. She never calls President-Elect Donald Trump out by name, but she mentions the time he mocked a disabled reporter during a campaign speech, and how the behavior gives others permission to do the same.
Meryl asked that people band together and resist the hatred and negativity that seems to have taken over American culture. She also gave a shout-out to a strong and free press. There was a lot of pain in her speech, but there was hope too.
And this instinct to humiliate when it's modeled by someone in the public platform by someone powerful, it filters down into everybody's life because it kind of gives permission for other people to do the same thing.

Disrespect invites disrespect. Violence insights violence. The powerful use definition to bully others, we all lose. This brings me to the press. We need the principal press to hold power to account to call them on the carpet for every outrage.

That's why our founders enshrined the press and its freedom in our Constitution. So I only ask the famously well healed Hollywood Foreign Press and all of us in our community to join me in supporting the Committee to Protect Journalists because we are going to need them going forward and they'll need us to safeguard the truth.
Watch Meryl Streep's full remarks right here.
UPDATE: Predictably, Trump reacted on twitter:
Meryl Streep, one of the most over-rated actresses in Hollywood, doesn't know me but attacked last night at the Golden Globes. She is a…..

— Donald J. Trump (@realDonaldTrump) January 9, 2017
Hillary flunky who lost big. For the 100th time, I never "mocked" a disabled reporter (would never do that) but simply showed him…….

— Donald J. Trump (@realDonaldTrump) January 9, 2017
"groveling" when he totally changed a 16 year old story that he had written in order to make me look bad. Just more very dishonest media!

— Donald J. Trump (@realDonaldTrump) January 9, 2017